Overview
Juris Astra is a complete call centre solution for inbound and outbound contact centre comprising of telephony automatic call distributor (ACD), interactive voice response (IVR), and dialler. It also does optional customer relationship management (CRM), sales force and marketing management, and case management, to handle sales leads, marketing campaigns, complaints, service requests, and customer service issues. Juris Astra is a seamlessly complete solution that provides you the capability to handle telephony, email, web chat, fax, and SMS interactions automatically.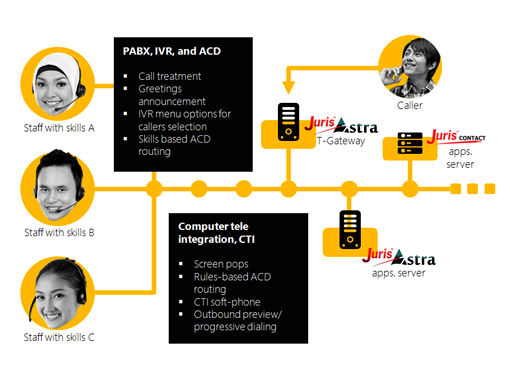 Juris Astra Core Functionalities
Telephony Gateway or Private Automatic Branch Exchange (PABX)
PABX is the infrastructure that handles telephony interfaces such as incoming lines from Telekom (ISDN PRI or CO Analog PSTN trunks), and extension lines to the agents/users. Some of the standard offerings of Juris Astra include callers privilege, Class of Service (CoS) to dial out, hardphones, softphones, VoIP, and SIP.
Automatic Call Distribution (ACD)
The core of a call centre is the automatic call distribution (ACD) and it is actually a software algorithm that performs automatic routing and distribution of calls to the rightful agents with the appropriate skillsets for enhanced efficiency and callers' experience. ACD performs call treatment, call-in-queue announcement for the callers, and even advanced Predictive Expected Wait Time algorithm for calls-in-queue treatment.
Juris Astra Interactive Voice Response (IVR)
All features of Juris Astra IVR include:

Automated announcement of greeting to the callers
Announcement of menu selections for the callers to choose from
Self-service functions configured for account balance / status checking
Account transfer
Call-back request

Juris Astra IVR is an automated machine that frees up your valuable agents' resources to handle more complex human interactions, leaving repetitive tasks to a machine that is able to handle these tasks accurately and consistently.
Juris Contact Customer Relationship Management (CRM)
Juris Contact manages your customer interactions through phone, fax, email, and SMS. It also covers all aspects in CRM from the start of customer issue to problem resolution. With Juris Contact, you can be sure of delivering consistent, personalised service as each new issue is assigned, tracked, and managed.
Juris Astra Quality Management System (QMS)
Juris Astra Quality Management System (QMS) voice logger provides monitoring and recording of live calls, agent grading/scoring from the calls, search and playback of the recording, as well as direct interaction between supervisors and agents on call using whisper and barge-in. Juris QMS can be used to do performance management, forecasting, scheduling, and training management. It can be effectively fed into any workforce management system to be used as a basis for additional processing.
Juris Astra Monitoring and Reporting System
Juris Astra comes bundled with some useful and essential reports that help supervisors, team leaders, and managers keep track of call centre daily activities as well as monitor  overall health of the operation. These reports are also used to tailor the management techniques and business processes of their call centre.
Juris Astra Dialler
Juris Astra comes with the internal preview and progressive dialler, which is integrated with campaign screens to provide a seamless experience for the agents. Together with agent scripting and best-number-to-call sorting of customer numbers, necessary facilities are provided for outbound agents to be productive. Juris Astra dialler will communicate directly with Juris CTI Toolbar, making it easy for agents to control their phones and statuses. The supervisor will also be getting real-time information about agents' and status of the calls.
Other References
We also provide end-to-end management of the customer from loan origination to collection. For more information, you may refer to: