Juris Collect is an end-to-end debt management and collections enterprise system that helps you to implement different collection strategies for different customers to achieve the most efficient use of your resources. This is done via machine learning algorithms embedded within the system, which helps you identify potential non-performing loans with up to 96% accuracy.
With Juris Collect, JurisTech's award-winning debt collection software, you can easily identify customers' collectability.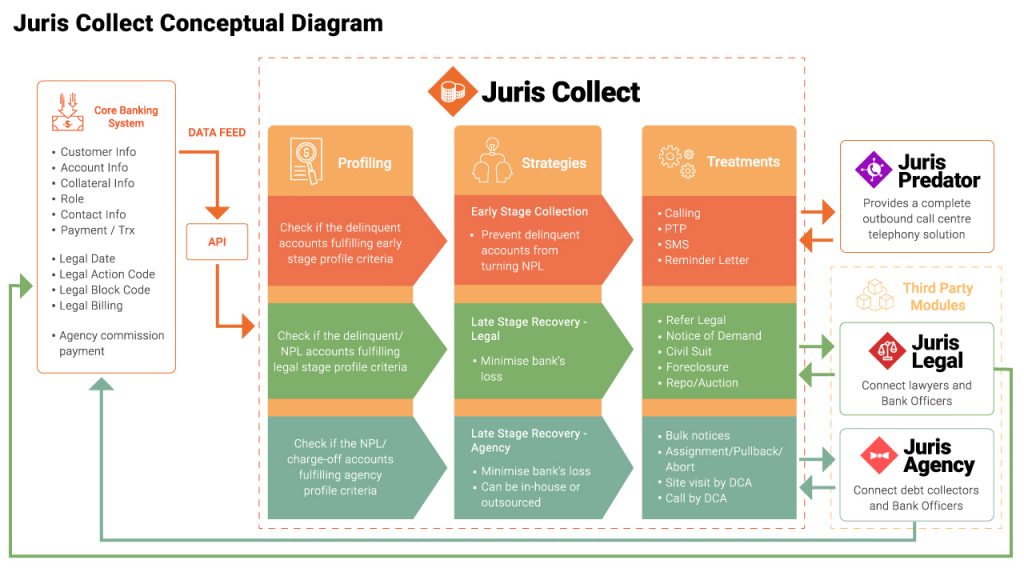 Strategizing a Successful Debt Collection Strategy?
We know that debt recovery isn't easy. Studies have shown that the longer customers are delinquent, the less likely they are to repay you. JurisTech's debt collection software pushes the boundaries further by incorporating behavioural scoring that tracks customer's behaviours, payments and contact patterns for you to maximize your collection revenue by using the right pre-emptive measures on different delinquency tracks. The system is powered by an AI based self-learning technology which makes better predictions over time as more data is absorbed.
Juris Collect offers modules for managing each stage of delinquency with functionalities encompassing all the touch points that you require as depicted below:
Whatever strategy you use, JurisTech provides the perfect platform for implementing your collection strategies as we provide an end-to-end integrated collection platform from early stage delinquency to final approval of write-off.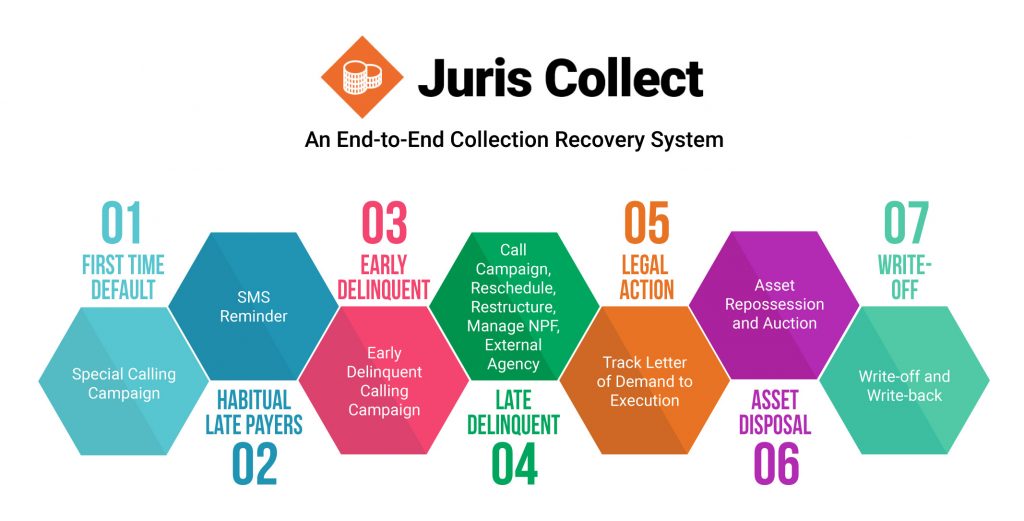 Simplifying Business
Collaborative, multi-touchpoint technology

With its technology, Juris Collect is able to contact customers by predictive dialler, fax, SMS, e-mail or letter.

360-degree view of delinquent accounts

Juris Collect is designed to be intuitive, where it allows you to view and manage all delinquent accounts in a 360-degree view. This includes viewing the treatment of affected accounts for a customer that is effective when contact is made.
Juris Collect Core Functionalities
Powerful Strategy Manager plans your collection process to maximize revenue collection.
Advanced workflow engine automates the collection process and the treatment of account receivables in various stages of the collection cycle.
Fully web-based for easy deployment, lowering system operating and maintenance cost.
Distribution Engine allows you to collect by CIF or Account and perform centralized collection or decentralized collection by branch.
Third party enabled with proven online framework with external lawyers or collection agencies.
Integration to external rating systems such as CCRIS and CTOS.
Advanced configuration that offers fantastic levels of customisation as Juris Collect is built on top of our Business Process Management (BPM).
We at JurisTech sincerely invite you to experience the difference in Juris Collect!
Case Studies
Awards
Juris Collect was also awarded the MSC Malaysia APICTA 2012 Best of Financial Applications award, proving it to be among the best debt collection software in Malaysia. In the same year, Juris Collect progressed to the Asia Pacific stage to compete with solutions from 13 member countries and won the Merit Award in the prestigious "Best in Financial Applications" category.
Other References
We also provide end-to-end management of the customer from loan origination to collection. For more information, you may refer to: