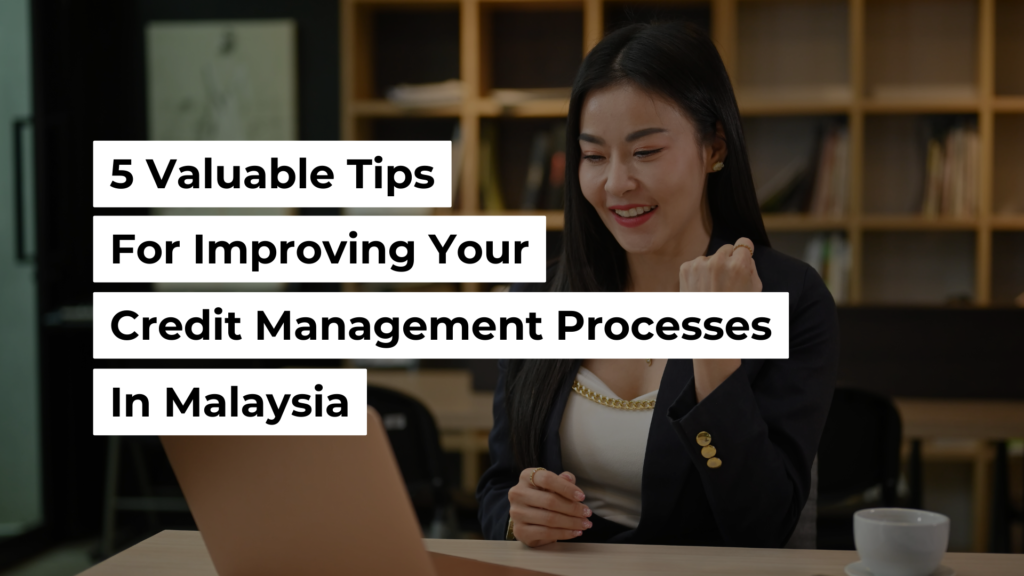 In today's rapidly changing financial landscape, effective credit management is critical for businesses to maintain a healthy cash flow, sustain growth, and ensure stability. Optimising credit management processes can make a significant difference in the financial success of businesses in Malaysia, as well as anywhere else in the world. We understand the unique challenges that Malaysian businesses face, and we are here to share five essential tips to help you improve your credit management processes and drive business excellence.
Understanding Credit Management
Before we dive into the tips, let's establish a clear understanding of what credit management entails. Credit management refers to the practises and strategies that businesses use to ensure that they provide credit to customers who can reliably pay back their debts. This includes evaluating customers' creditworthiness, establishing credit limits, monitoring payment patterns, and taking proactive measures to reduce credit risks.
1. Conduct Comprehensive Customer Evaluation
A thorough evaluation of your customers is the foundation of efficient credit management. In the context of Malaysia's diverse business environment, this step is even more critical as it is an effort towards anti-money laundering and counter-financing of terrorism. Begin by developing a comprehensive customer evaluation process that considers not only financial history but also industry trends and business stability. This holistic approach enables you to make informed decisions about credit limits and payment terms, reducing the risk of bad debt.
Harnessing Technology and Data Analytics
The digital era has brought about an abundance of tools and technologies to assist in credit management. Take advantage of data analytics to gain valuable insights into customer behaviours, payment trends, and credit usage patterns. In the context of Malaysia's complex market dynamics, technology can reveal invaluable information. Utilise predictive modelling to anticipate credit risks and tailor your strategies accordingly. Routine task automation improves efficiency even further, allowing your team to focus on strategic decision-making.
2. Craft a Comprehensive Credit Policy
A well-defined credit policy serves as the cornerstone of effective credit management in Malaysia. Begin by establishing clear guidelines for granting credit to customers. Credit limits should be set based on their financial history and risk profile. This not only reduces potential losses but also demonstrates your dedication to responsible lending. Ensure that your policy covers invoicing procedures, payment terms, and the consequences of late payments.
Personalised Approaches
Recognise that no two customers are alike. Tailor your credit policies to cater to the diverse needs of different customer segments. This personalised approach demonstrates your dedication to cultivating mutually beneficial relationships, which in turn builds trust and customer loyalty by increasing customer satisfaction, elevating your digital customer banking experience.
3. Enforce Consistent Monitoring and Analysis
Credit management in Malaysia is an ongoing process that necessitates constant monitoring and analysis. Regularly review customer payment trends, credit utilisation patterns, and payment histories. Identify early warning signs of potential issues and take proactive measures to address them. Monitoring allows you to adapt your credit policies as the market changes, ensuring a strong financial foundation.
Automated Processes
Ever since the advent of Artificial Intelligence (AI), the automation of manual tasks has become more popular due to time and cost savings. For example, now we can use automated reminders to remind customers of upcoming payments for collection purposes. This reduces the possibility of defaulters and encourages timely settlements, thereby strengthening your financial stability.
4. Proactive Monitoring and Communication
Timely communication is the backbone of effective credit management. Set up a proactive monitoring protocol for customer accounts to detect signs of potential risk. In Malaysia, where market conditions can change quickly, staying vigilant is essential. Review payment patterns, credit usage, and industry developments on a regular basis. If any red flags appear, engage your customers in open and honest conversations. Such communication not only aids in risk mitigation but also strengthens your business relationships.
Early Intervention
Address potential issues as soon as they arise. If a customer is experiencing financial difficulties, engage in sympathetic discussions to restructure payment plans. This not only safeguards your interests but also showcases your commitment to customer success.
5. Continuous Improvement
As business landscapes continue to evolve, so should your credit management processes. Evaluate the efficacy of your strategies and policies on a regular basis. Identify areas for improvement and embrace new technologies, such as AI that will help you streamline your credit management practises in Malaysia.
Training and Development
Invest in training for your credit management team so that they can stay current on industry trends and best practises. A well-informed team can confidently navigate challenges, ensuring the stability of your credit operations.
In a Nutshell
To summarise, mastering credit management processes is a non-negotiable aspect of running a successful business in Malaysia's dynamic market. Remember that the key lies in holistic customer evaluation, customised credit policies, automated, streamlined processes, proactive monitoring, and continuous improvement. Implementing these strategies will not only reduce credit risks but also position your company for future growth and success.
JurisTech, Your Preferred Partner
At JurisTech, we excel in the development of credit management, digital banking, and AI solutions. Our AI proficiency is demonstrated through our explainable automated ML and AI platform, empowering banks and FIs to make well-informed business decisions and tackle real-world challenges. Furthermore, our auto-decisioning engine, powered by data-driven insights, enables businesses across industries to make complex real-time decisions with confidence and accuracy. Not only that, we have an entire suite of end-to-end credit management solutions, guaranteed to meet your digital transformation needs.
Our technical and business experts are committed to assisting clients in achieving their digital transformation goals. We advocate for building robust partnerships and tailoring solutions to specific project and organisational requirements to ensure seamless system integration. To ensure a seamless transition, we extend outstanding support beyond project culmination, encompassing comprehensive post-implementation aid and training to meet ongoing needs. 
If you're ready to take your credit management to the next level and elevate your business's financial success, get in touch with us today. Your journey to improved credit management and business excellence begins now.
About JurisTech

JurisTech (Juris Technologies) is a leading Malaysian-based fintech company, specialising in enterprise-class software solutions for banks, financial institutions, and telecommunications companies in Malaysia, Southeast Asia, and beyond.