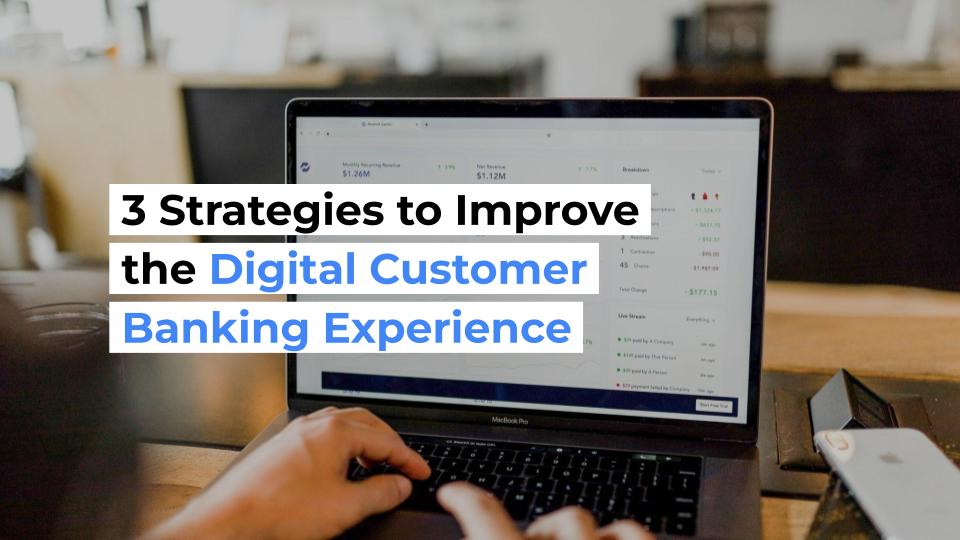 Image credit: Unsplash
Delivering a great customer experience is crucial for any business, and the same goes for the financial industry. One in three customers says they will walk away from the brand they love after one bad experience. This is why three out of four of the 50 largest global banks pledge themselves to some form of customer-experience transformation.
Customer experience in banking refers to the way a bank or a financial institution interacts with its customers through every touchpoint, such as the online banking systems, emails, call centres, face-to-face interactions, marketing and even social media. With new players entering the financial market, customer experience will be one of the key differentiators in the banking industry today. Banks and financial institutions need to place customer experience at the forefront of their operations to ensure higher customer retention. After all, they did discover that better customer experiences contribute to increased throughput in sales journeys (thus, more income) and decreased friction in service journeys (and therefore, lower cost to serve), according to McKinsey & Company. For instance, one bank managed to increase its sales conversion by 15% by reducing obstacles that block the completion of customer shopping and sales journeys. 
So, here's the question, how do we go about it? Here are three strategies you can start looking into to improve your customer banking experience.
1. Personalising the digital banking experience
Customers of today are expecting personalised and consistent experiences across all channels and touchpoints when it comes to managing their finances and/or purchasing financial products and services. In the banking industry, personalisation refers to delivering a valuable product or service to customers based on their personal experiences, needs and preferences. In the era of digitisation, creating a personalised experience is becoming increasingly important, and this is advocated by a Capco study that reported 72% of customers rated personalisation as highly important in today's financial services landscape, with millennials placing the highest value at 79%, followed by GenZ at 75%.
One of the leading trends in providing personalised experience is delivering real-time, predictive and proactive financial experiences that cater to customers' specific needs and preferences. Banks and financial institutions can make this happen by making use of predictive analytics powered by Artificial Intelligence (AI). Predictive analytics analyses trends and patterns in customer data collected, and if coupled with AI, can make recommendations and predictions where its accuracy increases over time as it absorbs more data. With that, banks and financial institutions will have a deeper understanding of their customer base. For instance,not only can they provide products and services that address what customers need or want, but can also personalise marketing offers so that the organisation's marketing efforts are able to reach out to the right target audience with the right message, on the right channel, at the right time. By providing such experiences, not only does it build trust and customer loyalty, but it also enhances customer satisfaction as customers will be able to receive solutions even before the customers even realise they have a problem! This, in turn, will drive greater revenue for financial institutions. 
2. Enabling self-service portals
Self-service banking is essential in a post-pandemic world, with consumers increasingly desiring to be self-reliant, according to BusinessWire. Plus, research has shown that customers, in general, are more responsive to interactions that are less confrontational. Most customers would usually attempt to solve issues on their own before reaching out for support from a live representative. To stay in the game, we can see that many banks and financial institutions have started implementing self-service portals, where not only can customers perform day-to-day banking activities, but also report their problems through their preferred devices and channels. It is also used as a strategy to reduce the overall cost and manpower involved.   
However, it is also worth noting that banks and financial institutions have to keep a close eye to ensure the effectiveness of this strategy. In fact, data showed that although 74% of customers have used self-service portals in the past, only 9% of customers reported solving their issues completely via self-service. In other words, there's still room for improvements in implementing effective self-service portals that prevent abandonment mid-stage. It is clear that mid-way abandonment requires the intervention of live representatives, thus causing friction to the entire digital customer journey and indirectly increasing operational costs. Hence, it is crucial that every self-service portal is able to provide clear information and actionable steps to guide and aid customers. This will ultimately increase customers' confidence in self-service banking.
3. Providing a truly omnichannel banking experience
An omnichannel banking experience aims to provide customers with a consistent digital banking experience across all channels. In simpler terms, omnichannel banking enables customers to access financial services offered by a bank or financial institutions across all channels, regardless if they are online or offline. 
Here's what you can do to create an omnichannel banking experience, and how it helps in improving the customer experience:
Enabling a digital-first approach

– Make it convenient for customers to perform banking operations such as applying for loans and credit cards, transferring money, checking account balance, etc., anywhere, anytime via a website or a mobile app. 

Enabling seamless customer support

– Seamless integration between an omnichannel banking platform with chatbots and other communication channels allow customers to reach out for support based on their preferred devices, thus enhancing customer satisfaction. 

Enabling real-time data synchronisation

– With that, customers do not have to repeat or re-enter the same data again even when they switch channels in the process.
A great example of an omnichannel onboarding platform is none other than our JurisTech solution, Juris Access, a digital customer onboarding platform, that enables financial institutions or companies to create an engaging end-to-end onboarding journey, from application, screening, verification to approvals.  Juris Access enables digital transformation for banks and financial institutions and facilitates omnichannel customer engagement so customers may apply for loans and financing products anytime, anywhere.
In a nutshell
The customer experience in the banking and financial industry has a massive potential for growth that is still untapped. Banks and financial institutions must transform and keep up with the ever-changing customer demands by efficiently managing their expectations, building unique connections and relationships, and lastly, shaping new, high-quality experiences. Only through the transformations of today can we create the banks of tomorrow.
About JurisTech

JurisTech (Juris Technologies) is a leading Malaysian-based Fintech company, specialising in enterprise-class software solutions for banks, financial institutions, and telecommunications companies in Malaysia, Southeast Asia, and beyond.

As one of the Fintech pioneers in Malaysia, our vision is to enable financial inclusion for the financial industry with our diverse range of solutions. Check out Juris Mindcraft, our latest AI-powered technology that helps banks and financial institutions to transform their digital landscape. 

If you want to digitally transform customer journeys, check out Juris Access, our digital customer onboarding platform that creates engaging end-to-end onboarding journeys, from application, screening, verification to approvals.