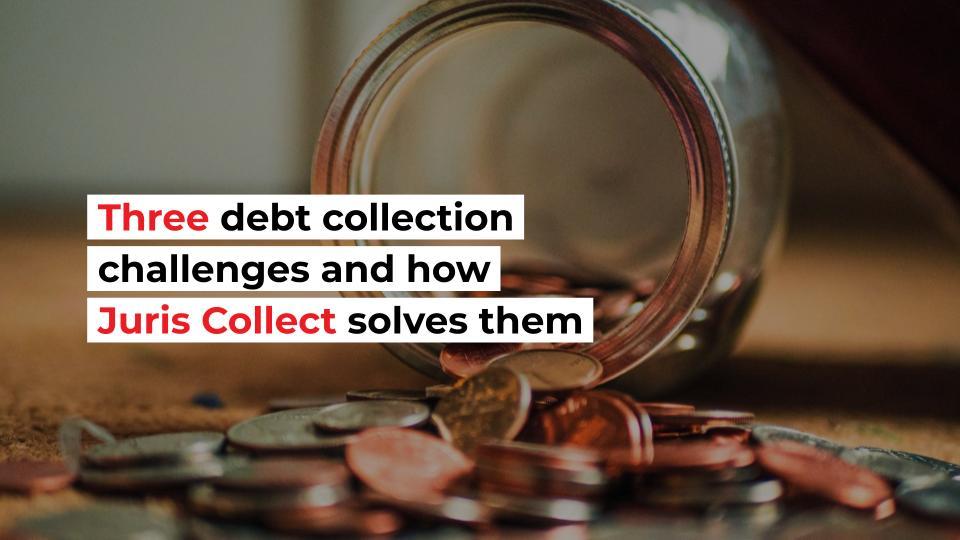 Image Credit: Unsplash
In the debt collection industry, it is inevitable that some customers have trouble paying back their loans on time. In fact, it becomes a common scenario during an economic downturn. However, the situation worsens if debtors hold off from paying back for a prolonged amount of time. The top priority in the industry is to ensure that debt is collected and always recovered, and the longer a customer stays delinquent, the less likely they are to repay you. 
Here, we are highlighting three unique challenges faced by most banks, financial institutions, and collections personnel during the debt collection process, and how our award-winning enterprise debt collection system, Juris Collect can overcome them.
Current Challenges
1. Difficulty streamlining processes that rely on siloed software systems
Institutions that run with disparate software systems will find it tough trying to ensure a seamless process. This is because it is very difficult to streamline processes that rely on systems and data that are not tied together, which causes information silos. Information silos severely restrict the exchange of information between unrelated systems to the point where sharing of information is impossible. Besides that, creating an effective workflow and automating the processes are also going to be challenging with unconnected systems. What should have been a simple process can easily become complicated. As a result, problems such as increased manual processes, duplication of effort, and lack of synergy may arise.
2. Difficulty in identifying potential delinquencies
How do you tell the difference between customers who miss payment(s) due to short term circumstances such as late payday or forgetfulness, versus those who are at risk of being delinquent due to financial distress? One of the biggest challenges for most banks and lending institutions is the inability to identify which accounts are self-curing accounts and which are potential delinquencies. Plus, the concern has especially heightened due to the uncertain economic environment caused by the COVID-19 pandemic. The outdated approach to debt collection is not helping either as traditional risk models rely on limited data and old formulas, which usually have difficulties in trying to keep up with the ever-changing economic conditions. Banks and financial institutions are unable to predict which accounts will fall delinquent, and this, in turn, would put lenders and collectors behind the curve. It is even worse when banks employ the one-size-fits-all collection strategy, which is less effective.
3. Inefficient collection strategies
Increased number of calls is not going to improve your contact and recovery rates, personalising the collecting experience based on customers' preferences will. Yet, most financial institutions still lack process automation to efficiently determine, manage and customise the right customer's journey during the collection process. In fact, many are still adopting the traditional one-size-fits-all approach, which usually yields unsatisfactory returns. Banks need to realise that not all defaulters are the same. Every debtor has a different background, behaviour, and repayment abilities. Having a thorough understanding of the customer's diverse behaviours and preferences is needed so that banks and financial institutions can design a personalised collection strategy that will ensure successful repayment performance. 
How can Juris Collect help?
Juris Collect is an end-to-end debt management and collection system that handles early delinquent accounts to final approval or write-offs, whilst intelligently implementing different collection strategies for different customers. We made Juris Collect with the goal to be an easy and configurable platform, so that you can adopt, implement, and test various collection and recovery strategies for different segments of the customer base to address the challenges detailed earlier.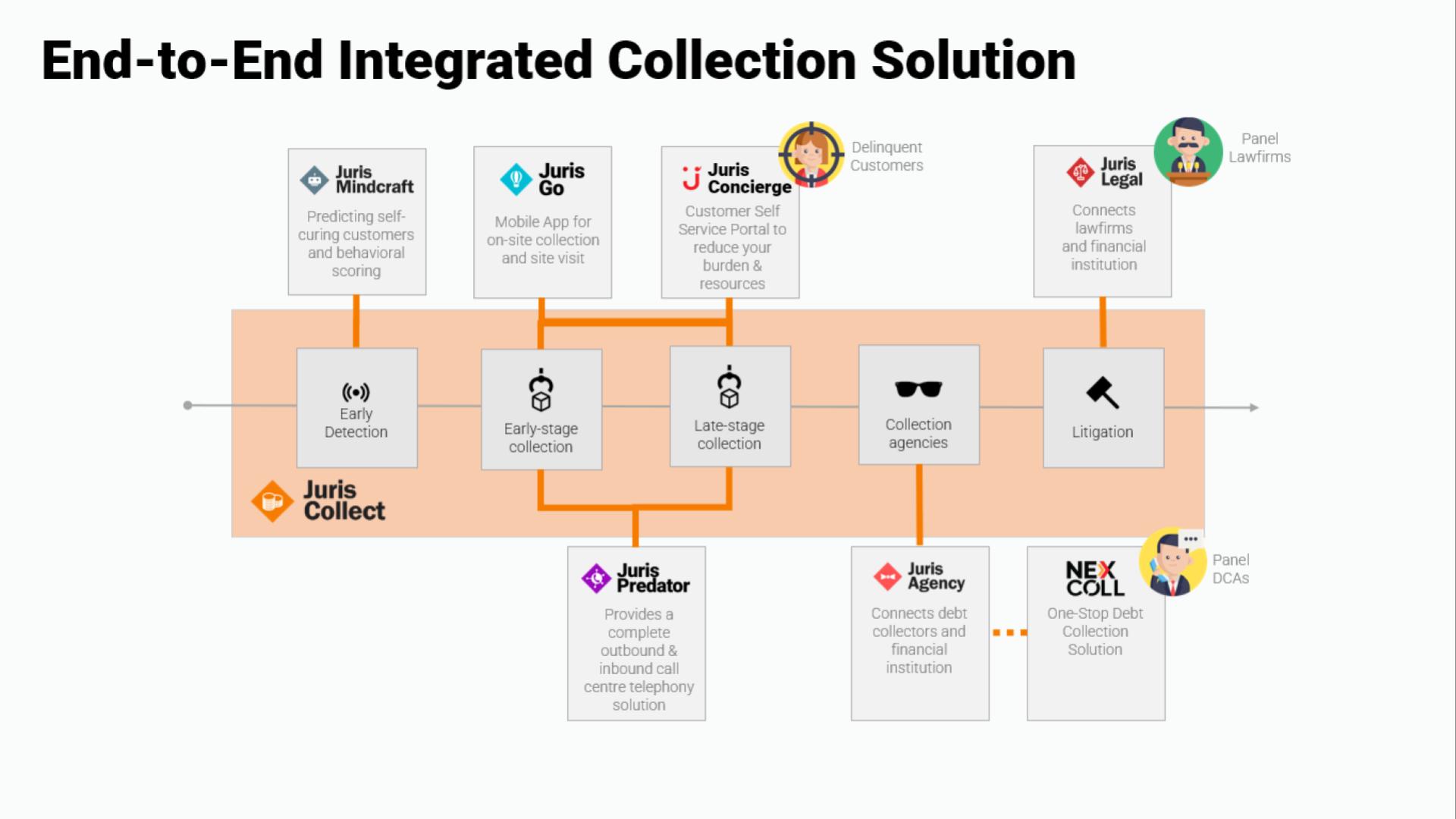 Figure 1: JurisTech's Collection Suite
1. A centralised platform with seamless collaboration with all parties
One of the most effective ways to improve efficiency in your debt collection process is to have a system that centralises the entire collection process up until the recovery stage, and Juris Collect does exactly that! Besides integrating with the usual core banking systems, Juris Collect also seamlessly integrates with other JurisTech solutions such as Juris Legal and Juris Agency to create a collaborative ecosystem with 3rd-parties like law firms and debt collection agencies. It works as a centralised system for banks and financial institutions to manage delinquent accounts and makes it easier for collections personnel to have a holistic view of all the accounts and the necessary information.
Through Juris Agency and Juris Legal, you are able to manage, track, and monitor external lawyers' and DCAs' performance in real-time to ensure the payment reconciliation process runs efficiently. Juris Agency is an end-to-end administration and management platform that connects DCAs, banks and financial institutions and it eliminates the need for manual handling of case distribution and commission payment to DCAs. Meanwhile, Juris Legal is a robust legal management platform that connects law firms, banks, and financial institutions with a complete legal workflow for late-stage recovery. With Juris Legal, you can streamline and optimise the standard civil suit and foreclosure litigation processes by automating the legal case distribution, billing, and approval process, and providing a portal for lawyers to collaborate on litigation matters. That way, you can optimise your debt collection processes and eliminate manual, redundant work as Juris Collect automates and unifies communications within and outside the network.
2. Artificial Intelligence (AI) and predictive analytics
Artificial Intelligence (AI) and predictive analytics are going to be the biggest differentiator in the debt management space. Our enterprise debt collection software is AI-powered by a self-learning technology that incorporates behavioural scoring, and its predictive analytics makes it possible to identify potential delinquent and self-curing accounts. Some people are known to be late-paymasters due to circumstances such as their payday and other commitments. So, don't waste your collectors' effort by calling them because eventually, they will pay! The AI component in Juris Collect can forecast self-curing and potential delinquent accounts by analysing their repayment history, behaviour, contact patterns, and more! The quicker you are in identifying non-self-curing accounts, the quicker you are to contact them, and the earlier you will be in reaching a promise-to-pay (PTP) with the debtors.
Furthermore, the predictive analytics embedded can also be utilised to create a personalised collection call treatment for each customer. It can suggest the best number and time to call the customers so that you would not be calling them when they are busy with meetings, work, etc. Plus, its prediction gets better over time as it absorbs more data, thus, improving collection rates!
3. Manage collection strategies with ease
Another feature worth noting is that Juris Collect comes with a powerful Strategy Manager that will assist you when you are planning the collection process. Built with the aim to maximise revenue collection, Juris Collect simplifies strategy management by enabling managers and administrators to control all their collection centre activities such as customer segmentation, organising treatments for each customer segment, configuring each individual treatment such as SMS, email, IVR and letter contents, call campaigns, litigation process, agency process, and many more! This is also coupled with our Champion Challenger module that allows you to implement and test various collection strategies for different types of customers to achieve the most efficient use of resources. All you need to do is tweak some of the treatment settings, deploy both strategies and compare which work best, easy as that!
The bottom line
Debt collection is traditionally a reactive process. But the world is changing. Banks and financial institutions need to be proactive and start pursuing initiatives that will ultimately transform their debt collection operations in order to keep up with the demands of today. Debt recovery isn't easy, and that is why a holistic debt collection process is crucial in order to increase collection rates.
If you'd like to find out more about how we can work with you, don't hesitate to contact us. We are happy to help!
About JurisTech

JurisTech is a leading Malaysian-based Fintech company, specialising in enterprise-class software solutions for banks, financial institutions, and telecommunications companies in Malaysia, Southeast Asia, and beyond. 

As one of the Fintech pioneers in Malaysia, our vision is to enable financial inclusion for the financial industry with our diverse range of solutions. For enterprise solutions, Juris Collect is an end-to-end debt management and collections system that helps you to implement different collection strategies for different customers to achieve the most efficient use of your resources.