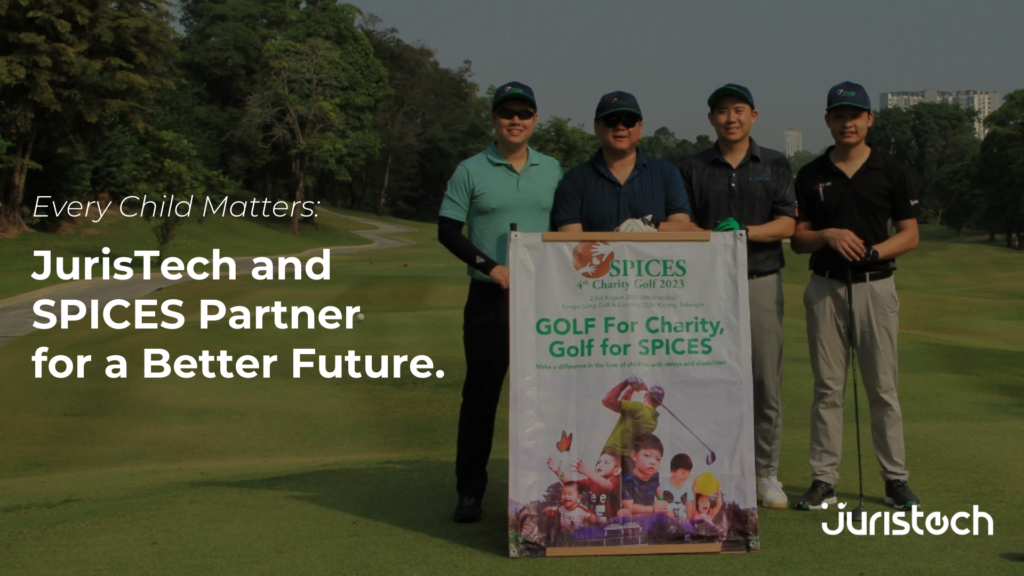 From left: Jason Loh, Associate Vice President – Originations of JurisTech; Naaman Lee, COO of JurisTech; Ken Yap, General Manager of iMoney Group; Kit Mun, Associate Vice President – Support & Enhancements at the SPICES' 4th Charity Golf Tournament
JurisTech is honoured and thrilled to once again support SPICES (Supporting Parents, Infants, and Children through Early Services) at their 4th Charity Golf Tournament. JurisTech has been performing CSR initiatives for the last 15 years, and it is still an ongoing tradition where we share our Annual Dinner with the underprivileged and organise fundraising campaigns for the children's homes.
We extend our warmest regards to the SPICES community and deeply appreciate the success of our past collaborations, particularly the remarkable fundraising drive that enabled us to raise nearly RM20,000 in the previous year. It was through the dedication and commitment of the JurisTech and iMoney (a consumer arm of JurisTech) families that this significant contribution was made possible. 
The 4th Charity Golf event by SPICES was of particular significance as it represented the return of a beloved event after a three-year hiatus caused by the pandemic. The event took place at the picturesque Sungai Long Golf and Country Club in Kajang on August 23, 2023. This year, the funds raised at this event were instrumental in advancing SPICES' initiatives and community services. After 25 years, an ambitious project to upgrade their facilities is in the works, with plans for a contemporary space adjacent to their current location. 
Among the anticipated highlights of the Charity Golf event was the presence of our esteemed Chief Operating Officer (COO) of JurisTech, Naaman Lee, and General Manager of iMoney Group, Ken Yap. The involvement of Naaman and Ken resonated strongly with both companies, which are dedicated to bringing a meaningful and positive impact to the community. Naaman has always been someone who gives his fullest support to underprivileged children. Having said that, in all things that we do as a company, we aim to impact and enrich those around us. Echoing the vision of JurisTech, we want to create amazing software solutions, to build and enrich lives. 
The core mission of SPICES aligned perfectly with JurisTech's desire to have a positive impact. We shared their commitment to providing children with developmental delays and disabilities, especially those who were underserved, with evidence-based services. This partnership emphasised that these children deserved a solid foundation for a brighter future, and that it was the responsibility of both individuals and businesses to make this a reality.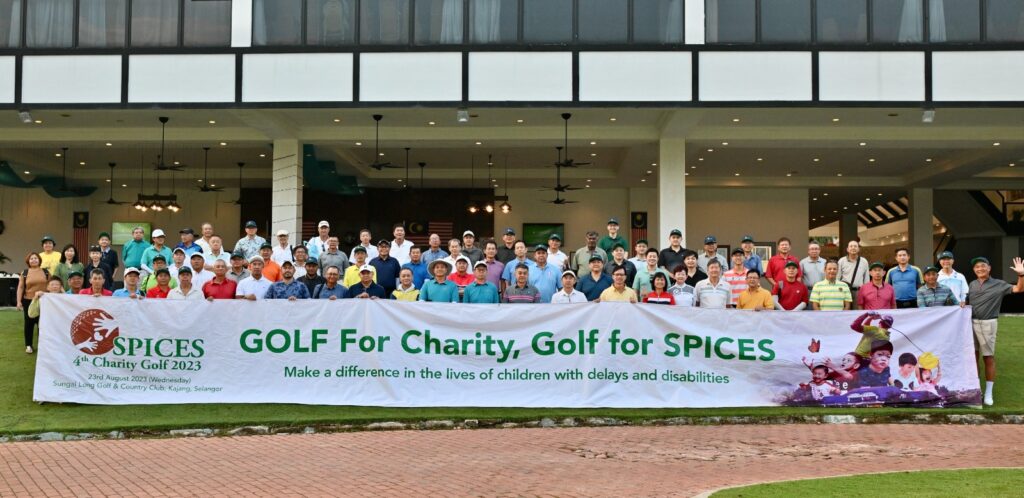 JurisTech is honoured to be a part of this journey with SPICES, and we are fully committed to supporting SPICES and their noble cause. Every effort, regardless of size, counts towards making a significant difference in the lives of these children. For those interested in joining them in this meaningful endeavour, details about SPICES' 4th Charity Golf 2023 and their impactful work are available on the organisation's website (https://spices.org.my). For more information, you can contact SPICES at +603-4149 8032 or via email at info@spices.org.my.
In conclusion, we want to express our profound appreciation to SPICES for providing us with the opportunity to contribute to such a worthy cause. Together with Naaman, Ken, and other supporters, we are enthusiastic about fostering a brighter, more inclusive future for the SPICES  community and positively impacting the lives of these young people.
About JurisTech

JurisTech (Juris Technologies) is a leading Malaysian-based fintech company, specialising in enterprise-class software solutions for banks, financial institutions, and telecommunications companies in Malaysia, Southeast Asia, and beyond.