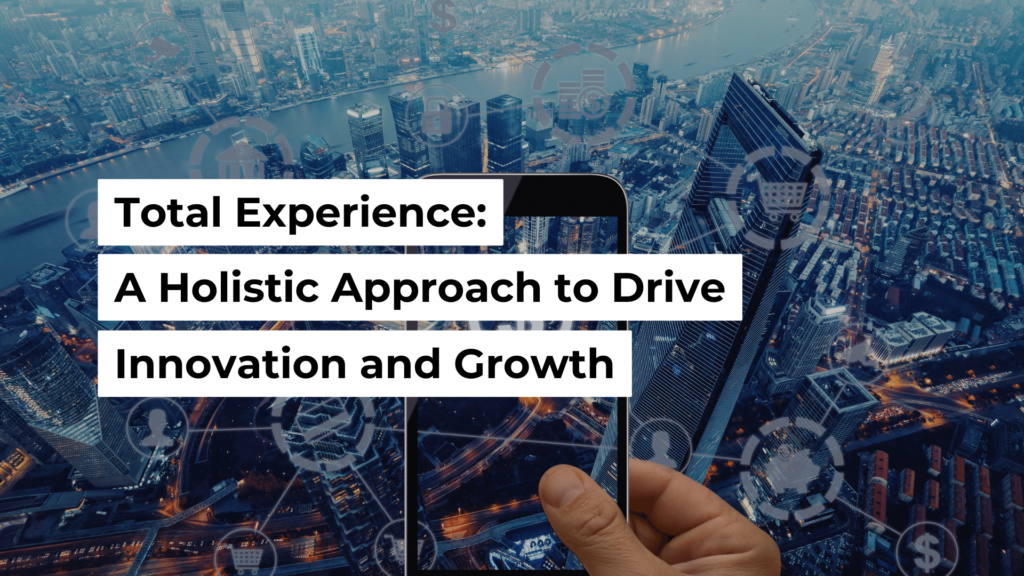 Total experience (TX) is a business strategy that encompasses user experience (UX), multi-experience (MX), customer experience (CX), and employee experience (EX), with the end goal of elevating the overall experience a customer has with a brand or a business. It combines all interactions and touchpoints, including online and offline experiences, customer service interactions, and the product or service itself, creating a seamless and efficient customer journey, which can in turn, increase customer satisfaction and loyalty. 
In today's highly competitive market, businesses are already employing TX strategies to stand out. TX plays a pivotal role in achieving this objective, enabling a comprehensive view of the customer's journey with the brand. Instead of the respective departments that are in charge of these four experiences operating in silos, TX can enhance all four of these experiences, allowing businesses to create a strong emotional connection with their customers. 
Gartner has shared that by 2024, businesses and organisations that utilise TX strategies will outperform competitors by 25% in satisfaction metrics. To add to that, positive customer experiences can lead to a significant increase in customer satisfaction rates, according to a survey conducted by McKinsey. In fact, a 20% rise in satisfaction levels can be achieved when customers have a positive experience.
Furthermore, Gallup reports that businesses with highly engaged employees can achieve impressive results, including higher productivity, customer loyalty, safety, and profitability, as well as lower employee turnover.
When it comes to customer loyalty, Qualtrics found that customers who rate their experience as "very good" are highly likely to purchase from that brand again – a staggering 94% of them, to be precise. This is because CX has been shown to be responsible for more than two-thirds of customer loyalty, outperforming the combined influence of brand and price, as per Gartner's findings.
Companies that offer personalised customer service can reap the benefits of customer spending, according to Zendesk. A whopping 90% of customers will spend more with companies that offer this service. Additionally, industries that focus on improving CX by even a single point can witness an astonishing $1 billion in additional revenue, according to Forrester's research.
Overall, TX has become a key differentiator for businesses looking to stand out in the market and deliver value to all stakeholders. By prioritising the total experience, companies can improve their bottom line, attract top talent, and create a lasting impact on their industry.
The four experiences that makeup Total Experience:
UX refers to the overall experience that a person has when interacting with a product or service. It focuses on how the user interacts with the product, including the user interface, ease of use, and emotional response. The goal of UX is to create products and services that are easy to use, visually appealing, and provide value to the user.
MX is a software development approach that creates a seamless and immersive user experience across various devices and touchpoints. MX also refers to the entirety of a user's interaction with a brand across various digital channels, devices, and interaction methods such as touch, voice, and gesture. By leveraging technologies such as artificial intelligence, augmented reality, virtual reality, and natural language processing, MX enables businesses to offer personalised and engaging experiences that adapt to users' needs and preferences.
Customer Experience (CX): 
CX refers to the overall experience a customer has with a brand throughout their entire journey, from initial awareness to post-purchase support. CX encompasses every touchpoint between the customer and the brand, including marketing, sales, customer service, and product use.
Employee Experience (EX): 
EX refers to the overall experience that employees have while working at a company. It focuses on creating a positive work environment and employee engagement, with the goal of increasing productivity, job satisfaction, and employee retention.
In a nutshell, UX focuses on the end-user, while CX focuses on the customer's experience with the company. MX focuses on creating a seamless experience across different devices and touchpoints, while EX focuses on the employee's experience working for a company. TX is the sum of all four experiences, as it is a holistic approach to creating a positive experience for everyone involved, from the customer to the employee to the end user.
How Total Experience Impacts Businesses
Disney mastered the concept of selling an entire entertainment experience, by creating a seamless experience for guests by combining various technologies, RFID-enabled wristbands, and apps. Visitors can easily manage their itinerary, reserve dining, use FastPass rides, and purchase souvenirs and dining. Disney's EX extends to its employees, allowing hotel front desk personnel to track arriving guests, offer concierge guests exceptional service, and resolve travel bottlenecks proactively. Restaurant hosts can also keep track of reservation holders, ensuring timely seating and avoiding revenue loss from no-shows. 
On the other hand, TX saw a massive uptick during the global COVID-19 pandemic, as businesses around the world embraced TX with the use of newer technologies by capitalising on COVID-19 disruptors. There is ample evidence to suggest that modern-day consumers crave digital interactions that are personalised and efficient, much like the ones they encounter while engaging with leading online platforms such as Amazon and Netflix. This expectation of a seamless digital experience has become increasingly pervasive across various industries, even among employees of said industries. 
In 2021, Gartner reported that one telecommunications organisation aimed to enhance the customer experience by transforming its existing processes, with a particular focus on safety and satisfaction. The company introduced an appointment system via its mobile app, sending customers notifications when they approached within 75 feet of the store. These notifications helped customers to navigate the check-in process and informed them of the estimated wait time before they could enter the store safely. Additionally, the company incorporated digital kiosks and empowered its staff to co-browse customer devices using their own tablets, resulting in a more streamlined and secure experience for all. 
How Does Total Experience Impact Fintech?
TX has been recognised by Gartner as one of the top strategic technology trends for 2022. The research firm has forecasted that by 2026, approximately 60% of large businesses will use TX as a key tool to transform their business models and achieve "world-class customer and employee advocacy levels." 
Utilising TX requires a unified and all-encompassing modernisation approach, and a complete digital transformation journey must prioritise the attainment of TX as a key objective. Within the fintech and digital banking sector, perks such as fintech analytics through the use of TX, have become an essential requirement rather than an optional feature. Dependability is crucial, and even the slightest downtime can result in customer and revenue loss. 
In an intensely competitive market, real-time incident detection can make a crucial difference. Despite acknowledging its significance, many companies are slow to harness the full potential of their data through advanced analytics. Research by Fintech Futures found that 86% of fintech companies consider data analytics implementation important or very important. However, only 16% of these firms have successfully deployed and operationalised their data analytics to their full capacity.
JurisTech, Your Preferred Partner
Here at JurisTech, we pride ourselves in our end-to-end credit management solutions for our clients that are intuitive, secure, and scalable, while also being able to provide a seamless and personalised experience for our clients' employees and customers. Furthermore, we have an impeccable record of delivering projects to customers hailing from more than 22 countries, with over 2 decades worth of experience in the Fintech sector. 
We also take pride in our dedication to providing superb support for our clients' digital transformation needs. We believe that our commitment to your success does not end with project completion, which is why we offer ongoing post-implementation support to ensure a smooth transition to your new and improved system. Our team of technical experts and business consultants bring a wealth of diverse industry knowledge and are always on hand to assist you in navigating your system, based on your unique project requirements and organisational needs. We provide comprehensive training throughout and after the project implementation, so you can feel confident in your ability to use the system to its full potential. Our ultimate goal is to achieve your satisfaction and create a mutually beneficial partnership to facilitate a positive digital transformation experience.
If this has piqued your interest, don't hesitate and contact us today or visit our webpage to find out more about what we have to offer. 
About JurisTech

JurisTech (Juris Technologies) is a leading Malaysian-based fintech company, specialising in enterprise-class software solutions for banks, financial institutions, and telecommunications companies in Malaysia, Southeast Asia, and beyond.