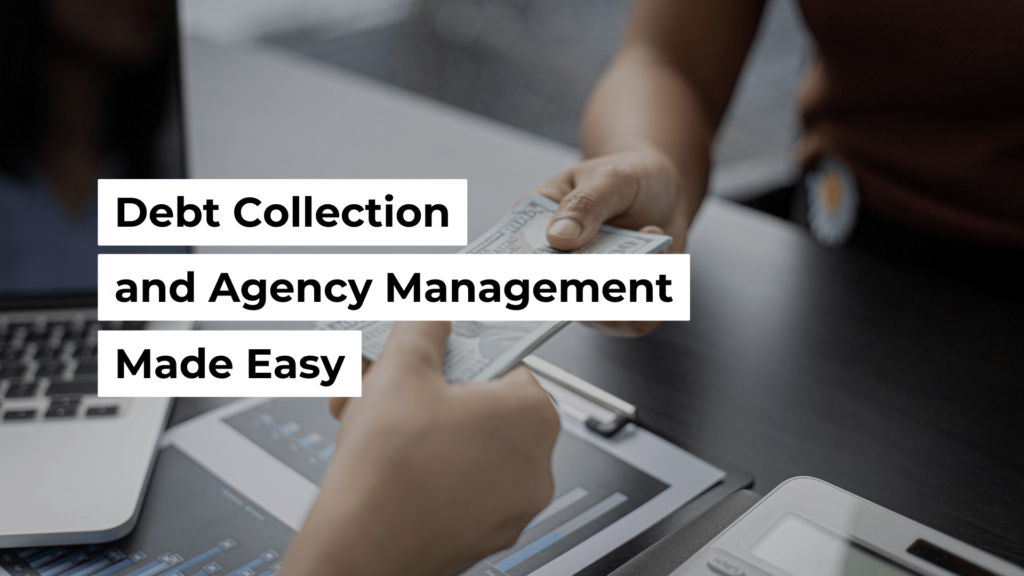 Debt collection can be a complex, costly, and time-consuming process for financial institutions (FIs). The use of external debt collection agencies (DCAs) can add to the complexity of the process with their varying processes and systems. However, there is a solution that can make the process more efficient and streamlined: an end-to-end agency management platform.
Understanding Debt Collection
Before we delve into the benefits of such a platform, it's essential to understand the basics of debt collection. DCAs are hired by lenders to recover unpaid loans from borrowers. These agencies specialise in collecting debts and use various methods such as phone calls, letters, and legal action. 
They typically work on a contingency basis, meaning they receive a percentage of the amount recovered. However, DCAs must comply with laws and regulations that protect consumers from abusive or harassing behaviour.
The Challenges of Managing Debt Collection Agencies
The challenges of managing DCAs are numerous. These external partners operate independently from the FI, which makes it challenging to monitor performance and ensure compliance with laws and regulations. Additionally, managing multiple DCAs can create fragmentation and duplication of effort, making it difficult to track progress and maintain consistency.
While on the topic of fragmentation and duplication of effort, institutions that run disparate or siloed systems can add to the problem, as it is difficult to streamline processes due to the restriction of the exchange of information between unrelated systems, resulting in increased manual processes. 
The Benefits of using JurisTech's End-to-End Agency Management Platform
An end-to-end agency management platform can help FIs overcome the challenges of managing DCAs. Here are some of the benefits:
Centralised Management
JurisTech's end-to-end agency management platform is designed to provide financial institutions with a seamless experience. You can handle your work with DCAs in one centralised location, configured to your specific needs. Our platform offers a range of features such as task management, reporting, and communication tools to provide an overview of your debt recovery operations. Furthermore, we ensure that you're kept informed by keeping track of each case acceptance from DCAs and sending notifications if there's no response from the selected debt collection agency.
Flexible Case and Debt Collection Agency Management 
With JurisTech's Workflow and Distribution Engines, FIs can choose to assign cases to DCAs manually, or automatically based on criteria such as products, geographical locations, and tracked performance history of said agencies. Different dashboards are available for different user roles as well, ensuring security for all. Moreover, our platform provides FIs with the ability to retract assigned cases should the need arise. Once the cases are retracted, a reassignment workflow is automatically triggered, whereby the case is automatically reassigned to another agency. Our platform's abort function also provides DCAs flexibility while adhering to specific criteria set by the FI. With our platform, FIs can be assured that their work with DCAs is secure, efficient and fully supported.
Automated Configurable Workflows
FIs can enjoy an end-to-end workflow engine with a "Stages and Steps" feature. This feature allows FIs to configure and automate many of the tasks associated with debt collection, such as sending emails and SMSs or retrieving credit records from credit bureaus. These tasks are segregated into different workflows that are triggered automatically when the administrator-set conditions are met. The automation of these workflows significantly reduces the workload on financial institution staff and improves efficiency. Furthermore, the "Stages and Steps" feature comes with a user-friendly interface, allowing administrators to configure the workflows via business rules with ease. 
Real-Time Performance Tracking
FIs can gain real-time insights into the performance of DCAs with our end-to-end agency management platform. By leveraging this functionality, FIs can make informed decisions based on actual data, and identify areas for improvement. Moreover, DCAs benefit from the platform's real-time integration APIs, which automatically update their systems with the latest amounts to collect from customers.
Effective Commission, Payment, and Cost Management
JurisTech's platform also supports automated commission computation, based on configured groups that are set by FIs. Our advanced parameters include tier-based, pro-rated, team/fixed commission rates, amongst others. As for DCAs, they can create a payment arrangement either per account or in bulk, and submit it to FIs via our platform. By integrating with existing core banking platforms, payments can be confirmed subject to API availability. Fundamentally, our end-to-end agency management platform can help financial institutions reduce the costs associated with debt collection. By automating tasks and improving efficiency, FIs can reduce the workload on staff and improve the effectiveness of DCAs.
In a Nutshell
The implementation of an end-to-end agency management platform can provide FIs with a powerful tool for managing DCAs. With features such as real-time performance tracking, customised reporting, and task management, FIs can improve the efficiency and effectiveness of their debt collection efforts as the processes become streamlined. By automating tasks, reducing costs, and improving communication, FIs can increase their chances of recovering debts while remaining compliant with regulations. In a rapidly changing financial landscape, an end-to-end agency management platform is a game-changer for FIs.
JurisTech, Your Preferred Partner 
When it comes to credit management, digital banking, and artificial intelligence, JurisTech stands out from the crowd. We take great pride in offering robust solutions that are tailored to our clients' unique needs. With a 100% successful project delivery record, we have proven our unwavering commitment to customer satisfaction. Our experience in the Fintech industry spans over two decades, and we have served clients from over 22 countries, establishing ourselves as a trusted partner in digital transformation.
Our team of technical experts and business consultants are passionate about helping clients achieve their digital transformation goals. We offer top-quality support that extends beyond project completion, providing post-implementation support to ensure a smooth transition to clients' newly enhanced systems. We believe in working closely with clients to navigate their systems based on their unique project requirements and organisational needs. We also provide comprehensive training throughout and after project implementation, ensuring that clients' support needs are fully met. At JurisTech, our primary goal is to establish a mutual understanding of performance standards and facilitate a positive digital transformation experience for our clients.
If you're interested in learning more about our agency management platform and how it can help streamline your debt collection operations and improve recovery outcomes, don't hesitate to contact us today. At JurisTech, we're always here to support you on your digital transformation journey.
About JurisTech

JurisTech (Juris Technologies) is a leading Malaysian-based fintech company, specialising in enterprise-class software solutions for banks, financial institutions, and telecommunications companies in Malaysia, Southeast Asia, and beyond.