About Us
Get to know what we're all about!
JurisTech (Juris Technologies Sdn Bhd) is a Malaysian Financial technology company that serves most major banks in Malaysia specialising in predictive artificial intelligence module, debt collection software, loan origination management, credit scoring solution, plus conveyancing and loan documentation systems.
Began in 1997 during the Asian Financial Crisis, JurisTech moved from offering data mining and analytical tools to credit management and litigation software. The debt recovery software solution was a success and spun off several achievements: 
2003: Awarded the MSC status;
2014: Became the 2nd ever Malaysian company to be included in the Endeavor (non-profit) network. 
2016: CEO See Wai Hun represented the Malaysian FinTech industry in a conference organized by PricewaterhouseCoopers titled, Catching the FinTech Wave; JurisTech used as an example of Agile Responsiveness in Chris Zook & James Allen's book, The Founder's Mentality.
2018: Finalist for the IBM Beacon Awards in the Outstanding Open Innovation Solution for Linux on IBM Systems Server category. JurisTech won three Star Outstanding Business Awards (SOBA), awarded by The Star (Malaysia), for Best Innovation, Best use of Technology, and Female Entrepreneur of the Year 2018 for CEO See Wai Hun.
2019: CEO See Wai Hun was named the EY Woman Entrepreneur Of The Year 2019 in Malaysia. She was also awarded the Technopreneur Excellence Award at the annual PIKOM Unicorn Tech Awards by The National ICT Association of Malaysia (PIKOM). 
2020: JurisTech acquires a personal finance company iMoney. Another huge milestone achieved. This acquisition allows both companies to expand their services and solutions to drive a common goal – improving the financial well-being of consumers. Together, the two businesses are set out to transform and revolutionise the financial services industry. Learn more.
2021: JurisTech software solutions were accredited by Visa to provide the best and competitive solutions for the Fintech industry landscape. The Visa Ready certified solutions are Juris Mindcraft for alternative scoring, Juris Access for customer acquisition and digital onboarding, and Juris Collect for debt collection. As one of the partners in the Asia Pacific region, not only did our software solutions were accredited Visa Ready, we were also invited to join the Visa Fintech Partner Connect programme. Learn more.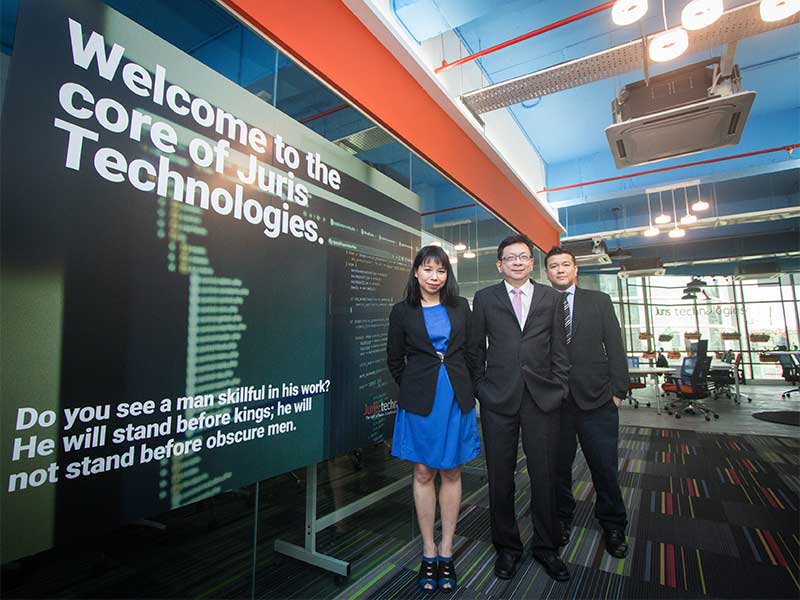 Our Mission & Vision
At JurisTech, we live by this motto: the right software, exceptionally delivered.
"The right software" means that the software is providing real, tangible benefits to our clients. Productivity and effectiveness improve tremendously when the software is used.
"Exceptionally delivered" means that each project implementation services are performed within budget and with high quality, meeting all project objectives. We don't cut corners or take the easy way out and go the extra mile to ensure customer satisfaction. We've built lasting relationships by delivering superior customer experience, through robust-yet-flexible solutions.
It is our vision to be the best credit management solutions provider in the world!
Our Big, Hairy, Audacious Goal
The term "Big Hairy Audacious Goal" was proposed by James Collins and Jerry Porras in their 1994 book entitled Built to Last: Successful Habits of Visionary Companies.
"A true BHAG is clear and compelling, serves as unifying focal point of effort, and acts as a clear catalyst for team spirit. It has a clear finish line, so the organization can know when it has achieved the goal; people like to shoot for finish lines."
— Collins and Porras, Built to Last: Successful Habits of Visionary Companies
Our Big Hairy Audacious Goal: To reach 100 institutions in 10 different countries in 10 years (2028).