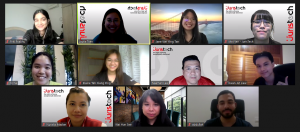 On Friday 4th June 2021, a fireside chat with JurisTech CEO was hosted to give an opportunity to our Taylor's Campus Ambassador to talk and gain industry insights with See Wai Hun. The attendees for the fireside chat were our JurisTech – Taylor's Campus Ambassadors: Priti Prabhu, Elaine Tan Xiang Ping, Jane Wei Ying Tan, and Kwan Jet Liew, both JurisTech CEO and COO, See Wai Hun and Naaman Lee, representative of JurisTech HR, Fiona Mah, and JurisTech Marketing and Communication team. 
The session kick-started with a short fun and light-hearted ice breaker followed by a curated Q&A session where the ambassadors asked for industry insights, what to expect for their first venture into the working world, and advice on how to navigate the future in this current pandemic climate. 
The session continues with Wai Hun sharing her experience on her past careers and her ventures into becoming the successful entrepreneur that she is today. With first-hand insights on the industry and its pain points, the ambassadors gain a clearer picture on how the banking industry evolves and changes over time from the late 90s financial crisis in Malaysia until today. 
Besides that, the ambassadors also asked Wai Hun for her advice on other personal-related questions such as balancing between work and life, her inspirations in her personal and professional life, and also how to stand out as a candidate for a fresh graduate.
The session wrapped up with a virtual photo session and JurisTech wishing the ambassadors well in their studies; like how Wai Hun said it, "have that ambition and be accountable in what you want to do". 
About JurisTech
JurisTech (Juris Technologies) is a leading Malaysian-based fintech company, specialising in enterprise-class software solutions for banks, financial institutions, and telecommunications companies in Malaysia, Southeast Asia, and beyond.
We nurture our culture by practising our GECO core values: Growing Heroes, Making Excellence Happen, Customer First, and Opening Up. We believe in investing in employees' personal growth and career development. We also want to expose graduates to the tech scene and upskill talents from various industries. (So, if you are interested in tech, we want you!)
Check out our job opening here and send in your résumé to hr@juristech.net.