It's not a secret that digital onboarding has played a huge role in customer acquisition in this current time where we are still actively curbing the threat of COVID-19. The pandemic has decelerated the number of physical interactions so heavily relied on pre-pandemic by many organisations previously.
The need for change

Source: The Financial Brand
Over the last few months, there has been a shift in how service providers interact with their end-users. Judging from the emerging trend in 2021, the need for immediate customer assistance became a priority for service providers when the pandemic first hit globally. With the sudden shift of operation almost overnight, companies are finding it hard to decide how best to continue engaging with their target audience that fits their business modus operandi.
Although the pandemic decelerated physical contact interactions, it increases tech literacy for many alongside creating a new demand for a better digital onboarding experience. However, many organisations failed to recognise that first impression matters and it will affect their customer acquisition rate. Despite the billions of dollars being channelled into digital marketing, 32% of customers abandon slow processes between 1 and 5 seconds into them.
Assisting companies to transform efficiently
Hence, the reason Juris Access was developed as an inclusive multi-users digital onboarding platform meant to help our clients to transition into their desirable digital landscape. The platform is designed with an international audience in mind to better understand the client's target audience, increase the ease of online platform usage, creating an efficient end-to-end customer's journey, and minimise the cost of customer service. Equipped with predictive analytics, Juris Access assists clients to extend the level of interaction with their customer base on top of enhancing the product mapping journeys on both front and back ends.. 
These features not only benefit clients in converting prospects into becoming their customers, it also significantly lessen the pain of customer acquisition. e. These are crucial in making sure they can continue to thrive in their chosen digital landscapes and allow them to navigate through any unstable economic climate. 
Recreating a desired digital landscape 
Part of Juris Access' strengths in this pandemic climate is understanding the existing working system of a company to match with their target audience. Simply rushing into changing a digital landscape overnight often resulted in confusion for both their employees and end-users.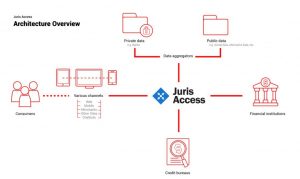 Although it was initially developed with financial institutions in mind, the features offered by  Juris Access easily apply to any institution's structure. As previously mentioned, Juris Access was built as a multi-faceted portal with different accessibility, making it an inclusive software suitable for multiple industries.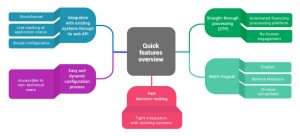 Based on the features, companies can still manage their interactions remotely without the worry of delayed response. This cuts back on time consumption; a major concern for most companies as the work environment shifted from office-based to being forced to work from home and coordinating tasks virtually amongst employees. Juris Access is also built to understand the processes of an institution; implementing enhancement on existing operations, on top of building a transformation that aligns with a company's ecosystem.
Change, however, has to start from the core of the organisation itself. With Juris Access, the change you always imagine having can be measured and tailored to a company's projected future direction, at any time and anywhere that you need it to be. 
About JurisTech

JurisTech (Juris Technologies) is a leading Malaysian-based fintech company, specialising in enterprise-class software solutions for banks, financial institutions, and telecommunications companies in Malaysia, Southeast Asia, and beyond.

Speak to us if you would like to know more about transforming your company's digital onboarding landscape with Juris Access at contact@juristech.net