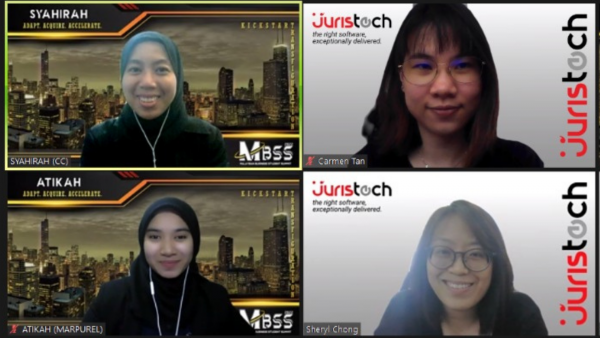 On 2nd March 2022, our Head of HR, Sheryl Chong was cordially invited by University Malaya (UM) to speak on the career life at JurisTech in their annual Malaysian Business Student Summit (MBSS) 2022. MBSS is a platform that facilitates and encourages interactions between undergraduates and businesses throughout Malaysia as well as Southeast Asia. The event hosted a total of 170 participants ranging from first to final year students. 
After kicking in a fun ice-breaking session with everyone, Sheryl moved to share with the audience much about how JurisTech became the leading credit management solution provider in Malaysia from the period of inception over 2 decades ago. During the Asian financial crisis back in 1997, the founders, See Wai Hun and John Lim had recognised an opportunity gap for financial markets in recovery and legal services. Sheryl mentions how this had allowed them to create a blue ocean by shifting their primary focus on creating solutions that would be vital to helping banks and other financial institutions. 
Fast forward 25 years, JurisTech has now evolved as a Fintech company specialising in end-to-end credit management solutions in artificial intelligence (AI), digital customer onboarding, loan origination, credit scoring, and debt collection. Sheryl also shares how JurisTech has won many awards and accolades over the years from well-recognised bodies such as Endeavor, EY, IBM, and more. 
Sheryl further expanded that JurisTech's core values that have been instilled and catalysed across the company significantly contributed to building the pillars of JurisTech from the ground up. These core values are also known as our GECO values namely, Growing Heroes, Making Excellence Happen, Customer First, and Opening Up. She explains how the embodiment of our core values has accelerated the growth of not only the company but the employees as well.
Sheryl then moves to talk more about the career life for both Software Engineers (SE) and Professional Services Engineers (PS) at JurisTech. She shares how the career life for both positions presents nothing short of an extraordinary climb towards professionalism and provides vast and rich opportunities working in the Fintech industry. Many of JurisTech's leaders have grown exponentially starting out as just interns and moving up to managerial and executive positions in a short span of 5 years. 
Sheryl also mentions how JurisTech trains new employees who have no prior background experience to transform them into Professional Services Engineers through our Heroes Training Academy (HTA). HTA is a unit dedicated to training new hires to go through a 2-week onboarding and training session to be equipped with the essential skills needed to start their tech journey.
Coming to the end of the talk, Sheryl enlightens the audience with a number of valuable pieces of advice for graduates to kick start their career from building their work résumés and digital profiles to sharing interview best practices and methods to successfully land a job.
The talk ended in a fruitful Q&A session followed by a warm appreciation and gratitude to Sheryl for imparting invaluable knowledge to the participants. 
Interested in kick-starting your career at JurisTech? Check out and apply to some of the amazing positions we have for you on our Career page!
About JurisTech

JurisTech is a leading Malaysian-based Fintech company, specialising in enterprise-class software solutions for banks, financial institutions, and telecommunications companies in Malaysia, Southeast Asia, and beyond.