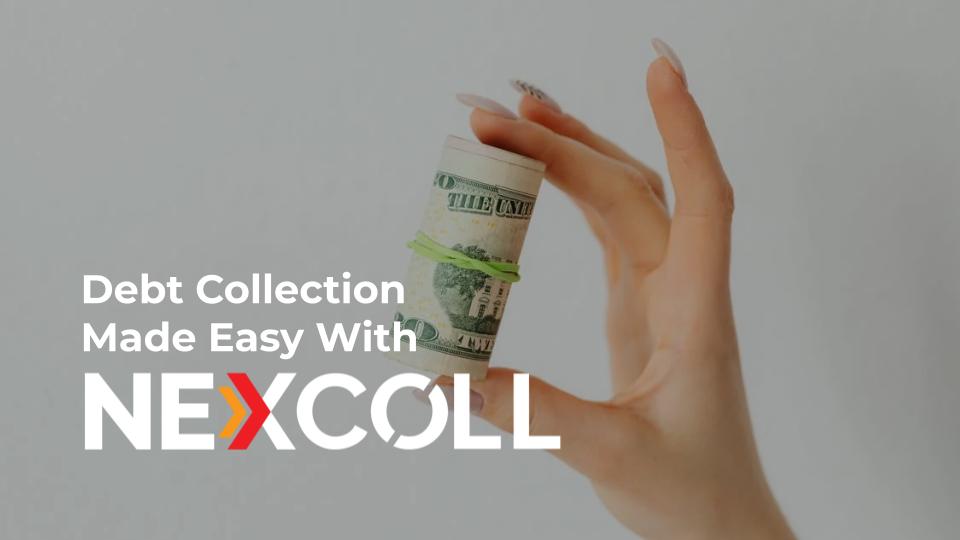 Image credit: Pexels
The most essential part of debt collection is to be able to collect debt in the most efficient and effective manner possible. However, for most debt collection agencies (DCAs), nearly all of the collection processes are still manual,. For example, tracking collection progress through ledgers of Microsoft Excel sheets. 
As most of the processes are still highly manual, DCAs tend to explore and invest in collection systems in order to address this issue. However, some collection systems involve high setup and maintenance costs, and even worse if the processes of these systems are being handled through manual workflow, resulting in little or no improvement to agents' productivity and efficiency. 
Hence, it is important to choose the right software that addresses the business objectives. Here is how NexColl, our one-stop software solution for DCAs can help. 
1. Cloud-based debt collection system
Due to its cloud-based nature, NexColl empowers your collection agents to carry on with their work anytime, anywhere, even at times when everyone is required to stay at home and work remotely. The best part of all, there is no hardware installation involved so you don't need to fuss about setup and maintenance costs anymore! 
2. Automate manual processes
NexColl essentially automates your collection processes, allowing your agents to handle and collect debt from as many delinquent debtors as possible, in addition to monitoring and tracking the progress of all delinquent accounts. The automated workflow engine embedded in the system enables you to upload accounts from multiple sources, and assign them to relevant agents to work on. 
3. Smart dialer
Imagine being able to make a great number of calls with only one agent within a short time. Sounds impossible? Not quite, because this is made possible with the telephony system integrated with NexColl, Juris Predator! 
Juris Predator is an all-in-one computer-telephony integration (CTI) software that is equipped with powerful diallers, inbound call routing and comprehensive information tracking. It is built to assist you in strategising your calling strategies every minute of the day through campaign-based auto dialling. Your agents will no longer have to manually pick and call a number because the telephony will automatically pick from a list of delinquent customers' phone numbers, and subsequently assign a picked-up call to the next available call agent. This way, you can reduce the waiting time of agents waiting for customers to pick up their calls, thus increasing productivity and efficiency!
4. On-demand dashboard and reports
In order to efficiently strategise your debt collection activities, it's important that your agents have a full view of relevant data and analytics so that they can analyse the delinquent customers' behaviour, and plan their strategies accordingly. NexColl provides this advantage as the consolidation of delinquent customer data in NexColl is populated in the system's dashboard. Every users' dashboard is personalised with important and relevant information, including said agent's performance with data visualisation that informs and clarifies their daily collection outcome.
Besides that, an extensive list of reports is also made available for managers to monitor the overall performance of collections. Equipped with a rich set of reporting functionality, users will be able to generate a report upon request through a reporting menu. The reports generated are populated on screen and can also be exported to Microsoft Excel sheets if needed. 
5. Seamless integration with other solutions
Like all other JurisTech solutions, NexColl can be integrated with Juris Agency, our software that enables financial institutions to work with DCAs for account assignment, commission derivation, and verification. With NexColl,  you can automatically source delinquent accounts from the financial institutions that utilise Juris Agency. NexColl's Robotic Process Automation (RPA) will insert these accounts into the system. Supervisors can then assign the accounts accordingly to their agents to work on immediately. This hassle-free account management allows you to consolidate and view all your accounts in a centralised depository. Furthermore, if you are working with a Juris Agency-enabled institution, commission issuance from the institution can be seamlessly handled in NexColl. Thus, you will have full visibility and clarity of the commission transactions involved.
6. Bonus: Dedicated customer support
Client satisfaction is, and will always be, at the top of our priorities. We strive to deliver only the best to our clients to ensure a positive experience for all involved parties. If you experience issues such as system downtime and require tech support, our help desk personnel will always be ready to support and provide you with the help you need so that you can get back to your tasks as soon as possible! Read more about what we are capable of here.
The bottom line
We know that debt recovery isn't easy, and that is why a holistic debt collection process is essential for increasing collection rates. NexColl is designed to increase your organisation's efficiency tremendously by using fast-paced predictive dialling and having a bird's eye view of your collection progress.. If you'd like to find out more about how we can work with you, don't hesitate to contact us. We are happy to help!
About JurisTech

JurisTech is a leading Malaysian-based Fintech company, specialising in enterprise-class software solutions for banks, financial institutions, and telecommunications companies in Malaysia, Southeast Asia, and beyond. 

As one of the Fintech pioneers in Malaysia, our vision is to enable financial inclusion for the financial industry with our diverse range of solutions. If you are interested in debt collection software for DCAs, check out NexColl, our one-stop software solution that optimises your collection processes through automation.