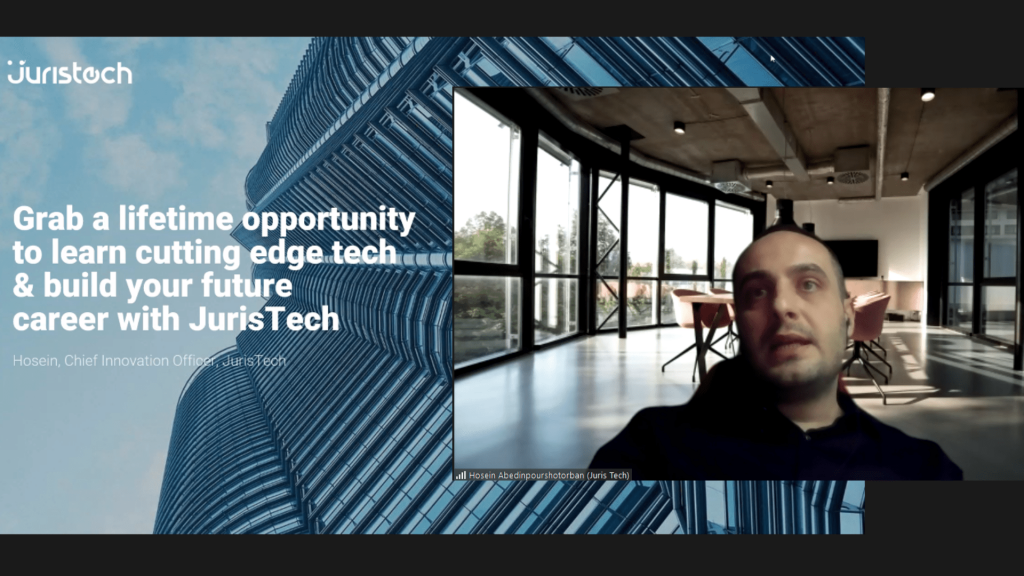 On 24th May 2022, our Chief Innovation Officer, Hosein Abedinpourshotorban, was cordially invited to one of the largest career fair virtual talks in Malaysia, Mega Career and Study Fair (MCASF), organised by GTI media. With over 50 participants attending the talk, Hosein presented exciting career opportunities at JurisTech as well as some of the cutting edge and trending technologies in the industry today. 
Hosein started off by sharing some valuable lessons on developing and building up a successful career. He mentioned how many would commonly assume that following passions and interests in life would lead up to a successful career. However, Hosein shares otherwise, iterating how current interests are not a solid basis for career decisions. Instead, he talks about a success formula of developing a strong career by 'being good at something valuable', skills and talent that are highly sought after in any industry, in order to have a competitive edge at building better career opportunities. As a result, this would lead to success, giving a greater sense of satisfaction in any line of work.

Hosein then moves to share some of the trending technologies and innovations in the tech industry today. Firstly, he shares about the rising demand for digital onboarding platforms for banks and financial institutions to acquire customers digitally and improve customer journeys. He also talked about how businesses today are leveraging artificial intelligence (AI) and chatbots to automate their business operations and build new digital customer experiences. Finally, he talks about the rise of blockchain technology and how it's digitising the entire finance trading industry as a more secure and efficient way to trade multiple currencies. As a financial technology provider, JurisTech has transformed and digitalised many businesses by developing and integrating the latest technology in many financial avenues, such as artificial intelligence, digital onboarding platforms, digital lending and collection systems.
Hosein then dives into sharing some of JurisTech's career prospects and how graduates can kickstart their careers as Software Engineers or Business Analysts. He emphasises how the career paths for both positions are rewarding as their roles in the company involve driving new levels of product innovations while acting as key roles in steering the company to success. Hosein also shares how applicants can join JurisTech without having any technical background. Newly hired employees would generally go through a 2-week intensive training with our Heroes Training Academy (HTA) where they would be equipped with the necessary technical skillsets to kickstart their careers.
Hosein finally wraps the session in a fruitful Q&A session with the participants and leaves the audience with an inspirational quote on building a successful career – "Never limit yourself to what you are capable of achieving because success begins with you."
Interested in kick-starting your career at JurisTech? Check out and apply to some of the amazing positions we have for you on our Career page!
About JurisTech

JurisTech is a leading Malaysian-based Fintech company, specialising in enterprise-class software solutions for banks, financial institutions, and telecommunications companies in Malaysia, Southeast Asia, and beyond.