Holding a degree in Business Computing from University of Winnipeg with Gold Medal honours, Wai Hun started her career in Ernst & Young (EY) in consulting and implementation of enterprise systems.
She co-founded JurisTech in 1997, smack in the middle of the Asian Financial crisis which saw the country's overnight rate rose from 8% to 40%. In crisis there is opportunity holds true for Wai Hun as she secured her first deal with a large multi-national bank to provide a crucial recovery solution for the Bank.
With passion for product innovation and zeal for culture building, Wai Hun is constantly scaling new heights for Juris. Drawing strength from her Christian faith, Wai Hun is a pillar of positive energy and commitment for Jurisians. "When Wai Hun is in the room, you can feel the energy and vibrancy that bubbles up from her!" – this remark was made years ago by a programmer and echoed by all Jurisians who have ever worked with her.
Wai Hun has been named EY Woman Entrepreneur Of The Year 2019 in Malaysia. She was also awarded an Outstanding Achievement award in the Female Entrepreneur of the Year category at the annual Star Outstanding Business Awards (SOBA).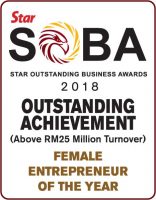 John is a founder of Juris and chief designer of our software systems. Once in a while, when he is not solving financial equations in his head, he still gets his hands dirty tuning the system, making our code run like Porsche's and our engines roar like Ferrari's.
Naaman is responsible for the operations of Juris where his time is divided into overseeing projects, competency building and strategic recruitment. Having a passion for growing talents, Naaman has setup Juris Heroes Training Academy where Jurisians are grown to greater heights and becoming heroes to others.
Serving Juris since 2006, Naaman was a trained mechanical engineer for the first 8 years of his career. A colloquial yet odd coffee conversation resulted in his career change to IT where a new world of possibilities opened up. Naaman's view of the IT industry: "In the mechanical field, we were hampered by lack of advanced equipment, precision tools or super alloys. In IT, especially building software, we have none of those obstacles and the world is our playground"
Kiarash Razaghiaval is the Chief Innovation Officer of JurisTech. He is responsible to champion innovation at all levels of the organisation, creating a culture of innovation by ensuring the company's time, resources, and focus are optimised to be at the forefront of the industry.
"To innovate is to make good ideas a reality," says Kiarash.
He believes that it is not enough to only have amazing ideas, but having a solution for a problem, that is where the real value of innovation lies.
Being in JurisTech ever since he was an intern, Kiarash literally grew with the company. His bright and creative personality inspires people to think out of the box. His charismatic leadership has led him to champion transformational initiatives such as creating Juris Mobile Framework and evangelising multiple Agile methodologies such as Kanban, SAFe and Scrum into the company, earning the name of "The Agile Maestro".