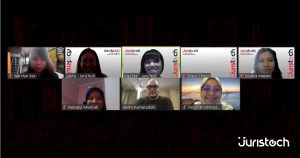 CEO See Wai Hun,Taylor's University Faculty Heads and JurisTech's Marketing and Communications team
Taylor's University's finance and accounting faculty has invited JurisTech's CEO, See Wai Hun, to give a talk on the current climate of Fintech and what the future foresees for the banking and financial industry. The talk was held last Friday, 15th October 2021, in a private session attended by 85 participants.
Our CEO started by sharing the history of Fintech, followed by a detailed explanation of what has been changing in the current climate. Wai Hun elaborated on how COVID-19 halted many ongoing operations for the financial and banking industry, the product of continuous lockdown and public fear of physical interactions, resulting in a dramatic acceleration of technology adoption globally.
Besides that, See Wai Hun also delves deeper into the foreseeable future of the technology that is being developed to further accommodate the change in all three industries (Fintech, banking and financial). She spoke about the four key technologies affecting the current progress; starting with blockchain technology, product-centric and service-centric products, cross-border open banking, and machine learning. 
The talk then turned towards a discussion of how the banking and financial industry changes the way it perceives customers and the creation of the products that were offered to the public masses. A few students pitched in their questions, asking if the job market would deviate from the established course and its impact on the future graduates. Wai Hun answered by stating at the current pace of technology development, it's not only the future graduates who will be affected but also the current workforce and encouraged the students to "look forward to upskilling" to prepare themselves for their upcoming career path.
Continuing on, the lecturers asked Wai Hun to elaborate on what is her take on the Fintech progress, to which she replied the current changes are very much welcome and are set to break the traditional boundaries of the banking and financial industry. Foreseeing a major change in how the world is now exploring to tap into the unbanked, Wai Hun further explained how multiple technologies (such as blockchain) are now being studied by central banks globally to find a stable point to develop products that could serve this untapped market.  
The talk ended with a photo session for the representatives from JurisTech and Taylor's University's lecturers. We at JurisTech would like to extend our gratitude again for the invitation and hope to be invited again for another talk with Taylor's University. 
Excited to start your career with one of the local Fintech pioneers? Check out our openings and learn more about one of the best tech companies in Malaysia.
About JurisTech

JurisTech (Juris Technologies) is a leading Malaysian-based fintech company, specialising in enterprise-class software solutions for banks, financial institutions, and telecommunications companies in Malaysia, Southeast Asia, and beyond.