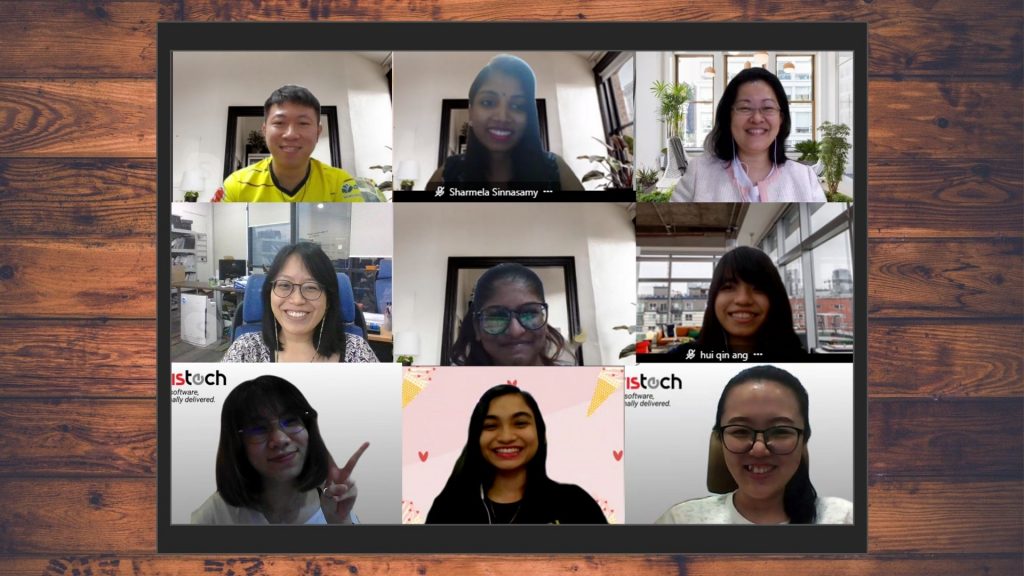 This is a personal reflection by Athira, who is part of the Human Resources and Administration team (HRA) of JurisTech. Her work revolves around Expat Management, employee offboarding, preparing town hall communications of HRA on top of some administrative duties. HRA is a unit dedicated to maintaining the hiring and administrative processes of JurisTech running smoothly and efficiently.
JurisTech is interested in its employees' personal growth and career development. It wants to grow heroes that exhibit excellence in all areas. 
When things are difficult to handle at work (whether you are looking for motivation or trapped in a sticky situation), just GECO it! GECO represents the four core values of JurisTech which stands for:
| | | |
| --- | --- | --- |
| G   | –   | Growing Heroes (duplicating knowledge and skills, and gaining the most through challenges) |
| E | – | Making Excellence Happen (going the extra mile to achieve goals) |
| C | – | Customer First (acting with the best interest of customers) |
| O | – | Opening Up (being open to seek and provide feedback with the intention to improve for the better) |
For the HRA department, 2021 has been an interesting year with a few bumpy rides. The pandemic has disrupted the way we do things as a department and we have been adapting and adjusting to the "new norm" so we can maintain our momentum as a department.
I have been in JurisTech's HRA department for almost 3 years and have been blessed with such helpful team members and supportive seniors. Just when things seemed more stable, there were some changes and restructuring which I considered major that happened in the department. A few months ago, some of the experienced seniors had decided to depart from JurisTech. Though I was happy for them, I couldn't help but think that I would soon lose my umbrella of knowledge.
I have to admit, it was demotivating at first and I might or might not have gone through the "rebel teenage" phase where I didn't want things to change. When I shared my concerns about the knowledge gap, my new career coaches kept telling me to "learn" and "Google is my friend". Ugh! No one understood me!
Then, as the company hired more members in the HRA department, my remaining team members and I realised those being hired were mostly juniors. Not only were there knowledge gaps we had to bridge, we now had junior members looking up to us, who might I add, were also considered juniors at the time. We then asked ourselves – "Will we open up and take on the challenge? If we don't move forward, we move backward." Knowing that the new hires (our new team members) needed an anchor more than us (now the "new seniors" of the HRA department), we knew we had to step up and strive for success.
Although we inherited knowledge and processes from the legacy team, the knowledge gap was significant. We decided to reach out to different related-organisations such as the tax office and the immigration department, read FAQs and forums, register ourselves for online courses, and even ask family members and friends who may have knowledge in the areas needed. We wanted to ensure that for every process we have, we knew what the standard was for being excellent.
We tried to aim high. We didn't want to deliver just by following the step-by-step guide. We wanted to be able to advise our customers (in this case, Jurisians and Incredibles) on the best solution. We tried to ensure that all communications are clear and that we understood their needs, rather than just their wants.
Personally, I didn't expect the restructuring would be this challenging. Apart from ensuring business as usual to run smoothly, we also had to train our new team members. At the beginning of their onboarding phase, we worked together to prepare documents that we would use as references. That included FAQs, step-by-step guides for each process, and a "library" where we stored reading materials. We killed two birds with one stone because we exposed ourselves to various Googleable cases and accidentally created standard operating procedures for each new role we took on.
Despite being able to learn new skills, knowledge, and train the new team members, I still would get overwhelmed from time to time. During those times, I would have to learn how to reach out and collaborate with members from other divisions of HRA (Recruitment Team, Shared Services Team, Expat Management Team, etc.) to work as a team to achieve our goals as a unit.. Of course, during these collaborations, there were bound to be challenges along the way and difficult conversations were unavoidable. We each would have to open up to give and accept feedback and learn to work cohesively as an entire unit. This was crucial as we were still breaking the ice and getting to know one another.
Looking back and thinking about this journey now, I realised that we actually GECO-ed our way through it all.
| | | |
| --- | --- | --- |
| G    |  –     | We managed to train our new team members who have now turned into butterflies and taking on more responsibilities. Apart from growing them into heroes, I grew alongside them too. |
| E     |  –    | We went through sleepless nights and did everything we could in our circle of influence to learn and make sure the work we produced was excellent. We did not let our circumstances define us, we rose above it and made excellence happen through us. |
| C     |  –    | Our customers, Jurisians and Incredibles, benefited from this entire journey. This experience taught us to always equip ourselves with knowledge so that our customers would get the best service from HRA. |
| O    |  –    | We created an environment to open up comfortably about not knowing a certain subject and worked together as a team to bridge the knowledge gap. Ultimately, building more trust in the entire department. |
I guess what I am trying to say is that the GECO values are strong as a standalone practice, but when you use them interchangeably, they can help you get through anything.