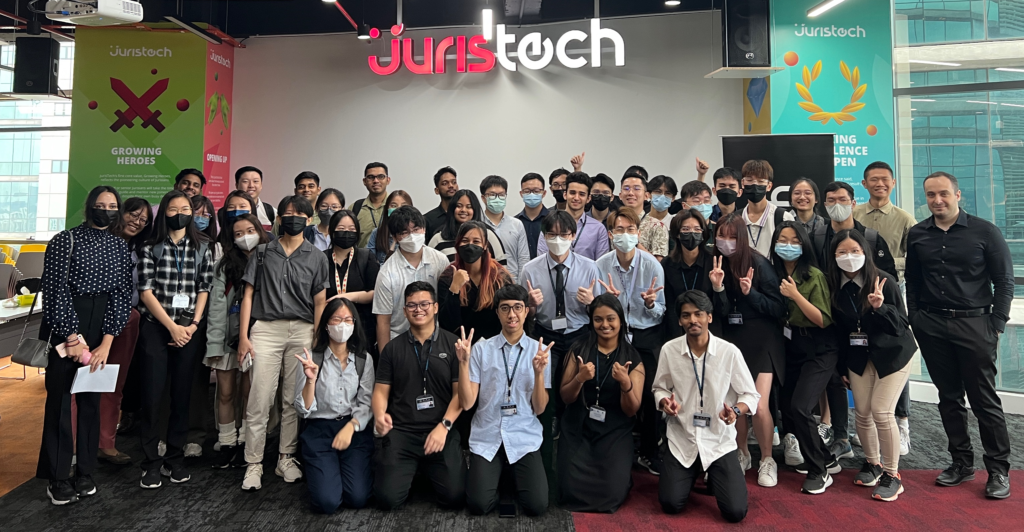 On 14th March 2023, JurisTech had the pleasure of extending a warm welcome to a group of 40 students from the Asia Pacific University of Technology & Innovation (APU) at the office, providing an introduction to the company and an exciting office tour. The students, with diverse specialisations in their Computer Science courses, were welcomed by our Chief Innovation Officer (CINO) — Hosein Abedinpourshotorban, HR Manager — Sheryl Chong, and emcee of the day, Alisha Regina, Marketing and Communications Executive of JurisTech.
Alisha kickstarted the talk with an ice-breaking session, which got the students excited and interactive, as there were prizes to be won. After that, Sheryl was invited to share about JurisTech's background and history. She highlighted how the company has rapidly grown over the past two decades, thanks to the efforts of its founders, CEO See Wai Hun and CTO John Lim, who established JurisTech in 1997. Sheryl emphasised how JurisTech has become one of the global leading Fintech companies from Malaysia, achieving numerous milestones and awards along the way.
Sheryl also shared how JurisTech has been instrumental in developing transformative software solutions for banks and financial players, setting the trend of enabling customers to utilise banking and financial products in new and innovative ways in motion. With a growing international presence in ten countries, JurisTech is firmly committed to achieving its ambitious vision of reaching 100 institutions in 10 different countries by 2028.
Sheryl then proceeded to discuss JurisTech's work culture, which revolves around four core values: Growing Heroes, Making Excellence Happen, Customer First, and Opening Up (GECO). These values are deeply ingrained in the company's ethos and reflect the dedication of our employees to fostering positive relationships with all stakeholders, resulting in greater productivity and inclusivity in the workplace.
In addition to prioritising teamwork and collaboration, JurisTech places a strong emphasis on promoting work-life balance. Employees can take advantage of various facilities within the office, such as a coffee bar, the 'Heroes Corner', and an entertainment zone featuring games like pool, foosball, and table tennis. The company also offers flexible working hours, allowing employees to arrive at the office between 7 am and 11 am while adhering to a 9-hour work schedule.
Hosein's talk was kicked off with a journey through the history of Fintech, as well as a deep dive into the latest and greatest Fintech technologies. He shared insightful knowledge about Digital Banks, Blockchain and AI, all of which are shaping the future of finance as we know it. His informative and captivating presentation had the students on the edge of their seats, eagerly asking questions and absorbing every detail.

The 3 Fintech Ages
Hosein, an expert in the financial landscape, delved deeper into the latest digitalisation areas during his talk. He enlightened the audience on the distinction between digital and neo-banks. He went on to explain how digital banks offer tailor-made services to cater to the modern customer experience, making it more convenient than ever before. In the past, customers faced the inconvenience of visiting a bank and completing loads of paperwork, which wasted their precious time. However, digital banks have revolutionised the banking sector with their omnichannel banking experience that's accessible anywhere in the world, in-house financial advisors, transactions with cryptocurrencies, 24/7 banking, and free online bill payments.
Hosein then moved on to the exciting world of blockchain technology, shedding light on its usage, how it enables cryptocurrencies, and the various types of blockchain technology. He also explained how blockchain plays a significant role in the financial industry with regard to payments, clearance and settlement systems, customer KYC, fraud prevention, loan, credit, and security through the implementation of digital ledgers in blockchain technology.
Last but not least, Hosein talked about the marvels of artificial intelligence (AI) and how it has helped shape the financial industry. He elaborated on the three primary disciplines of AI, namely computer vision, natural language processing, and machine learning. He then went on to explain how AI has made financing accessible by using alternative methods such as alternative financial service data, rental payments, asset ownership, utility payments, full-file public records, consumer permissioned data, and mobile data.
Moving further, Hosein delved into the exciting career opportunities available for software engineers at JurisTech. He painted a picture of them as versatile professionals who possess the skills to develop both client and server software while continuously honing their expertise in various fields such as front-end, back-end, databases, and CI/CD to create software that provides value to customers.
Sheryl then provided remarkable details on how JurisTech's Heroes Training Academy (HTA) offers a unique opportunity for individuals without prior tech experience to start their tech journey as Professional Services Engineers. With a 2-week onboarding and training session, HTA provides essential skills needed to excel in the tech industry.
As the talk was coming to a close, the audience was treated to a wealth of valuable advice for the students from Sheryl. From building an impressive work résumé and digital profile to sharing best interview practices and methods for successfully landing a job, it was a truly insightful and empowering way to discover the numerous opportunities available at JurisTech.
JurisTech's Hiring Process
With such an invaluable source of knowledge and experience at their fingertips, the students left the talk with newfound confidence and enthusiasm for their future careers in the tech industry. Alisha, accompanied by members of our HR department, facilitated an office tour for the students, enabling them to gain a deeper insight into our work environment and the potential roles that they could play in the tech industry. This enriching experience not only gave the students a practical understanding of the industry but also instilled in them a sense of purpose and ambition to strive for excellence.
Excited about the prospect of joining JurisTech? If so, we've got some fantastic news for you! Our Career page is filled with exciting job openings that are waiting for you to apply. Whether you're a seasoned professional or a fresh graduate, there's a perfect opportunity for you at JurisTech. Don't hesitate – take the first step towards your dream career in Fintech today!
About JurisTech

JurisTech (Juris Technologies) is a leading Malaysian-based fintech company, specialising in enterprise-class software solutions for banks, financial institutions, and telecommunications companies in Malaysia, Southeast Asia, and beyond.