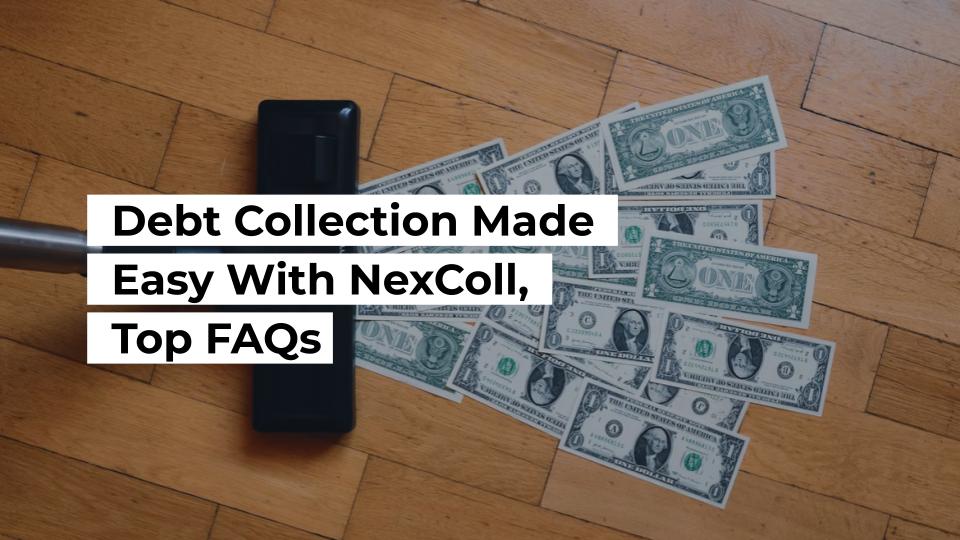 Image credit: Unsplash
Debt collection is not easy, and that is why you need a holistic debt collection process to increase your collection rate. NexColl, a debt collection solution made especially for debt collection agencies (DCAs), and designed to increase your organisation's efficiency by using fast-paced predictive dialling, and providing you with a bird's eye view of your collection performance.
Here are some frequently asked questions asked about our DCA debt collection system.
1. What software is needed to install NexColl?
No extra software is needed! All you need is your computer, internet browser and internet connection. Our debt collection software is fully web-based, which means you can access the software anytime, anywhere. There is also no hardware installation involved so you don't need to fuss about hardware setup and maintenance costs anymore.
2. How long does it take to learn NexColl?
We understand how crucial it is that new staff are able to learn and use the software in the shortest time possible. Our priority is to allow your agents to be effective and productive as much as they can. NexColl is simple and easy to use; all you have to do is log in via the NexColl website, and you're good to go! 
3. What file formatsare accepted when uploading files in NexColl?
Our debt collection software accepts bulk file uploads in XLSX and CSV format. 
4. Can we send SMS and email in NexColl? 
Yes, you can send email, SMS and also make calls in NexColl. Sending emails are free, however charges will be incurred for sending messages and making phone calls. Streamlining all the activities in NexColl itself will help you save time. 
5. About the smart dialler, are inbound calls available?
If you wish to have inbound calls enabled, do let us know so that we can configure it for you. Once it's enabled, incoming calls will be directed to campaign agents, or you can provide us with a phone number that you wish incoming calls to be directed to.
6. Can I record calls on NexColl?
Yes, call recordings will be stored in a report. You can opt to listen to all the recordings or download them in bulk into a ZIP File.
7. If I forget my password, can I reset it myself? 
Yes, you can do it yourself through the website. If you are still facing issues with resetting your password, we will also be able to help!
8. What's the pricing model like for NexColl? 
We charge a monthly subscription fee for NexColl, and the fee includes services such as hosting and software updates.
9. What kind of tech support do you offer?
Top notch tech support! Your satisfaction will always be our priority. Once subscribed, we will onboard you via face-to-face or online training, and also provide you with user manuals to help you get started. 
If you are experiencing issues and require support from our representative, feel free to drop an email to helpdesk@juristech.net. Our helpdesk personnel will always be ready to provide you the help you need. Regardless if it's a simple question or you'd like to deep dive into technical questions, you don't have to be shy to ask us for help!
10. What makes NexColl different from other debt collection software?
NexColl is

intuitive in debt reconciliation

, which makes it easy to facilitate the reconciliation process as NexColl will pinpoint any discrepancies in any payment amount, enabling you to compare and contrast the large amount of payments created by your agents.

NexColl comes with a

built-in workflow engine

that will help you carry out collection in the most automated manner possible, from managing delinquent accounts to consolidating debts in bulk!

NexColl provides

seamless commission management

. If you are part of a panel of a financial institution that uses

Juris Agency

, commission issuance from the institution can be seamlessly handled in NexColl. This allows you full visibility and clarity on the commission transactions involved. 
As one of the Fintech pioneers in Malaysia, our vision is to enable financial inclusion for the financial industry with our diverse range of solutions. If you are interested in debt collection software for DCAs, check out NexColl, our one-stop software solution that optimises your collection processes through automation. 
About JurisTech

JurisTech is a leading Malaysian-based Fintech company, specialising in enterprise-class software solutions for banks, financial institutions, and telecommunications companies in Malaysia, Southeast Asia, and beyond.