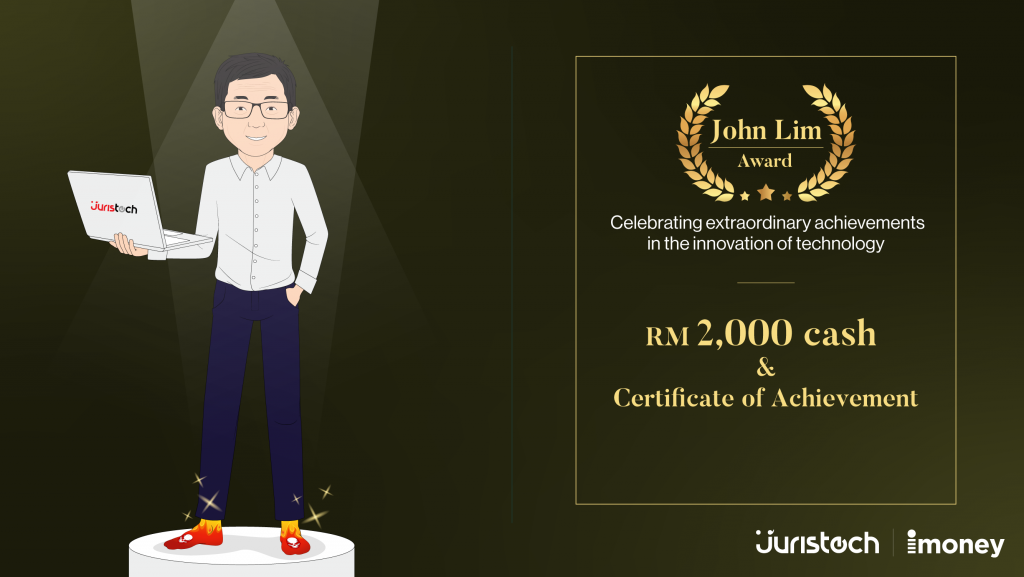 On the 5th of August, JurisTech was very thrilled to announce a new winner for this year's John Lim Award 2022 for a new technical achievement with a winning prize of RM 2,000!
The John Lim Award is a reputable and esteemed award that honours software engineers (SEs) in JurisTech and our sister company, iMoney, who've made significant contributions and outstanding achievements in the innovation of technology. As part of JurisTech's core values (GECO values), the award will continue to seek and encourage talented engineers in the company to showcase their innovative breakthroughs in technology and award them for their stellar achievements.
JurisTech's new panel of judges this year were, John Lim – Chief Technology Officer, Andy Hong – Technical Architect for Advocates for Client Experience & Success (ACES), and Hosein Abedinpourshotorban – Chief Innovation Officer (CINO). The judges were all very impressed with this round's project nominations, going through a series of intense evaluations to determine the project that met the highest technical innovation with a great impact on the betterment of our company and customers. 
This year's award recognised Koh Eng Soon, Ivan Loh, Johnny Chaw, Sherine Tang, Abinson Aaron, and Liew Zu Wei for bringing JurisTech to new heights and setting new standards of innovation in the company. 
The winning team presented Juris Omni-Chat, a live-chat messaging platform that aggregates customers' conversations from various channels such as social media platforms, chatbots, live chats etc. The team took on a new challenge to support iMoney's customer care agent in increasing the frequency of callback requests from customers to generate more leads. Despite making numerous calls to schedule appointments, the rate of customers responding back to the first call wasn't as high. 
The development of Juris Omni-Chat allowed iMoney's customer care agents to reach out to these missed leads using Business Whatsapp to schedule calls. The impact? iMoney saw an increase in product lead submissions by multiple folds coming from customers who didn't pick up the first time. Juris Omni-Chat was designed such that it can be easily integrated into multiple chat platforms at once, connecting customers in all modes of communication with advanced capabilities in supporting voice command, live chats, and active chatbot interactions. 
The technical brilliance the software project has shown in terms of software design and the impact it achieved had put the judges in awe, weighing in as the winning project of the year.
The judges also recognised Baqir Hashmani and Chiow Hui Qin who came really close to winning with their stellar projects.
Baqir developed a car loan scenario calculator for a major automotive company that could be embedded in other websites. The project was very impressive because of its scalability as it works seamlessly with any company's website.
On the other hand, Hui Qin developed a software module that automatically generates deployment manifests in Excel. It shortens the deployment documentation time tremendously, removing human error from the equation, so JurisTech's deployments can be completed faster and smoother. The judges were also impressed by how very well-written and original her code was.
We are very proud to see our engineers in their continuous pursuit of excellence and soaring through new innovation heights. Their ongoing commitment to excellence is paramount to outstanding personal performance, leaving a legacy of success. Congratulations again to the Juris Omni-Chat developer team, Baqir, and Hui Qin for achieving new company milestones!
About JurisTech

JurisTech (Juris Technologies) is a leading Malaysian-based fintech company, specialising in enterprise-class software solutions for banks, financial institutions, and telecommunications companies in Malaysia, Southeast Asia, and beyond.