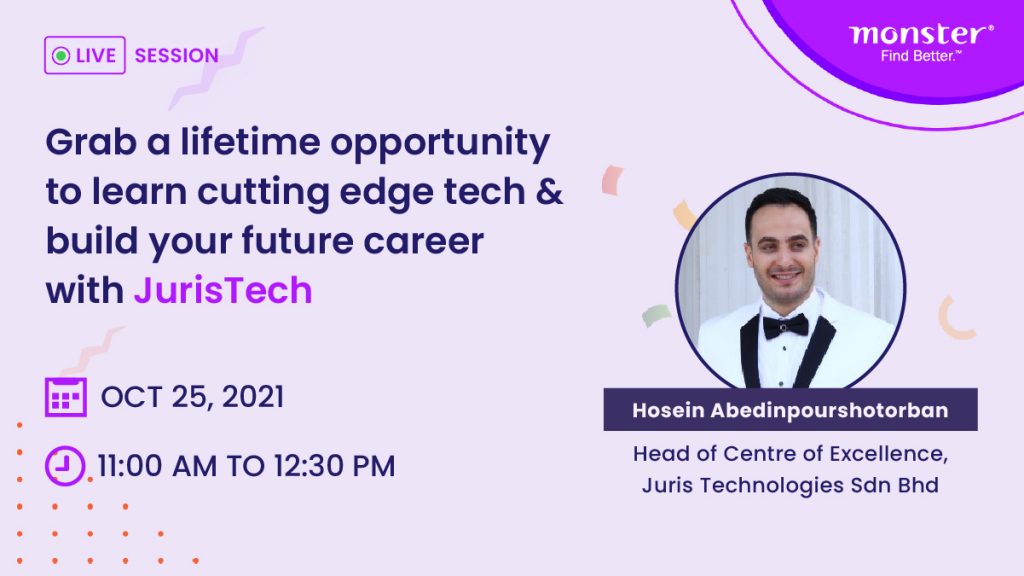 On Monday 25th October 2021, Hosein Abedinpourshotorban, who is our Head of the Centre of Excellence (COE), the R&D unit of JurisTech was invited as a guest speaker by Monster, a global online employment solution, in conjunction with the Monster Malaysia Virtual Career Fair that was held from 25th to 29th October 2021. During the talk, Hosein shared some interesting insights on what it means to grab a lifetime opportunity to learn cutting-edge tech in the financial industry and how you can build your future career in it.
Hosein started off with his story from being a junior software engineer in JurisTech to now the Head of Center of Excellence (COE) in 6 years. Hosein is an inspiration to software engineers and data scientists in JurisTech. His passion for technology and AI is contagious and Jurisians just love going to him for guidance. With nearly a decade of experience as a software solution architect and being actively involved in the field of Machine Learning, AI, and Data Science, Hosein shared his formula of success.
The success formula:

He mentioned that passion is overrated. Instead, one should pursue what you are great at and use that to increase your value at work, and that will bring you far in your career.
"Your current interests are not a solid basis for career decisions!" – Hosein
Looks like Hosein's success formula worked out well for him. From a junior software engineer, to building JurisTech's very own proprietary AI solution, Juris Mindcraft, to now being the head of our R&D unit. It is truly an accomplishment!
Juris Mindcraft is an artificial intelligence (AI) platform that uses advanced machine learning (ML) techniques to build powerful AI models. It automates the end-to-end machine learning model development process from importing data, data pre-processing, ML modelling, all the way to deployment.
The session continues with Hosein sharing the latest technology disrupting the financial industry and how JurisTech is at the forefront of these innovations. He gave examples of digital onboarding and how people can apply for a loan with just a few clicks. Simple. easy, no hassle! He also spoke about AI such as conversational AI and machine learning transforming the financial landscape. These advanced technologies are here to stay and will continually increase and enhance customer interactions and enable the industry to become more accurate in predicting outcomes and producing much more valuable insights. Furthermore, Hosein also mentioned blockchain. He explained how blockchain works and how blockchain can digitise the entire trade finance lifecycle with increased security and efficiency. It can enable more transparent governance, decreased processing times, lower capital requirements, and reduced risks of fraud, human error, and overall risk.
The session wrapped up with Hosein sharing the career path of being a Jurisian and how working in the world of tech and being at the forefront of technology is the future. Building a career provides you with an opportunity to explore the latest technology and will definitely give you an added advantage. Moreover, if it aligns with your passion, it is a "boom shakalaka"!
"The tech industry has the most wanted and best skills or knowledge to possess in the world." – Hosein
Read more to see what a software engineer does in JurisTech.
About JurisTech

JurisTech (Juris Technologies) is a leading Malaysian-based fintech company, specialising in enterprise-class software solutions for banks, financial institutions, and telecommunications companies in Malaysia, Southeast Asia, and beyond.

We nurture our culture by practising our GECO core values: Growing Heroes, Making Excellence Happen, Customer First, and Opening Up. We believe in investing in employees' personal growth and career development. We also want to expose graduates to the tech scene and upskill talents from various industries. (So, if you are interested in tech, we want you!)

Check out our job opening here and send in your résumé to hr@juristech.net.