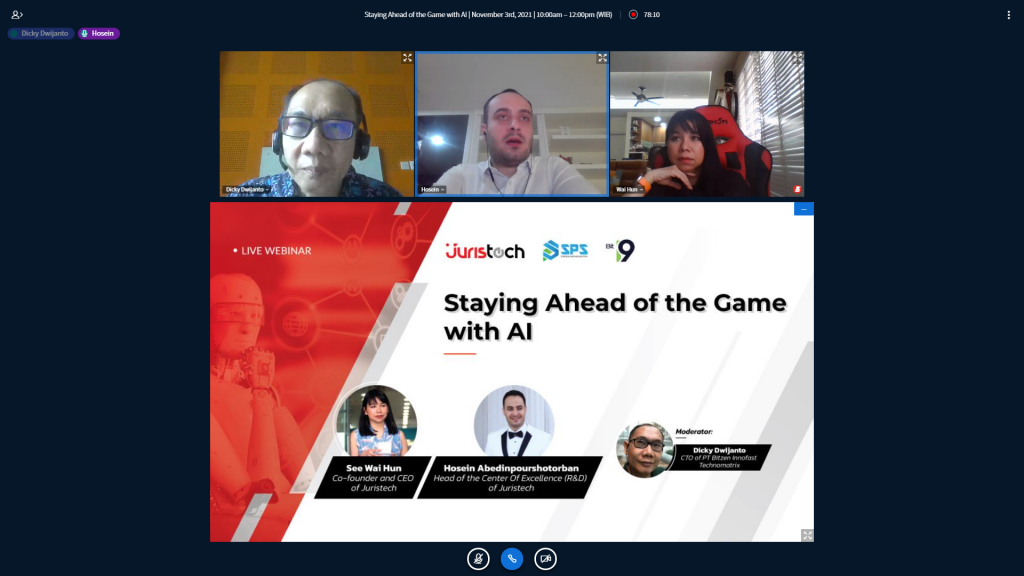 On the 3rd of November 2021, PT Bitzen Innofast Technomatrix and PT Strategic Partner Solution (SPS) co-organised a webinar to introduce how advanced technologies like Artificial Intelligence (AI) and Machine Learning (ML) are the driving forces in the post-pandemic era. What can businesses do to stay relevant?
JurisTech was invited as a guest speaker for this webinar. Our CEO See Wai Hun and Head of the Centre of Excellence (COE), the R&D unit of JurisTech, Hosein Abedinpourshotorban shared some insightful knowledge on how businesses in the financial and manufacturing industry can level up their playing field by transforming and scaling their business with AI.
Wai Hun kickstarted the webinar by asking the audience to spot "mystery gift boxes" located in the presentation throughout the entire webinar to stand a chance to win prizes. Engaging the audience with her bubbly personality, she told the audience that if they would like to kickstart their AI journey, there are 3 things their business needs to focus on.
Having a bold digital vision

Having a strategic AI framework

Find and harness what they already have
Zooming in to having a bold digital vision, Wai Hun emphasises how having a bold digital vision sets the mindset of the entire business to achieve the impossible. She gave an example of Richard Liu, the founder of JD.com declaring his bold digital vision during the World Retail Congress in 2018 according to Forbes. 
"I hope my company would be a 100% automation company. I hope that someday there will be no human beings anymore. 100% operated by the AI and the robots." – Richard Liu, JD.com
From an online magneto-optical store, today, JD.com now possesses the largest drone delivery system, infrastructure and capability in the world! However, it doesn't stop there. Wai Hun also spoke about how one should also possess a strategic AI framework for their business and make sure to understand how it can help and the best place to deploy it. To do that, Wai Hun taught the audience how to effectively determine AI use cases for their business. 
"Is the use case a business extender or is it a game changer?" – Wai Hun
Of course, AI doesn't come with just a flick of a finger. Data is crucial. However, you don't need to look too far. Find and harness the data you already have. To put it all into practice, Wai Hun introduced Brainwriting to the audience. Brainwriting uses a similar concept with brainstorming but the only catch is that it gets people to write them down. It also focuses on the quantity of ideas instead of the quality of ideas. It enables people to go wild with their ideas as it minimises external pressure and distractions, offering opportunities for greater creativity. During the Brainwriting session, the chats were buzzing, minds were expanded, and many interesting ideas were written down.
It seems that applying AI sounds easy. However, Hosein took over the stage and burst everyone's bubble by stating a fact – applying AI is complicated. How so? He brought the audience on an eye-opening journey of AI in production – from defining the problem to harnessing the data, up to the deployment of AI. He shared with the audience the technical challenges of applying AI from deployment to even making sure that the AI stays relevant.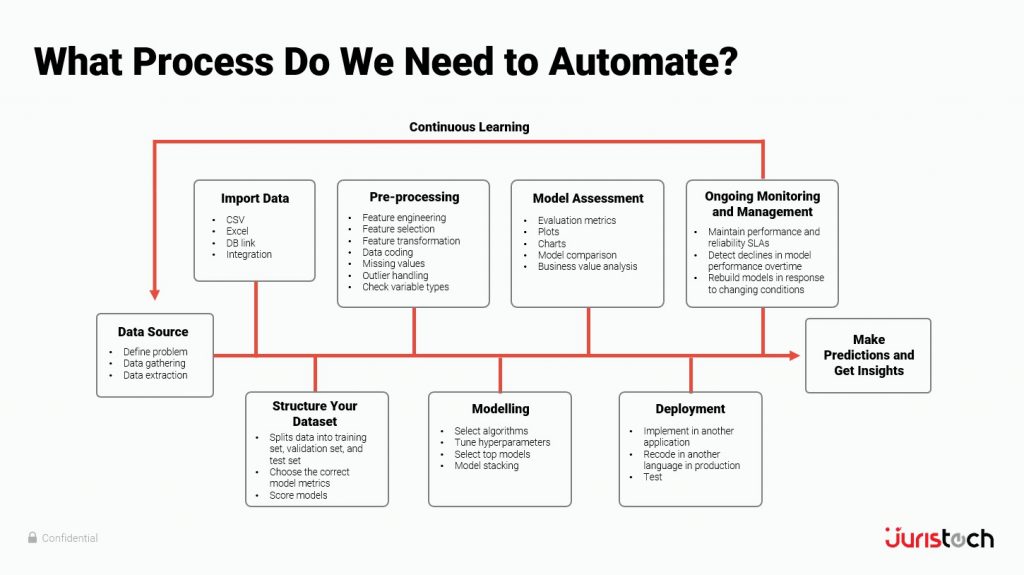 Having said all the above, there is a silver lining. Juris Mindcraft was built so that applying AI can be effortless. Automating the entire production process, you can now apply AI with just a few clicks in a few minutes. As simple as ABC! Juris Mindcraft is an artificial intelligence (AI) platform that uses advanced machine learning (ML) techniques to build powerful AI models. It automates the end-to-end machine learning model development process from importing data, data pre-processing, ML modelling, all the way to deployment.
These are some of the benefits of Juris Mindcraft:
Explainable AI

Easy deployment

Uses the best of all algorithms

Continuous learning to maintain relevance

Operationalises ModelOps
The webinar ended on a high note with lots of questions asked and answered. Advanced technologies such as AI are here to stay. It's time to rethink the way we make decisions and get things done. Think "Future" and leverage AI in advanced ways to tackle some of your most complicated challenges.
"In the real world, things are moving fast and you need to stay ahead of your competition. A fraction of a second can impact your business." – Hosein
If you would like to know more about what Juris Mindcraft can do for you, hit us up at contact@juristech.net. 
To see how AI can tap into the unbanked using alternative credit scoring. Read more here.
About JurisTech

JurisTech (Juris Technologies) is a leading Malaysian-based fintech company, specialising in enterprise-class software solutions for banks, financial institutions, and telecommunications companies in Malaysia, Southeast Asia, and beyond.