On the 10th of May, 2023, CTOS Data Systems Sdn Bhd (CTOS) has been awarded a RM 14 million, 5-year contract by Alliance Bank Malaysia Berhad to upgrade its Retail Loan Origination System (RLOS). This system and technology are provided by JurisTech (Juris Technologies). With this credit transformation project, Alliance Bank aims to revolutionise the credit industry, especially for the unbanked and underbanked segments of society.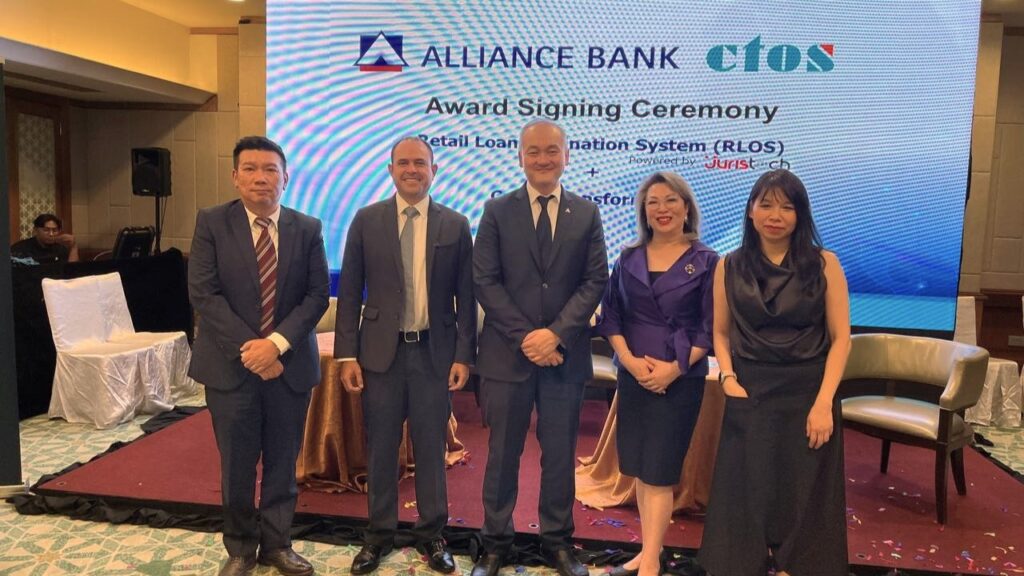 From left, Mr Eric Chin, CEO (CTOS), Mr Erick Hamburger, Group CEO (CTOS), Mr Kellee Kam, Group CEO (Alliance Bank), Ms Gan Pai Li, Group Chief Consumer Banking Officer, (Alliance Bank), Ms See Wai Hun, CEO (JurisTech) 
The project will involve digital innovation and automation to improve existing processes and credit-decisioning. By implementing these changes, Alliance Bank aims to provide customers with fast, convenient, and personalised services to meet their changing needs. 
The new RLOS will be built on a platform from JurisTech, a leading Fintech enabler that is dedicated to helping banks and financial institutions achieve digital transformation by providing advanced technology solutions. JurisTech entered a partnership with CTOS in 2022, which saw CTOS acquiring a 49% stake in JurisTech. CTOS's solutions, including CTOS Application and Decisioning, CTOS eKYC, and CTOS Score, will also be embedded in the new system. 
The new RLOS will also feature credit transformation capabilities, including using data analytics to adapt credit scoring, alternative credit scores, and adapting criteria to offer the best possible experience for each customer. 
This will allow Alliance Bank to improve productivity and turnaround time, while also broadening its consumer base considerably by reaching the unbanked and underbanked, who have limited credit history and face difficulties in accessing credit. By serving this untapped market, Alliance Bank can gain an advantage in its plan to expand its consumer banking segment and target the HENRY (High Earners Not Rich Yet) segment.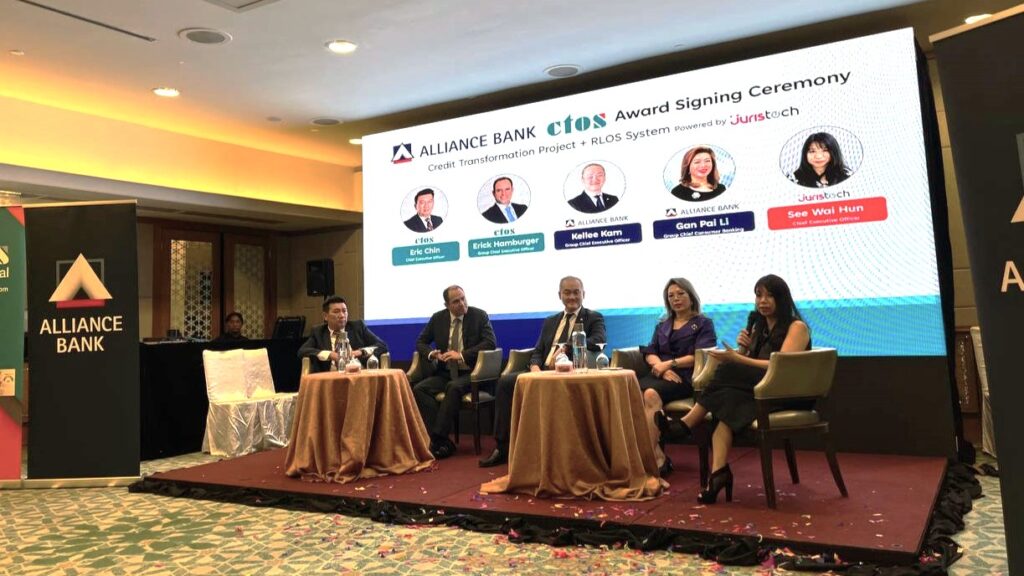 Press Conference Session
"Originations is not just about systems, it is about connecting the processes and data so that the banks can serve the customers better." — Wai Hun, CEO of JurisTech
The RLOS project with Alliance Bank is aimed at simplifying the loan origination process, from application and scoring to evaluation, approval, and disbursement. This will be a one-stop solution for the entire loan origination life cycle, explained Wai Hun. 
The new loan origination life cycle will begin with a digital, fast and straightforward onboarding and application process, followed by process improvements, eligibility assessment, and hyper-automation to process loans quickly. With the support of CTOS, the credit transformation journey will improve decision-making processes to serve different customer segments. 
The project brings technology, data and credit transformation together, and could potentially become the new approach to digital transformation for all banks. Wai Hun elaborated that the aim is to disburse loans within minutes, providing a better experience for customers. 
At present, it takes approximately five days to approve a mortgage loan. Alliance Bank intends to reduce this waiting time to just two days for all loans, and to just one hour for unsecured loans, by implementing the RLOS.
Alliance Bank aims to increase its retail consumer loan book to RM 36 billion in the next five years, which represents a growth of 1.5 times from the current RM 24 billion, through the implementation of this new project.
---
ABOUT JURISTECH
JurisTech (Juris Technologies) is a leading Malaysian-based fintech company, specialising in enterprise-class software solutions for banks, financial institutions, and telecommunications companies in Malaysia, Southeast Asia, and beyond. Founded in 1997 amidst the Asian financial crisis, JurisTech's contributions and drive to revolutionise the financial industry in Malaysia has garnered numerous awards, including Best Innovation and Best Use of Technology from Star Outstanding Business Awards.
JurisTech's founders were recognised globally as high-impact entrepreneurs when they were selected to be part of Endeavor, a non-profit organisation in 2014, and CEO See Wai Hun was named High Impact Entrepreneur of the Year by Endeavor Malaysia Awards 2022. Living by the motto, "The right software, exceptionally delivered", it is the main driver of the company's growth, success, and achievements.
For more information, please visit https://juristech.net/juristech/
---
ABOUT CTOS DATA SYSTEMS SDN BHD CTOS, 
Malaysia's largest private credit reporting agency, is a registered Credit Reporting Agency under the Credit Reporting Agencies Act 2010. Established in 1990, CTOS has over 30 years of experience in aiding credit grantors make better credit decisions. CTOS utilises information from its users and the public domain to support informed decisions and facilitate fact-based risk management when providing credit extension. CTOS delivers a complete portfolio of credit reports and value-added services and is widely used by the country's banking and financial institutions, insurance companies, large corporations, legal firms, businesses and state and statutory bodies. 
For more information, please visit http://www.ctoscredit.com.my/.
---
ABOUT ALLIANCE BANK MALAYSIA BERHAD 
Alliance Bank Malaysia Berhad and its subsidiary, Alliance Islamic Bank Berhad, offers banking and financial solutions through its consumer, SME, corporate, commercial and Islamic banking. The Bank provides easy access to its broad base of customers throughout the country via multi-pronged delivery channels that include retail branches, Privilege Banking Centres, Business Centres, Investment Bank branches, and mobile and Internet banking.
For more information, please visit www.alliancebank.com.my.