The 11th of May, 2023, marked a momentous occasion as our esteemed COO, Naaman Lee, was invited to serve as a panellist in Endeavor Malaysia's esteemed 2023's Local Selection Panel (LSP). This invitation was a testament to his exceptional leadership and expertise in the field of entrepreneurship. Endeavor Malaysia, the local affiliate of the globally renowned non-profit organisation Endeavor, hosted this prestigious event to identify and support high-impact entrepreneurs who have the potential to drive significant change.

 Endeavor Malaysia's Local Selection Panel 2023
Since its inception in 1997, Endeavor has been at the forefront of supporting high-impact entrepreneurs. Endeavor's global network spans nearly 40 countries and supports over 2,000 entrepreneurs with combined revenues exceeding $28 billion. Not only that, but these exceptional individuals have collectively created over 3.9 million jobs and raised over $4 billion in capital in 2020 alone, making a significant contribution to the local and global economies. 
Endeavor's success stems from its one-of-a-kind entrepreneur-first model, which is supported by a thriving peer-to-peer community and a trust-based network. This ecosystem offers a powerful platform for founders to dream big, scale up their businesses, and pay it forward to the next generation of entrepreneurs.
The Local Selection Panel (LSP) is a pivotal stage in Endeavor Malaysia's ongoing selection process, designed to identify and nurture high-potential entrepreneurs. The LSP represents the penultimate phase of the comprehensive Endeavor Selection Process. During this stage, the panel evaluates the growth potential, impact-readiness, and timing of the entrepreneur and their business. The criteria include assessing the ability to thrive and maintain steady growth during this pivotal period. 
This year, Naaman was honoured to join the panel alongside other prominent figures such as Adlin Yusman, Managing Director of Endeavor Malaysia, Datuk Md Arif Mahmood, Chairman of KPJ Healthcare Bhd, Rafiq Razali, Group Managing Director of Media Prima Bhd, and Wee Jonn Leow, CEO of Photobook Worldwide. 
Throughout the series of interviews, Naaman and the panellists provided valuable feedback, highlighting areas for improvement and offering strategic insights to improve their operations. It was a once-in-a-lifetime opportunity for the entrepreneurs to learn from seasoned industry professionals and fine-tune their business strategies.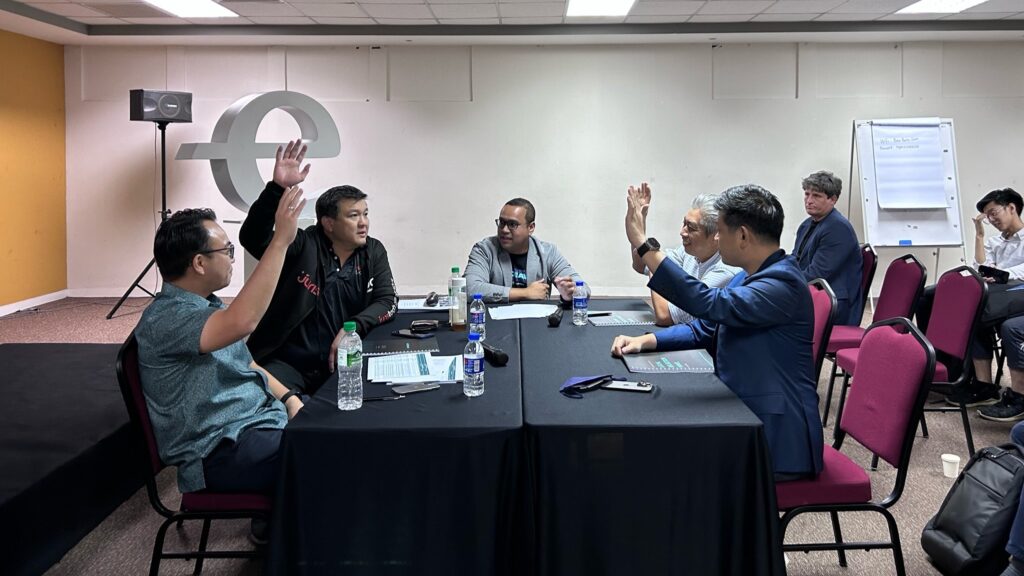 From left: Rafiq Razali, Group Managing Director of Media Prima Bhd, Naaman Lee, COO of JurisTech, Adlin Yusman, Managing Director of Endeavor Malaysia, Datuk Md Arif Mahmood, Chairman of KPJ Healthcare Bhd, Wee Jonn Leow, CEO of Photobook Worldwide
Following the interviews, the panellists met to deliberate and vote on the next potential Endeavor Entrepreneurs, who would embark on an exciting journey of growth, mentorship, and global connectivity. Vincent Lua, the Founder & CEO of MyeongDong Topokki, as well as Faizul Ridzuan and Amanda Chong, the Co-Founders of FAR Capital, emerged as the candidates that passed this year's LSP. 
The selected entrepreneurs would advance to the final stage of the selection process, the International Selection Panel, where they would have the opportunity to engage with global business leaders, exchange ideas, and secure additional support for their ventures. 
Naaman was also no stranger to the International Selection Panel, having been chosen as an Endeavor Entrepreneur alongside our co-founders Wai Hun and John Lim at the 54th International Selection Panel in New York in 2014. Now, as an evaluator, Naaman had the opportunity to evaluate and interview companies, advancing those who demonstrated exceptional promise to the next stage. Additionally, JurisTech has been an integral part of the LSP panel for the past two years, with Wai Hun, the CEO of JurisTech, receiving invitations to join as a panellist.
"It's inspiring to see Vincent, Amanda and Fauzil come so far in their entrepreneurship journeys, and having these endorsements go through Endeavor LSP is a big win and an opportunity to even scale the businesses further. Onwards to conquering the ISP!" — Naaman Lee, COO of JurisTech
As we congratulate both MyeongDong Topokki and FAR Capital, we extend a warm welcome to the Endeavor family. Their inclusion reflects not only their accomplishments, but also their potential to dream bigger, scale faster, and pay it forward. They will gain the support and guidance they need to navigate the challenges and seize the opportunities that await them through Endeavor's unparalleled ecosystem of mentors, investors, and fellow entrepreneurs.
About JurisTech

JurisTech (Juris Technologies) is a leading Malaysian-based fintech company, specialising in enterprise-class software solutions for banks, financial institutions, and telecommunications companies in Malaysia, Southeast Asia, and beyond.