Workplace at the River
Watch the full video on YouTube. Posted by Workplace at the River.
Our distinguished CEO, See Wai Hun shed light on the disruptions and transformation happening in the Malaysian banking space as a guest speaker at an event organised by Workplace at the River on 7 July 2022. The aftershock of the pandemic has caused a rapid digital acceleration with an uprising of new global trends. Hence, Fintechs are evolving once again.
"You might think blockchain is not coming, but I tell you, 80% of most of the central banks in the world are actually piloting or doing research on blockchain."  – See Wai Hun
Recently, the government of Malaysia announced the winners of the new digital banking licences to conduct either conventional or Islamic banking business in Malaysia. It caused a significant spike of interest in Malaysians toward the country's financial services market and it is a major disruption to the industry.
Digital banking goes beyond just digitising legacy banking approaches and we can clearly see it as many ASEAN countries race to build and strengthen their policies to release their digital banking licences. Singapore issued their digital banking licence in 2020, the Philippines in March 2021, and Malaysia announced the digital banking licence winners in April 2022. Indonesia on the other hand, does not have a license specific to digital banks. The license falls under the commercial banking licencing regime as the Financial Services Authority (OJK) arguably considers digital banking as a business model that does not require a specific licence, according to Jakarta Post.
For Bank Negara Malaysia (BNM), we can see the main reason BNM issued digital banking licences is to encourage financial inclusion, to serve the underserved community, and foster the growth of Malaysia's economy. Hence, digital banking has to be backed up with technologies or solutions that provide the following:
A hyper-personalised customer journey

that not only is easy and convenient for customers but also adds a human touch to it.

The ability to leverage data analytics

to better understand the underserved and unbanked customer segment's behaviour through alternative data.

The ability to build and increase financial literacy

to equip customers with relevant knowledge to make effective financial-related decisions.
Wai Hun also dived into certain uprising global trends that are taking not only the banking and financial industry but the world by a storm, such as Web 3.0, blockchain, and the metaverse.
"A lot of people confuse blockchain with cryptocurrency. Blockchain is the technology that is powering the cryptocurrency and this technology is going to change the way we do banking in the future." –  Wai Hun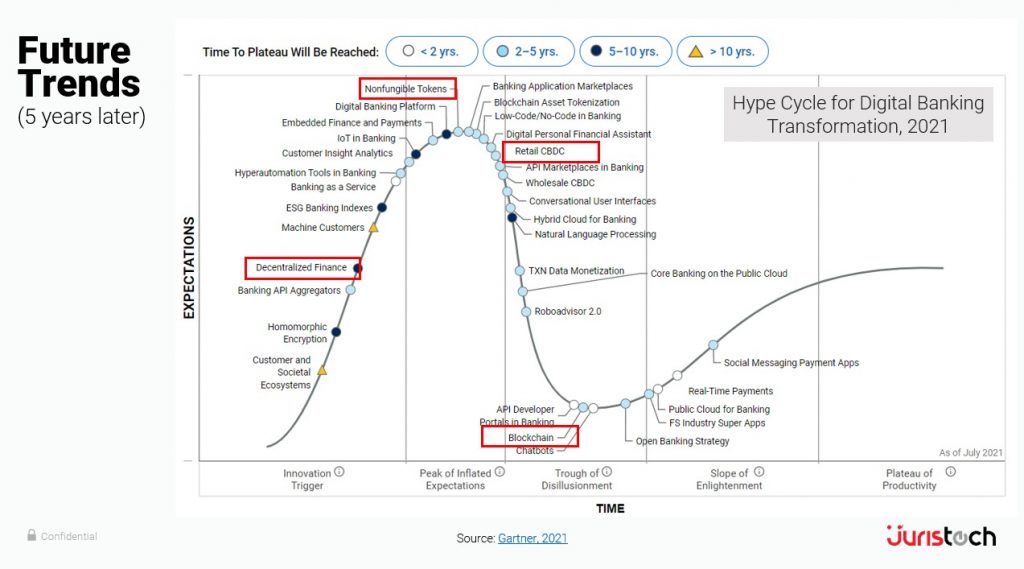 Looking at Gartner's Hype Cycle for Digital Banking Transformation, 2021, Wai Hun highlights future trends in Web 3.0 that will entirely disrupt and transform the way we do banking or the way we handle money.
Decentralised finance, also known as DeFi, is already happening. "Meaning there is no banks or central authority but just a group of programmers writing a lot of algorithms and a lot of people investing in it, " said Wai Hun. Wai Hun enlighted the audience with advanced technologies powered by blockchain, for instance, smart contracts, NFTs, and Central Bank Digital Currency (CBDC). She gave simple illustrations throughout her presentation such as crop insurance for farmers in emerging economies using smart contracts to utilise the decentralised oracle networks (DONs) to arrive at a consensus about weather events through many different data sources and trigger automatic payouts when the conditions of a policy are met, and many others.
We are in an exciting time where we get to see these new and advanced technologies mature, on top of breaking down intermediaries and central authorities like banks. 
"Just because you don't understand the technology, does not mean it's not coming." – See Wai Hun
Don't miss out on what's coming in the future. Watch the full video presentation here.
About JurisTech

JurisTech (Juris Technologies) is a leading Malaysian-based fintech company, specialising in enterprise-class software solutions for banks, financial institutions, and telecommunications companies in Malaysia, Southeast Asia, and beyond.