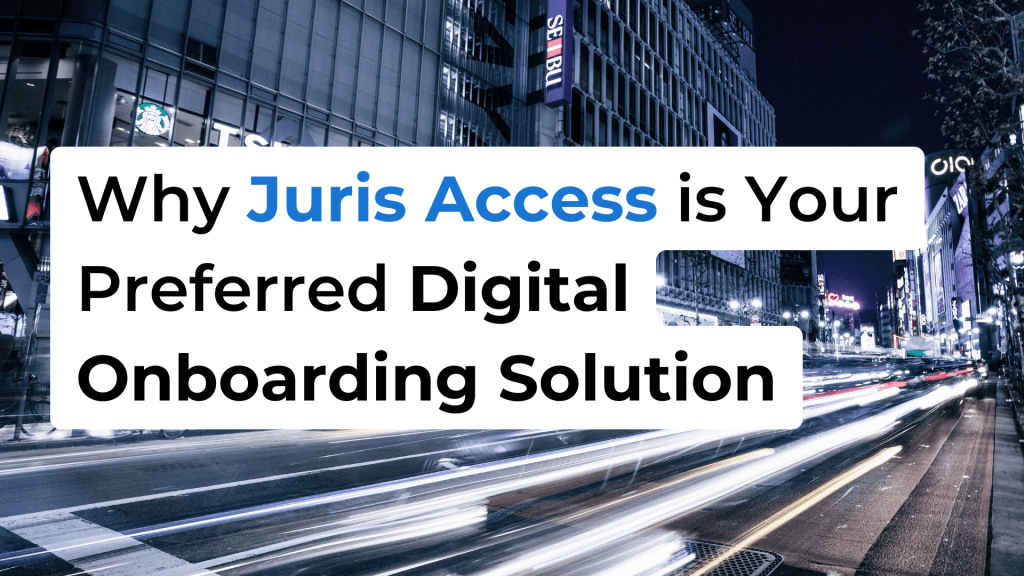 The boom in the Fintech industry has shaped and transformed the ways businesses operate today. Amidst the pandemic of COVID-19, many businesses have suffered great losses from divesting assets in order to survive or rolling on complete bankruptcy. However, the Fintech industry has been steadily growing, adapting to societal and economic changes keeping technology at the heart of its response. In 2020, the global Fintech market value was USD$703.78 billion and is projected to grow at a CAGR of 26.87% during the forecasted period of 2026.
With rapid changes in technology and innovation advancements, the market has grown to be even more competitive. Traditional institutions, such as the financial and banking sectors are looking to make significant reforms in their day-to-day business operations to enhance their customers' digital journey. As such, it has now become essential for many financial institutions to lay their focus down on providing a seamless digital customer onboarding experience.
What is customer onboarding?
Customer onboarding is generally the process a bank or financial institution undertakes when introducing their financial products to new customers or introducing new financial products to existing customers. This involves a number of key activities in the process such as evaluating customers' requests, gathering vital customer information, and conducting identity checks to comply with know-your-customer (KYC) legal regulations. 
The customer onboarding process is probably the most crucial stage in the customer lifecycle as it's where the business revenue is driven from and sets the tone of the relationship with new or existing customers in terms of the value your product offers them. It also impacts how customers view and set their first impressions on dealing with banks and financial institutions. The process heavily relies on simplifying the user journey rather than walking them through exerted manual processes that include many forms of applications, manual compliance checks, and in-person identification checks. An ideal onboarding journey would not take customers 10 steps to apply for a product or a service but rather simplify them to 5 steps or less. This would significantly downsize the time it would take to onboard new customers let alone, maximise operational efficiencies across the business's day-to-day operations.
Why Juris Access is the preferred digital customer onboarding solution?
The challenges in traditional financial institutions today revolve around digitising many of their processes. The existing landscape still does its marketing, origination, submission of documents, verification, approval, and acceptance at physical branches or visits from sales agents.
Some financial institutions that have digital channels, like an online document submission page, use the page to collect minimal information, whilst still relying on existing brick and mortar processes to complete the application journey. Most digital journeys are customised with no inherent capability to adapt to the ever-changing market and customer needs. This creates an extremely high cost in operations as the financial institutions are still emulating inefficient and traditional methods in their digital journeys, yielding measly results.
JurisTech's digital onboarding platform, Juris Access, enables financial institutions to acquire new digital age customers and widens your customer base through new digital channels as it allows anyone to apply anytime, anywhere. This effectively decreases the processing time of an application and directly enhances the rate of conversion and customer satisfaction through a responsive high-speed application. Its omnichannel nature allows financial institutions to provide prospective customers with full access to the suite of available products through multiple digital mediums, including the web, mobile, merchants, social networking sites, and even chatbots.
Juris Access also automates the approval process for eligible customers which creates a frictionless digital customer experience and reduces manpower involved in the application process. Juris Access comes integrated with a web-based API,  which improves financial institutions' speed to market and speed to deploy across multiple digital channels including internet banking websites, 3rd-party applications, merchants, and even chatbots. Additionally, it's embedded with our proprietary AI and machine learning technology, Juris Mindcraft, which allows the application to take mere minutes to screen a new customer, score, and approve them.
Market your financial products with iMoney's Marketing Services
Having to only provide a magnificent onboarding process is not sufficient as customer acquisition strategies are equally critical. Financial institutions can often face several challenges in marketing their financial products. Some of these challenges include keeping up with effective marketing techniques, keeping up with new competitors, the inability to reach the right target audience to generate traffic, and the lack of talent resources. Facing these challenges can mean a low frequency of customer acquisition, lack of customer trust in your financial products, lack of brand identity, and the low profitability of your business.
Take one step further to create a winning go-to-market strategy with iMoney's Marketing Services to market your financial products and onboard new customers with Juris Access. As JurisTech's extended marketing arm, iMoney has been in the financial arena for several years as Malaysia's leading personal finance company for consumers to learn about personal finance matters as well as compare and apply for financial and utility products. They have a track record of helping over 75 banks and partner brands to keep up with concurrent market changes and constantly help them maintain a competitive edge.
iMoney provides a wide range of customised marketing solutions to cater to a financial institution's marketing and business objectives. Some of these solutions include content marketing, digital marketing, public relations management, lead generation, social media and KOL management, and advertising media sales.
In order to drive a successful customer onboarding experience, it's important for financial institutions to complement the customer journey with high-impact marketing solutions to ensure customer retention and brand recall. 
Interested to learn more about Juris Access and how you can create a winning go-to-market strategy, connect with our team today at contact@juristech.net
About JurisTech

JurisTech (Juris Technologies) is a leading Malaysian-based fintech company, specialising in enterprise-class software solutions for banks, financial institutions, and telecommunications companies in Malaysia, Southeast Asia, and beyond. In 2020, JurisTech acquired iMoney to expand its innovation by offering beyond just enterprise solutions to elevate and shape the future of the financial services industry.

About iMoney

Founded in 2012, iMoney is the leading personal finance company for consumers to learn about personal finance matters as well as compare and apply for financial and utility products. iMoney has offered financial marketing services to over 75+ partners to make a bigger impact in educating Malaysians on banking and financial products.