Image credit: Pexels
What Are Chatbots And How Are They Significant To The Fintech Industry?
Chatbots are computer software programs powered by Artificial Intelligence (AI) that provide digital assistance through online chatting. Due to the fast-paced development in the Fintech Industry, chatbots powered by AI have been developed to virtually assist and guide customers to discover various products and services provided by financial institutions while maintaining the quality of their services. They allow for meaningful interactions and conversations to occur with potential customers and direct them to suitable products or services, while also providing support to users throughout their experiences.
How Are Chatbots Being Used In The Fintech Industry?
As the Fintech industry is developing rapidly, customer service plays a large role in contributing to organisational branding and achieving organisational goals. Business Insider has reported that 67% of customers have used chatbots as part of their customer support experience.
With various use cases available for chatbots, here are some that are being used in the Fintech industry:
Top-tier Customer Service
Chatbots possess an important role in obtaining valuable customer information through their conversations and interactions. These AI-powered chatbots will then process the data to better understand customers' situations, expectations and requirements. With this feature being available 24/7, it allows financial institutions to always be connected to their customers and aid them through various processes. 
Simplified Online Payment Processes
Due to the existence of various types of digital payment options, customers can be confused by the complexity of the process of money-transferring. Chatbots aid this process by guiding users through each step of their transfers. It greatly simplifies payment processes for users, creating a seamless experience. For instance, TransferWise Bot for Facebook Messenger is a chatbot that allows customers to transfer money overseas while guiding them through the process in case they face any difficulties.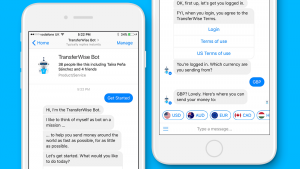 Source: Wise 
In this digital Fintech era, financial advice can now be obtained through desktop or mobile screens, all through the revolution of AI-powered chatbots. These pocket-friendly companions have the ability to analyse transaction history and spending habits to determine a person's financial health. Based on this information, they will be recommended plans of investment or saving while keeping their finances under control. The Royal Bank of Canada implemented NOMI which provides tools that help their customers manage their day-to-day spending, which includes a calculated budget recommendation based on their specific spending habits. 
Customers can now expect their loans to be processed and approved through the comfort of their homes, instantly. Chatbots have the ability to make the loan application process seamless and faster just by collecting simple information from customers. This will allow loan applications to be processed and funds to be credited instantly after a quick credit background check on the loan applicant. 

Benefits of Using Chatbots
According to Forbes, business leaders claimed that chatbots have increased their sales by an average of 67%. A study by Uberall has also shown that 80% of customers who have engaged with chatbots report it as a positive customer experience. This shows that chatbots have the potential to benefit both sides of the market in terms of operational cost, sales conversion rate, user experience and customer loyalty.  
With chatbots on the rise and its versatile features overflowing the Fintech industry, here are 4 of the main benefits that chatbots bring upon businesses and consumers:
From a consumer's point of view, chatbots allow them to save the time and hassle of having to stand in long queues for financial services. As for Fintech business owners, incorporating a chatbot into your business may not be cheap, but it is a one-time expense and investment that will save the cost of hiring and maintaining a team of customer service agents in the long run. By 2023, it is anticipated that businesses will save up to $7.3 billion on operational costs from implementing chatbots.
Due to the vast range of services and products provided by financial institutions, consumers sometimes struggle to navigate the digital platforms or websites to find products or services that cater to their needs. To counter this, chatbots are equipped with all sorts of information, functions, and solutions, making them a one-stop solution for many consumers. It provides increased clarity to consumers, which will then increase conversion to sales. 
Higher Quality User Experience (UX)
By listening to each customer's problems, needs and wants, chatbots will create a personalised brand experience for customers by providing them with curated answers and relevant solutions. They communicate with customers in a very human-like manner, making interactions natural and allowing financial institutions to use their own unique tone of voice to communicate with customers. 
Improved Customer Retention
As chatbots are available 24/7, it will increase engagement with customers as well as potential customers. This allows financial institutions to obtain valuable information about their audience and provide them with tailored products and services, which directly contributes to customer loyalty and retention.
Juris Anny
As a Fintech company, JurisTech also provides a chatbot that specialises in handling customer onboarding and financial transactions. Our very own Juris Anny,  an intelligent chatbot with natural language processing (NLP) specifically engineered for banking and finance. It comes with integration capabilities with Juris Access, which is our digital onboarding platform. Juris Anny will act as a subject matter expert that can be programmed  to answer financial questions in topics such as working capital, contract financing, startup financing, as well as, business financing. With its ability to have simultaneous conversations, Juris Anny can retain customers while documenting these conversations for future improvements. Some of these conversations can also be escalated to Live Chat with experts. It can even be used as a stand-alone bot that answers questions about a specific product or service!
Conclusion
With artificial intelligence continuously creating capabilities for the Fintech industry, customer expectations will inevitably follow accordingly. The implementation of chatbots will enable Fintech companies to build customer relationships while increasing customer satisfaction and loyalty. 
Aside from that, chatbots will also benefit financial institutions in terms of information collection, long-term cost-saving and understanding customers' behaviour. All the information collected by chatbots will allow financial institutions to improve their performance and deliver better services in the future. So what are you waiting for, chat with us today to learn about how our chatbot, Juris Anny can help your business!
List of References: