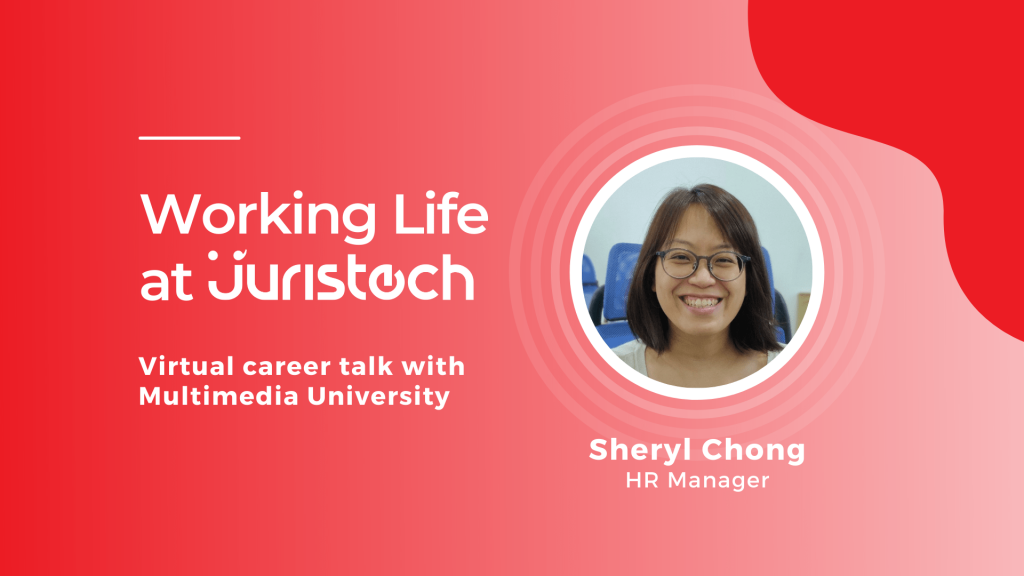 On the 27th of January, Multimedia University (MMU) invited our HR Manager, Sheryl Chong, to a virtual career talk to shed insights on the working life at JurisTech for up and running graduates. This was in line with their Graduate Programme exposing MMU's students and graduates to new career opportunities. 
Sheryl kickstarted the talk with a short icebreaking session with the students to create an engaging atmosphere then moved to share a bit of JurisTech's background and how we evolved from the period of our inception over two decades ago. Founded back in 1997 with only 20 employees, JurisTech's growth has accelerated over the years employing more than 300 employees today. 
JurisTech has achieved several milestones and achievements, including its acquisition of iMoney, the leading personal finance company in Malaysia for consumers to learn about personal finance matters as well as compare and apply for financial and utility products. Another recent milestone was JurisTech's partnership with CTOS Digital Berhad, the leading credit reporting agency in Malaysia, to create revolutionary and innovative software solutions for the financial industry.
Sheryl then moves to share a little about JurisTech's company core values, also known as our GECO values (shown in the image below). She explains how they are incorporated into our work environment from office wall prints to monthly comic publishes, to continuously resound these values across all our business units and employees.
Sheryl also talks about our employee engagement platform, Juris Footsteps, as a place where our Jurisians can receive the latest company news, engage in community activities, receive and share rewards, and more. Moreover, she shares how JurisTech reformed its working environment as a hybrid workplace where Jurisians have the flexibility to work in our physical office or through our virtual office via Gathertown (shown in the image below).
Sheryl then shared the key roles and positions in the company. As a leading Fintech company in providing credit management software solutions to financial industry players, JurisTech takes pride in hiring only the most exceptional software engineers (SE) and professional services engineers (PS). The career paths for SE's and PS's are both rewarding as their roles in the company drive new levels of product innovations as well as act as key roles in steering the company to success. Sheryl emphasises how some of JurisTech's earliest SE and PS joiners have now become company leaders and directors.
Sheryl also shares how candidates applying to JurisTech with no prior tech background can also become Professional Services Engineer through our Heroes Training Academy (HTA) where new hires would go through a 2-week onboarding and training session to be equipped with the essential skills needed to start their tech journey.
At the end of the talk, Sheryl shared some valuable advice to the participating students from building their work résumés and digital profiles to sharing interview best practices and methods to successfully land a job. The talk finally ended in a fruitful Q&A session between Sheryl and the students.
Interested in kickstarting your career at JurisTech? Check out and apply to some of the amazing positions we have for you on our Join Us page!
About JurisTech

JurisTech is a leading Malaysian-based Fintech company, specialising in enterprise-class software solutions for banks, financial institutions, and telecommunications companies in Malaysia, Southeast Asia, and beyond.