Penned down by a Marketing and Communications Intern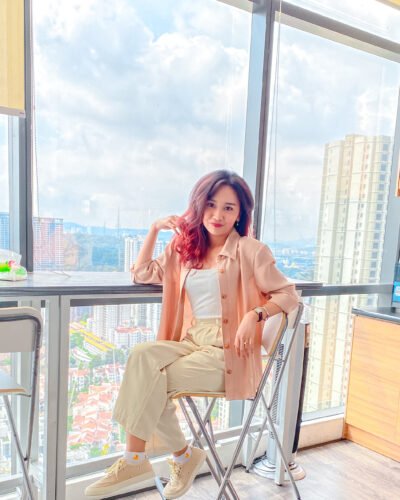 Excitement. Fear. Anxiety. Happiness. These are the emotions that best describe what I went through during my first day of internship at JurisTech. As a university student studying Communications, stepping foot into the Financial Technology (Fintech) industry is both challenging and exciting. I wasn't well-versed in this industry but I knew that if I put my mind to it, I would soon gain a better understanding of it eventually. Thankfully, it turned out to be a memorable, impactful, and pleasant journey after all. Reason being, since my first day in JurisTech, everyone has been so helpful and understanding in teaching and guiding me. This made my onboarding and assimilation process to the company much easier. Throughout the 4 months of getting to know JurisTech as a company, its culture, and its employees; I was so happy that I applied for a permanent position. You might be wondering, what happened in those 4 months that made me want to continue staying in the company. Well, here's my story.
The Company Culture
From my internship experience in JurisTech, I can proudly say that the company culture is one of the best! Every little thing that the company does, the aim is always to make the employee's life better and to build a better working environment. I really love the flexible working hours in JurisTech. I could come in anytime from 7 a.m. to 11 a.m. to work. The freedom and flexibility means a lot to my mental health. The fact that the company trusts me enough to deliver and produce quality work and I'm at the liberty to work at my own pace, was a major contribution to why I was able to excel during my internship. Moreover, not having to rush to the office during the rush hour was the cherry on top of the cake. With the hybrid working model,  my team spent 2 working days in the office and 3 days working from home. I love how productive I'm working from the comfort of my own home, where it is not too noisy and crowded; and how I still get to see and interact with my coworkers physically, building team work and team collaboration. I would say it's the best of both worlds, truly.
Diving Head First
Initially, I had this idea that being an intern means I'm just doing minor work. But that didn't happen during my time in the Marketing and Communications (MaC) team. Since Day 1, they took me in as a part of their team and they looked at me as if I were in the same position as them. They gave me real responsibilities and challenges that made me want to be excellent. In my first week of work, I was assigned to do a social media post, which was a big deal because it would be blasted across all the company's social media platforms. It was nerve wracking to hold such a big responsibility. However, the team believed in me and encouraged me to be brave. Looking at my designs being posted for the very first time to such a vast reach of people, it was a very proud moment for me. Every week since then, I have been joining them in meetings, designing posts, creating reels, running, planning and executing internal events, and so on. I am so grateful that they gave me an amazing experience working in the Fintech industry. In fact, I had the opportunity to handle real responsibilities and my team always gave credit to my work. I was never "just an intern" or hidden in the shadows.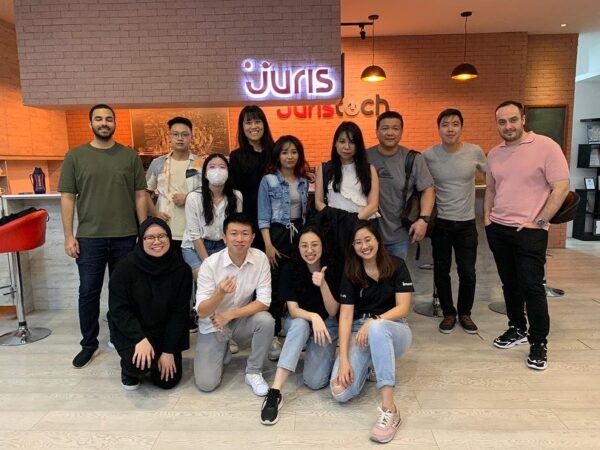 Working together with the Heroes Training Academy (HTA) to run JurisTech Hackathon 2022
Working Hand-in-Hand
Part of my internship experience as a marketer was to curate content for JurisTech's social media channels such as creating instagram reels, short snippet video interviews, and so on. In one of the videos, I had to interview several Jurisians. It was frightening at first because as a newbie, I hardly knew anyone. But to my surprise, everyone I contacted were really supportive and they gave their very best for the video. I was amazed at how the employees from different departments can work together so well. Even with their busy schedules, they were still willing to set aside time and kept me as one of their priorities in building the video content. I also had the privilege to attend the JurisTech Annual Dinner at the end of 2022. I could see all the employees knew each other and were having fun mingling with one another. I am grateful that I am part of a team that works together as a family.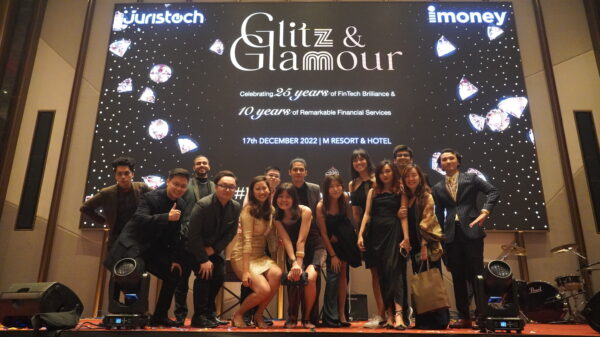 At JurisTech Annual Dinner with MaC and Picasso team members
Finding JurisTech and working here has been one of the most enjoyable experiences of my life. It has been a roller-coaster ride of emotions but it's one that I'll remember the most. Thank you to my MaC team members who made learning so fun, who pushed me to be better at doing what I do, and for embracing me as part of the team. I will never forget your contributions to my growth. A big thank you to JurisTech for creating a welcoming, safe and comfortable working environment for all employees and truly embodying your core values, G.E.C.O. – Growing Heroes; Making Excellence Happen; Customer First;  and Opening Up.
If you're a student looking for an internship, apply and send your CV to recruitment@juristech.net or find out more about our internship programme here. You won't regret it!
About JurisTech

JurisTech (Juris Technologies) is a leading Malaysian-based fintech company, specialising in enterprise-class software solutions for banks, financial institutions, and telecommunications companies in Malaysia, Southeast Asia, and beyond.

We believe that we will make a change – be it in the financial industry, tech industry or even your career. We love to create amazing solutions, to build and enrich lives; and we want you to help us with this vision. Build your tech career with us! Learn more.