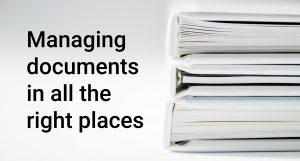 Online collaboration platforms have easily evolved rapidly in recent years. Managing documents at work should no longer be a tedious task, but one that has an organised process facilitated by the help of a well-thought-out system with little human input. This process not only reduces the labour workload but also adds value to a business' target audience.
However, despite the growing document management technologies, one wonders if these platforms offer the best security to their organisation. Data is the new king; said many, and one small leak could potentially be disastrous to the business's future.
Growing concern for data privacy
Although many organisations have made the switch to digital customer experience and applications, there are still a significant number of customers preferring physical manual forms. This creates a tricky accumulation act on the business' part; ranging from consolidating the forms from various channels to managing the customer's expectation with the processes.
Besides, with physical form, there is a minor issue in ensuring customer's privacy is well protected during submission and form processing. The operation that stands behind the business also has to painstakingly review every form submitted to vet incomplete applications or instant disqualification from prospective customers. This, in return, leads to an ununified customer experience, eventually affecting a business operation. 
Enter Juris V-Box: the way to better document management and operation
As part of welcoming the digital revolution developing rapidly due to the pandemic last year, Juris V-Box is developed as a solution platform specifically geared to enhance the existing document management systems. Juris V-Box is an instant, secure document request and collaboration platform. As an all-in-one platform, Juris V-Box is highly secured, guaranteeing utmost data privacy for both the business and customers. Besides that, every submission is encrypted, ensuring data safety during collection and processing.  
As previously mentioned, complications usually arise when there are multiple channels for document submission, even with digital applications. This is where Juris V-Box with the solution; an omnichannel platform that merges document collection regardless of the submission channels. With user-friendly features, Juris V-Box prompt customers of the documents needed for their applications based on the products they choose. This is also proven to be useful when there are third parties representatives involved as it cuts back on requirement's checking time, enabling fast sales closure and ensuring a higher customer retention rate.
Transforming business operations for more value-added services

Juris V-Box creates a unified experience for all users, with automated reminders for both businesses and customers. On the customer's side, every submission follows with a URL link to access the system and for document check purposes. Any correction needed can be made on the spot. In return, the business operation would receive the application immediately for the decision-making process and response delivery in a short amount of time. 
Being mobile-responsive, Juris V-Box's user-friendly system uses drag-and-drop uploads by utilising a device's camera access to ease the process for customers. Businesses can now manage the applications and preview the documents immediately while improving their processing time and the level of customer response. Apart from that, Juris V-Box offers advanced search features and history logs so that a business operation can follow up with unresponsive or incomplete applications.  
Let's take a loan application process as an example. Currently, there are many channels one can apply for a loan, varying from financial comparison sites like iMoney.my to the bank's direct website. Each channel may provide a different document submission journey, which can be a hassle for both the customers and the financial institution. With Juris V-Box, the platform offers a simple collaboration platform that is highly secured and encrypted and helps banks collate all documents in one platform. Not only that, it offers multiple levels of authorisation for document preview to ensure secured access and minimal data breach.
With the world evolving digitally fast and shorter customer attention span, document management no longer takes the back seat in a sales cycle. It quickly becomes the engagement priority between the business and their customer, allowing businesses to not only survive but also streamline their operations to better future engagement. When it comes to data safety and a highly secured platform, Juris V-Box is surely the way to better document management.
Interested to know more about Juris V-Box? Reach out to us at contact@juristech.net