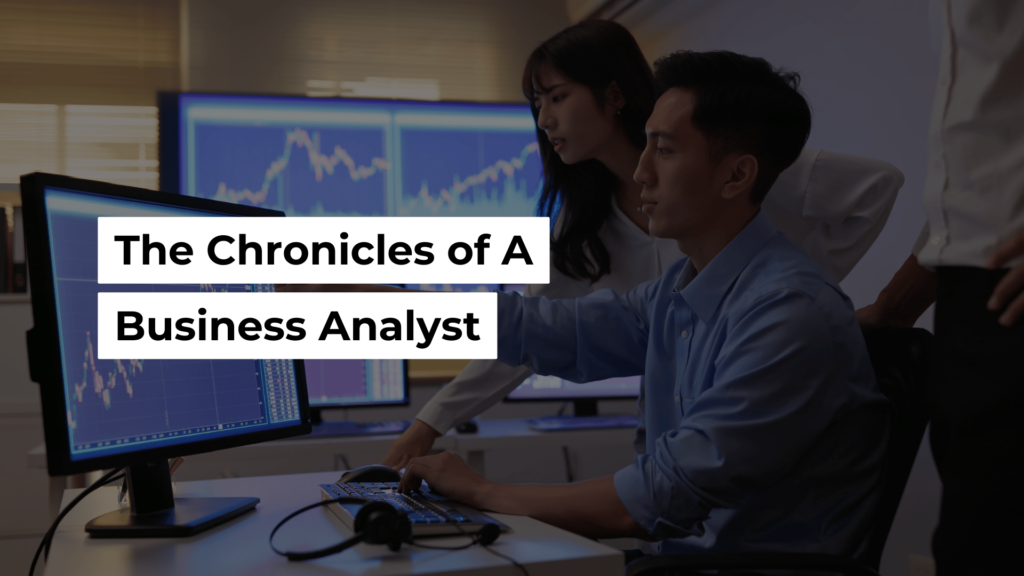 This article was last updated on (18/05/2023). Please note that the information contained in this article may have changed since the original publication date.
Have you ever wondered what a business analyst does at JurisTech (Juris Technologies)? Like many positions at JurisTech, business analysts' contributions are pivotal to the company's success. In a nutshell, business analysts are communicators, facilitators, analysers, implementers, and team players that work with multiple stakeholders from different business units, clients, and related third parties. Building relationships and understanding client needs are among the highest priorities on their list. If you'd like to know more about the other priorities, check out the 5 habits that our business analysts develop to become successful. However, there's so much more to being an analyst than meets the eye. Let's take a closer look at what being a business analyst is really like at JurisTech.
Role of a Business Analyst
A business analyst, also known as a professional services engineer, plays an integral part as a subject-matter expert on banking processes and workflows, as well as in guiding clients to achieve optimum efficiency using JurisTech solutions. An ideal business analyst is one who owns up to the delivery of software developments and enhancements. They are consultants, project coordinators, and client advocates. An analyst should be adept at both communication and collaboration skills as they work across several business units.
In broader terms, the role of a JurisTech business analyst can be described as the mediator between users/customers/clients and JurisTech's software engineers (SEs). Analysts are expected to have sufficient business and technical knowledge to be able to understand the clients' business requirements, design the solutions, and communicate them so software engineers can develop the system. They are also expected to go beyond simply understanding the clients' requirements and provide recommendations that could improve the clients' business processes.
Work Routine of A Business Analyst
The life of a business analyst is nothing short of extraordinary. Starting every morning with the fresh aroma of a freshly brewed coffee extending throughout the workspace with each team engaging in a stand-up meeting. As JurisTech practices Agile and developments in two-week sprints, stand-up meetings are important to ensure all team members are aligned with their biweekly sprint goals. Sprint goals are specific accomplishments a team works to achieve during their sprint run by allocating and delegating certain tasks across team members. Aside from executing activities throughout the sprints, analysts also take charge of building and improving the relationships between multiple business units, by advocating better communication and collaboration.
The daily routine of business analysts differs depending on which business unit they are with and also the project life cycle. For instance, an analyst in a project team would do things much differently than an analyst in a support team. We'll walk you through a little sneak peek of the routine an analyst in the project team would generally go through.
At the beginning of a new project, business analysts will initiate user requirement sessions with the client, where they gather and understand the client's business requirements and process flows. Concurrently, business analysts will prepare the user requirement documents, which specify what the user or client expects the software to be able to do, and also includes business process flows, system functions and features, and system mockup screens. These documents serve as the design backbone of a system and everyone, both analysts and software engineers, refers to these documents when developing the system.
Once business analysts have gathered and documented all client requirements, they will begin developing the system specific to the client's request, with the help of software engineers. Thanks to our proprietary framework designed by our CTO, John Lim, business analysts are able to easily configure our system to meet client requirements. Analysts also create multiple test scenarios to assess the performance and functionality of the system, from the point of view of the user. They constantly test the system and make sure that the functions and features are developed to achieve the client's goal and request. More often than not, there will be changes arising from either unforeseen requirement gaps or requirement changes. In this case, analysts will seek to understand why these changes are necessary and will prepare an addendum to document the changes. Analysts will hold checkpoint sessions, also known as showcases, to demonstrate and explain system features to the users and gather feedback from users to track the progress throughout its development.
Once the system development has been completed, users will perform testing on the system. This stage is also known as User Acceptance Testing (UAT). Users will go through test scenarios and verify each system feature by using certain benchmarks before declaring that the system is fit to be deployed. During the testing phase, business analysts will be answering any enquiries raised by users. They will act as moderators, making sure only actual defects are being raised and documented during the testing phase. As our software engineers are the main force for fixing defects, analysts will need to explain each defect and the particular test scenario to software engineers.
After the testing phase, when the system is ready to go live, JurisTech would provide production support to ensure the system is running smoothly. Business analysts will be the main contacts for clients to liaise with when they encounter any issues. Once the issues have been vetted and recognised as actual defects, analysts will relay the relevant details to software engineers to develop the fixes.
Business analysts are required to be adept with certain tools and software to be able to smoothly work and transition in every phase of the project cycle in their workspace, for e.g. database management software, file management software, source-code/version control software, and communication tools. Analysts who first join JurisTech will be taken into a two-week intensive training by our Heroes Training Academy (HTA), a unit dedicated to transforming any non-tech individual into becoming a tech professional. There, analysts will be trained in building both analytical and technical skills before being assigned to a team.
Impact of Being a Business Analyst
The years of experience gained as a business analyst in JurisTech are a catalyst to the exponential growth of building analytical capabilities. Business analysts grow to be more competent as they are exposed to the operational ins and outs of the Banking and Finance sectors. Furthermore, it hones their communication skills in making complex technical information comprehensible to an audience.
Being a business analyst shapes you into becoming more accountable and mature in character. Moreover, opportunities are given to work with managers that allow a lot of flexibility in terms of the approach taken for specific tasks. It might sound daunting to newcomers but taking accountability for your tasks is the starting point to grow into a leader yourself. Even if being a leader is not your goal, taking accountability will also help towards maturing yourself as a person.
Being a business analyst leads you to become more confident in character. As an analyst, you are required to speak up and share different opinions, especially during requirements-gathering sessions. Moreover, JurisTech provides a window of opportunity for all analysts in participating in several training sessions and discussions, which in turn translates to an individual's ability to speak and present more coherently with clients and groups of people.
Climbing up the ladder as a business analyst is truly a learning curve for many. The role presents business analysts to be more meticulous and diligent, but above all, grow into becoming a paragon of professionalism. It's not everyday you're given the opportunity to fuel your passion to do great things. At JurisTech, you'll be sure to beat expectations more than you'll meet them.
About JurisTech

JurisTech (Juris Technologies) is a leading Malaysian-based fintech company, specialising in enterprise-class software solutions for banks, financial institutions, and telecommunications companies in Malaysia, Southeast Asia, and beyond.

For more information on applying as a business analyst at JurisTech, click on the following link to Join Us today!