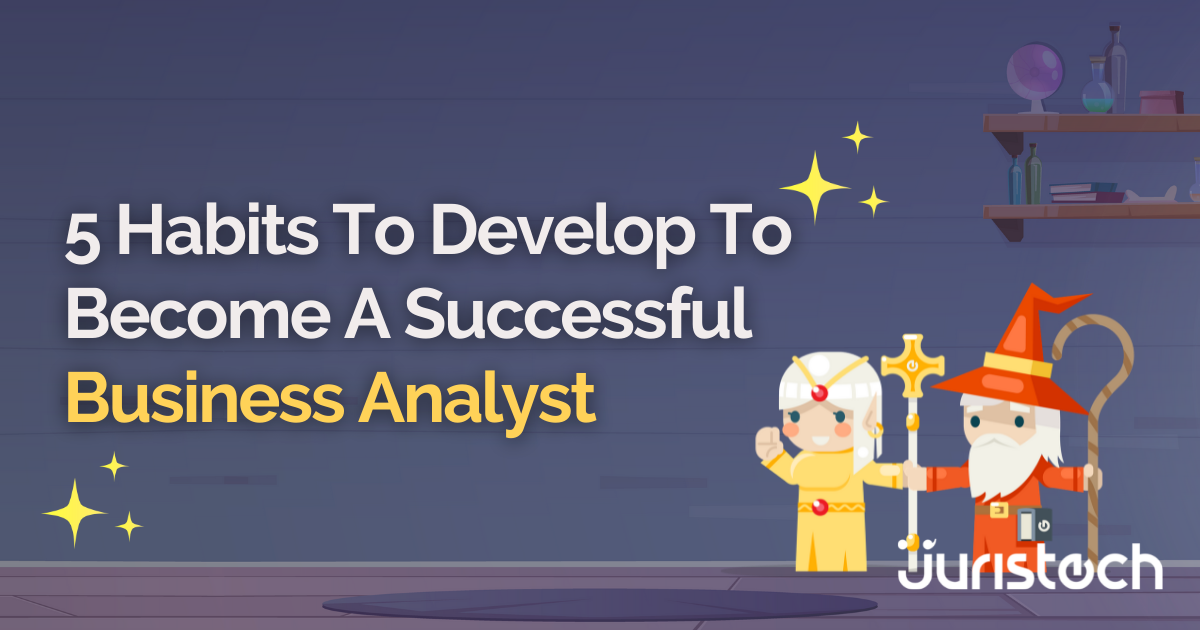 It's not an easy feat to become a business analyst. It takes time and dedication to improve one's character and develop several skill sets to play the role. A business analyst in JurisTech plays an important role, acting as a bridge between business ideas and business capabilities. If you're wondering what a business analyst does at JurisTech, read through The Chronicles of a Business Analyst to get a better understanding of the role they play. This article will share with you five key habits you should develop to become a successful business analyst.
If you've followed our business analyst week on social media, we ran a poll where we asked our followers what the most important characteristic for business analysts is (shown in the figure below). However, there is no right or wrong answer here. All these qualities are equally important and complement each other to suit the needs of business analysts in their day-to-day activities. Let's dive a little deeper and explore the importance of each quality.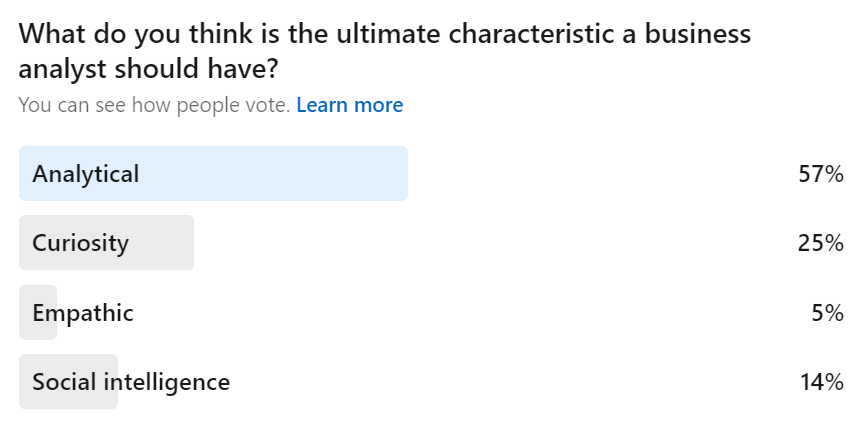 1. Break the communication barrier – Be socially intelligent
Communication is key for any business analyst's profession, especially when relaying information and bridging the gap between customers and internal stakeholders. Analysts must be able to understand customer's needs and then be able to define a set of functional requirements that will allow software engineers and designers to develop, test, and implement the system successfully. Effective business analysts must become proficient in all forms of communication, including listening, speaking, writing, and even be socially intelligent. 
When interacting with customers who want to address their business concerns and goals, analysts will need to convey their proposals or solutions in a way customers can comprehend, rather than forcing them to understand difficult technical jargons. Analysts must constantly expand their vocabulary in various business domains and system applications to be able to execute requirements documentation, proposals, and knowledge transfers between stakeholders.
2. Reveal the unrevealed – Be curious
When analysts facilitate discussions with clients or users, not only would they need to understand the requirements and specifications, but also extract information that might otherwise go unmentioned. This is where analysts need to spark their curiosity! Asking questions to fully comprehend the underlying problems or issues will help create new possible alternatives which one might not have thought of. 
For example, business analysts in product teams need to stay curious to embrace the culture of innovation. They need to be able to look at, understand, and interpret data and information during product development. This involves a series of actions such as defining and focusing on a target audience, understanding customers' needs and concerns, exploring new consumer behaviour trends, determining consumer purchase motivating factors, suggesting product improvements, and formulating achievable goals.
Analysts often need to think out of the box, rather than simply transcribing what clients or users say. Analysts should carry valuable knowledge and creative ideas where they are able to suggest alternatives and solutions to clients. 
3. Prioritise, Prioritise, Prioritise! – Be analytical
Being able to prioritise requirements is one of the major tasks business analysts should assist stakeholders with. Prioritising certain tasks acts as a guide to determine which requirements need to be fulfilled first and what resources need to be allocated. Analysts must work analytically with customers to be able to define the priorities to be executed first that will help customers with their main business goals. Many customers would argue and claim their requirements to be of top priority, however, it is the analysts' duty to facilitate collaboration and negotiation with the customers and related stakeholders to ensure that practical and reasonable decisions are made.
4. Create a collaborative working environment – Be empathic
In hindsight, business analysts are problem solvers and opportunity seekers. Business analysts often work as part of a team and collaboratively by nature. They ensure that relationships between multiple stakeholders aren't strained to deliver a project or product in a timely manner. More than often, there may lie disagreements between multiple stakeholders which could result in delays in project delivery due to lack of communication or undefined expectations. In such a stance, business analysts need to be empathic towards the situation, realigning team members on the views, ideals, and objectives of the project.
In JurisTech, Agile methodologies are commonly practised as a way to manage projects by dividing them into several phases. At the same time, there is a constant involvement among multiple stakeholders to maintain collaboration and continuous improvement at every stage of the project. Business analysts carry the duty to share all relevant information across every party, ensuring alignment.
5. Continuously hone your skills – Never settle
Being a business analyst is a practice and requires constantly improving and upskilling multiple skill sets in communication, project management, interpersonal skills, and even expand their technical and business domain knowledge. Even the most senior analysts need to constantly hone their skills. Here are some of the skills that are especially important for business analysts to constantly work on:
Facilitation:

Business analysts are responsible for gathering, analysing, and validating business and technical requirements. Hence, facilitation skills are important to manage these requirements in meetings and workshops.

Communication:

Talking to different individuals about their needs and understanding their concerns are two major actions that reflect off the ability to speak and listen well.

Writing:

Written communication is extremely vital especially when communicating information effectively to stakeholders in the form of documentation, proposals, and reports.

Interpersonal skills:

 Business analysts interact and engage with many types of people. Hence, it is important to sharpen the ability to build relationships, resolve conflicts, and negotiate priorities with different stakeholders.
Technical knowledge:

After all, a business analyst in a tech company would definitely need to know the ins and outs of the company's technical capabilities to be able to provide the best solutions to the clients!
There you have it! The 5 habits you need to develop to become a successful business analyst. Not just any analyst, but an analyst at JurisTech. The role of a business analyst in JurisTech is very dynamic, being involved in several duties from achieving business goals, implementing software, innovating, to solving clients' problems. What business analysts do in JurisTech is truly a self-fulfilling role where they become exposed to the finance and tech space and bear an entirety of multiple business and technical knowledge, all while working in a collaborative working environment.
In JurisTech, you can come from any background and still become a business analyst as we provide all the essential training to kickstart your professional career! Think you have what it takes to be a business analyst, then apply now to work with the best fintech company in Malaysia!
About JurisTech

JurisTech (Juris Technologies) is a leading Malaysian-based fintech company, specialising in enterprise-class software solutions for banks, financial institutions, and telecommunications companies in Malaysia, Southeast Asia, and beyond.