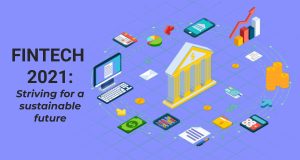 Digital banking went through a massive transformation last year with online transactions, mobile applications, e-bills payments and e-KYC becoming the norm in our daily lives. With imposed movement restrictions, it creates high consumer demand for direct-to-consumer banking applications that are easily accessible, highly simplified, and user friendly.
If 2020 is about survival, this year will be about inclusivity, convenience and sustainability. COVID-19 might have driven the adoption of various digital banking methods last year, but the desire for security will lead the development of Fintech in 2021. This is aligned with the rising demands for stability after the pandemic disrupts the operation of many industries.
Chasing after convenience and stability for economic growth
With the experts stating the virus could last up to 72 hours on a surface, many retailers were quick to adopt cashless methods to prioritise the public's health and safety. However, card processing payment often drives the operating cost for many retailers, ultimately resulting in a price hike for consumers. This led to a usage increment in a variety of cashless payments such as mobile banking app, online transactions and e-wallet to allow the global economic recovery process. According to a survey by RTi research, there was an almost 30% surge of contactless payment in 2020. This trend has also paved the way for other digital payment methods-such as a surge in QR code payments and e-wallets, and a higher number of payment transactions performed online. 
Just recently, a study published by the Bank of International Settlement has reported a few countries raised the limits for contactless payment to accommodate the new normal, allowing consumers to continue with their necessary daily online transactions. Taking their cues from this, other digital payment providers also follow suit by allowing usage limit setup that can be easily done within an app in no time at all.
Managing and delivering a new range of expectations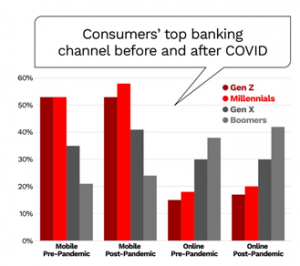 The rapid development of Fintech in the past years had neglected the importance of educating the public, resulting in the Fintech industry being hit by cybersecurity attacks more than other sectors during the COVID-19 pandemic. The Fintech industry has to focus on developing technology that's highly secured, but also user friendly and workable at the same time. 
While COVID-19 drove the digital banking transformation, there was not really a unanimous effort to educate the public on proper technology usage. This has made the public even more susceptible to security attacks more than ever; with plenty of digital payment methods nowadays, sustainability can only be achieved if security is in place and not compromised. 
One thing we commonly forgot is the different generational understanding of technology. The new technology often is skewed towards catering to specific groups and further exacerbates the issue in achieving sustainability in the Fintech industry. 
Hence the question of how can technology make us feel safe whenever we perform any digital or online financial transactions? When there is new technology being rolled out, there should also be a conscious effort to increase the public's awareness level by Fintech providers, while the public should also be afforded the right to know the mechanism of whichever digital payment apps they choose to utilise.
Aiming for a secured future
The key to success will be close collaboration between authorities and the Fintech sector in establishing a robust and agile regulatory system.

Stephen Ufford, Founder of Trulioo, an app with the mission to provide access to financial services to billions of unbanked individuals around the globe.
A country's regulation also plays a vital role in enabling a financial technology landscape that's secured for everyone involved. Malaysia introduced the first exposure draft of e-KYC (Know Your Customer) in December 2019 with a follow up in 2020 for more refined regulations applicable for financial institutions. This is closely related to the advancement of digital onboarding platforms such as demonstrated by Juris Access, where ID verification is compulsory during the initial sign up in an onboarding process.
This move not only guarantees security is in place that directly protects all involved parties but also fulfils the demand for contactless interactions that ease the onboarding process with no delays. Besides being the way forward for the Fintech industry, this also changes consumer's perception of a product/ financial institution's brand. Products that acknowledge the varying level of technology literacy are more likely to get repeated usage, guaranteeing a higher rate of customer acquisition, thus ensuring sustainability. 
Frankly, it is not simply a matter of educating the public on being more technology literate; but an issue of ongoing developing technologies to address the differences; from demographic, current existing infrastructures, varying levels of technology literacy, and so on in understanding technology, along with unique individual needs for security. Perhaps this is now the time where technology progresses to become customer-oriented to combat existing issues and only then, a sustainable future could materialise for many of us.
About JurisTech

JurisTech (Juris Technologies) is a leading Malaysian-based Fintech company, specialising in enterprise-class software solutions for banks, financial institutions, and telecommunications companies in Malaysia, Southeast Asia, and beyond.

Start playing your part in building a sustainable future by adopting digital onboarding platforms that emphasis on security via eKYC such as Juris Access, an entirely web-based and mobile responsive solution that allows a business to be more efficient operationally while acting as an excellent customer service simultaneously.