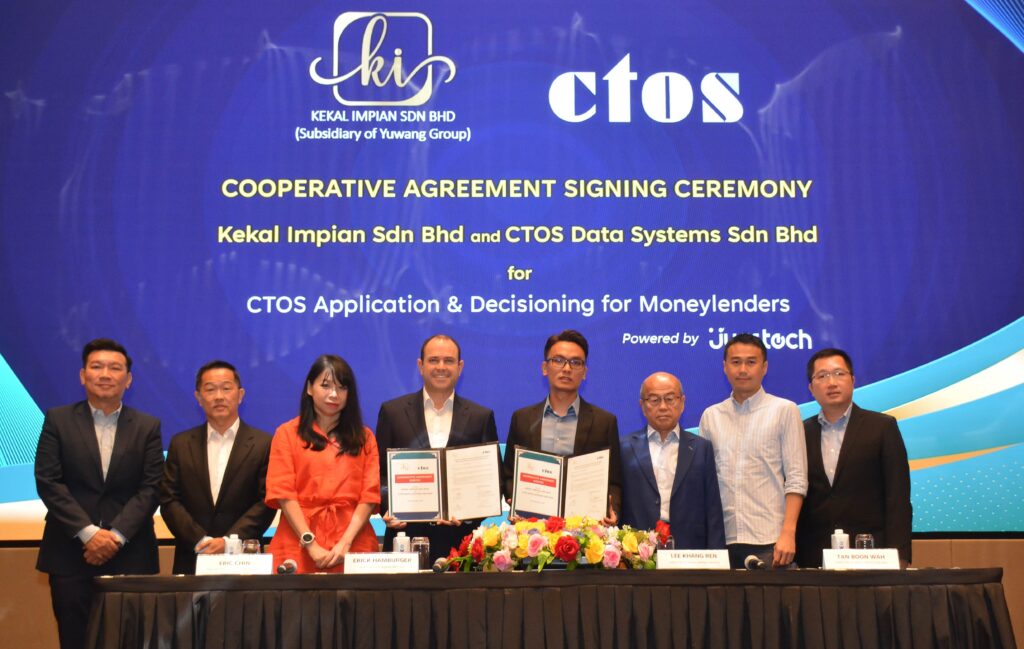 From left: Eric Chin, CEO of CTOS Data Systems Sdn Bhd; Jason Ng, Business Advisor for Kekal Impian Sdn Bhd; See Wai Hun, Co-founder and CEO of Juris Technologies Sdn Bhd; Eric Hamburger, Group CEO of CTOS Digital Bhd; Lee Khang Ren, Director of Kekal Impian Sdn Bhd; Tan Sri See Hong Chen, See Cherng Jye and Tan Boon Wah, Business Advisors to Kekal Impian Sdn Bhd signing a cooperative agreement between CTOS and Kekal Impian.
September 19, 2023  – In a significant move to revolutionise the digital moneylending landscape in Malaysia, leading credit reporting agency, CTOS Data Systems Sdn Bhd, has entered into a strategic partnership with Kekal Impian Sdn Bhd. The Ministry of Housing and Local Government (KPKT) recently granted Kekal Impian a licence to engage in digital moneylending, which prompted this collaboration. Together, they are set to make a positive impact on financial inclusion and accessibility across Malaysia.
The cornerstone of this partnership is the cutting-edge CTOS Application and Decisioning for Moneylenders platform, specifically designed to streamline Kekal Impian's online moneylending operations. The platform is constructed using JurisTech's digital onboarding platform – Juris Access, OTP signing module – Juris Signing, and loan management system – Juris OneCore, and it seamlessly integrates with CTOS' essential bureau data and eKYC solution. With advanced digital journeys and a powerful backend engine for internal processing, Juris Access improves efficiency and user experience for JurisTech's clients by streamlining customer onboarding processes, facilitating acquisition, application, eligibility pre-screening, and evaluation for financial and credit products. With the aid of Juris OneCore, our clients can quickly bring their loan or financing products to market while efficiently managing every stage of the loan life cycle, from application to settlements and write-offs. 
Leading fintech firm JurisTech is one in which CTOS purchased a 49% stake in 2021. For banks, financial institutions, and telecommunications companies, JurisTech offers enterprise-level solutions that facilitate digital transformation. With the help of JurisTech's cutting-edge technology, CTOS was able to combine their considerable credit data expertise with this acquisition, which represented an important milestone for them.
Announcing his excitement, Eric Hamburger, Group CEO of CTOS Digital Berhad, said, "Our latest offering, CTOS Application and Decisioning for Moneylenders, powered by JurisTech and integrated with CTOS eKYC and comprehensive bureau data, illustrates CTOS' evolution into a true digital enabler. This partnership aligns with JurisTech's mission to enhance credit health and promote financial inclusion across Malaysia, especially for the underserved segments."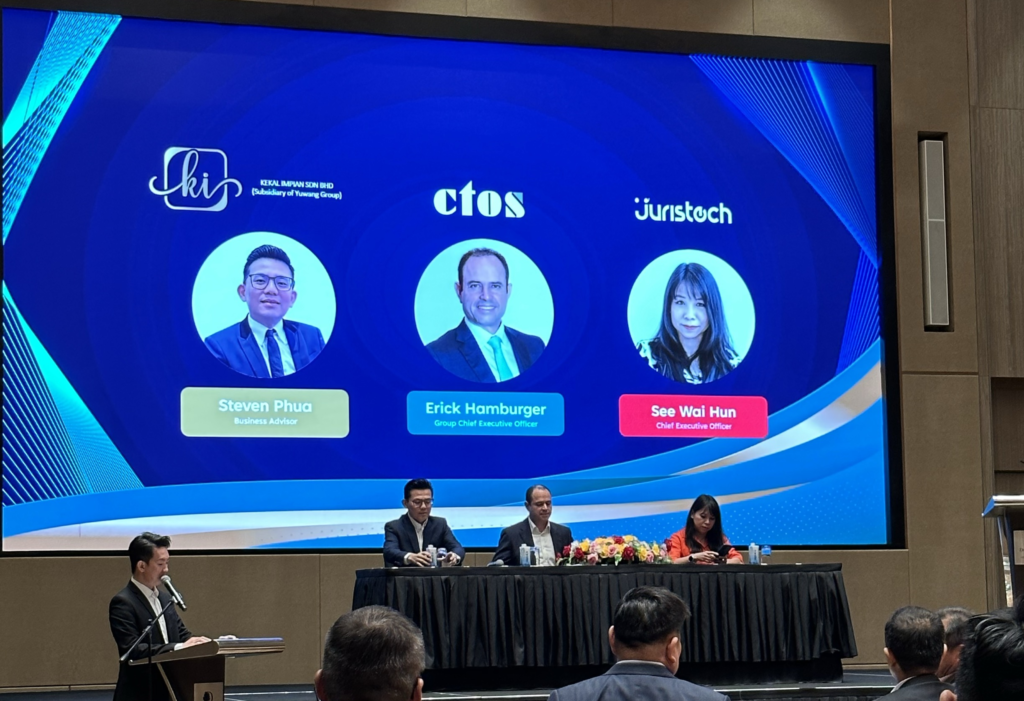 From left: Steven Phua, Eric Hamburger, and See Wai Hun attending the press conference of the event. 
Kekal Impian aims to provide quicker, more convenient, and customised financial services online by utilising CTOS' extensive data and JurisTech's decisioning capabilities. Steven Phua of Kekal Impian elaborated, "We started as a traditional venture in the financial industry, driven by a simple yet powerful mission: to provide a helping hand to those facing financial difficulties." 
In Malaysia's financial services industry, this strategic alliance between CTOS and Kekal Impian marks a turning point. The collaboration aims to empower people with greater access to credit, particularly those underserved by conventional banking institutions, by leveraging JurisTech's power of technology and data-driven decisioning. Furthermore, it emphasises how the fintech sector is constantly evolving and how digital solutions are being used to handle new problems in the financial sector.
This partnership is timely, providing a more practical and effective way for people to access much-needed financial support, as Malaysians increasingly rely on digital platforms for financial services. This project clearly shows how committed JurisTech, CTOS and Kekal Impian are to financial inclusion and the digital transformation of society. We are well-positioned to work together to improve Malaysia's financial ecosystem by making it more accessible and inclusive.
About JurisTech

JurisTech (Juris Technologies) is a leading Malaysian-based fintech company, specialising in enterprise-class software solutions for banks, financial institutions, and telecommunications companies in Malaysia, Southeast Asia, and beyond.