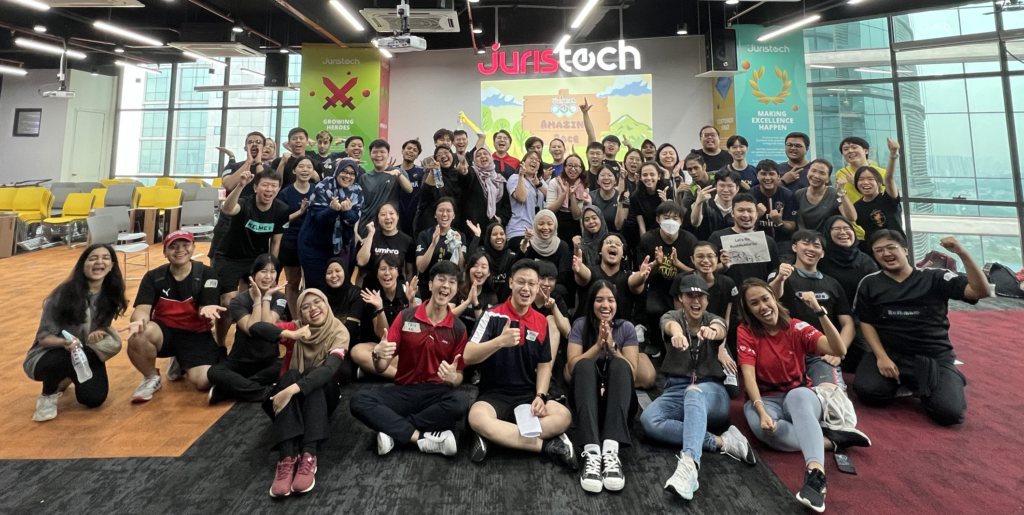 From August 16th to September 12th, JurisTech and iMoney (a consumer arm of JurisTech) embarked on a remarkable journey filled with camaraderie, intense competition, and unforgettable moments. Juris Olympics 2023, spanning an impressive five weeks, has brought employees together in ways we could only have imagined. The event consisted of nine games, including chess, Valorant, pool, mahjong, FIFA 23 Xbox, badminton, table tennis, foosball, and Amazing Race. With nine exciting games and activities, this event was more than just a competition; it was an opportunity to build stronger bonds and improve internal communication while having an absolute blast. This extraordinary event brought together employees from every corner for a month of exhilarating competition, unparalleled camaraderie, and a profound alignment with the company's core values, or GECO values for short – Growing Heroes, Making Excellence Happen, Customer First, and Opening Up.
A Bonding Experience Beyond the Games
Juris Olympics was not just about competition; it was about fostering deeper connections among employees. Employees from various units formed teams, fostering opportunities for them to interact with colleagues they might not have otherwise met. These interactions nurtured a sense of unity, breaking down silos, and making it abundantly clear that at JurisTech, we are all part of one big family.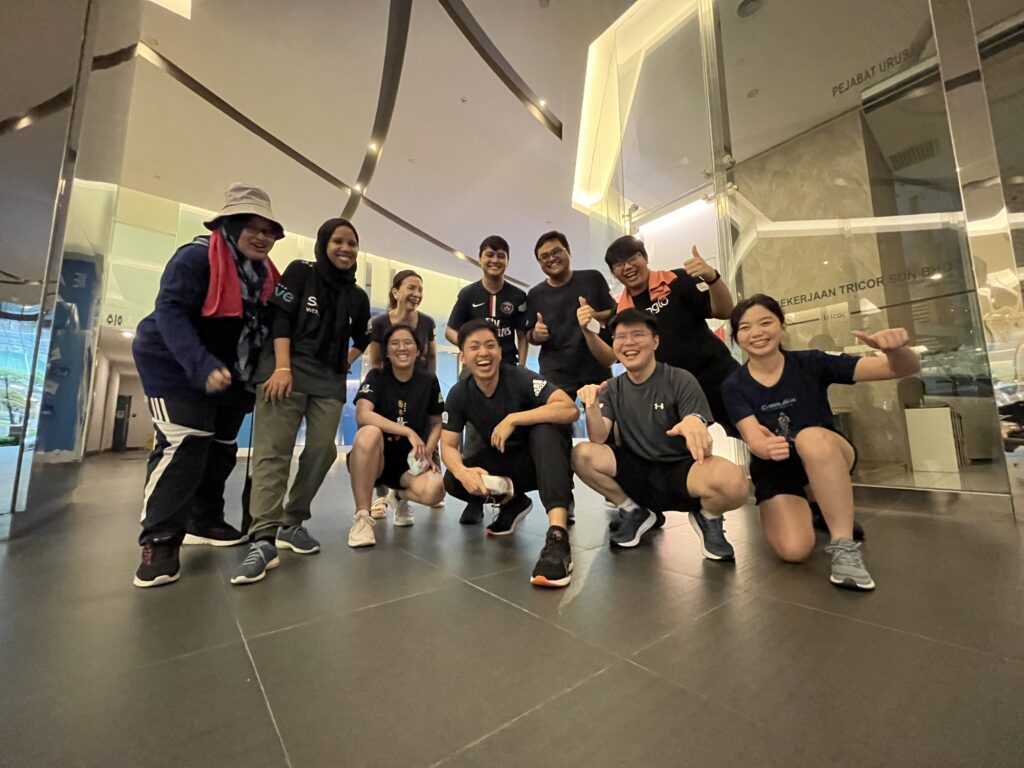 Employees of JurisTech and iMoney created unforgettable memories during Juris Olympics
Living GECO Values
As the games unfolded, it proved that the core values of the company were not just slogans but principles that employees embraced wholeheartedly:
Growing Heroes
The "Growing Heroes" aspect of Juris Olympics was more than just a catchy phrase; it was a genuine opportunity for employees to embark on a journey of personal and professional growth. Throughout the competition, individuals found themselves stepping into leadership roles they might not have otherwise considered. They had to make strategic decisions, rally their teams, and inspire each other to excel. These experiences nurtured leadership skills, helping employees discover the heroes within themselves.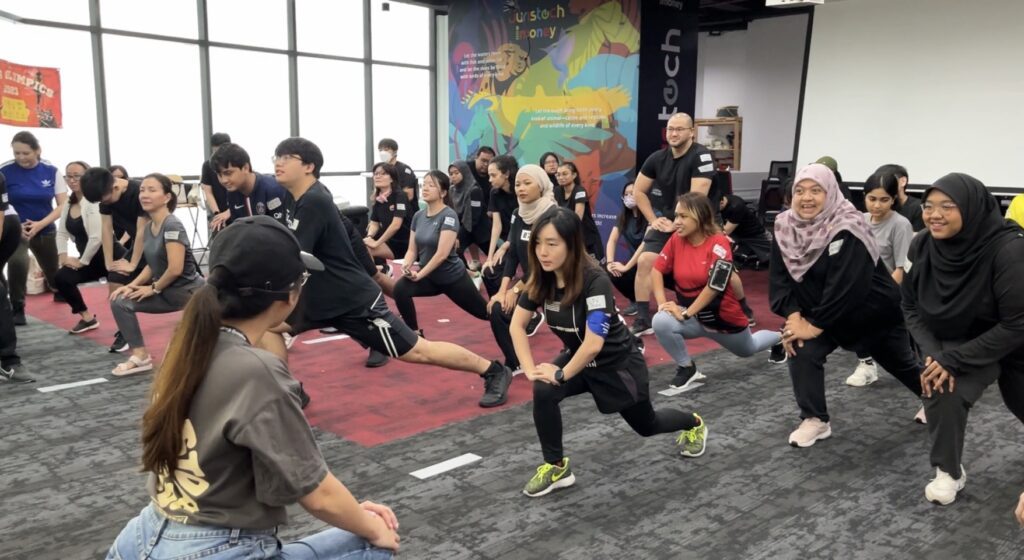 Laura Tsen, JurisTech's Marketing Manager guided participants through a pre-game warm-up session
Making Excellence Happen
In the spirit of "Making Excellence Happen," participants approached each game with an unwavering commitment to excellence. Whether they were playing chess, foosball, or any other game, the goal was to push their limits and reach the pinnacle of their performance. Juris Olympics became a microcosm of JurisTech's commitment to continuous improvement. In every game, participants strived for excellence, pushing their limits and aiming for the highest level of performance. The spirit of continuous improvement was palpable.
Customer First
The value of "Customer First" reverberated throughout Juris Olympics. In each game, teams worked together, placing the needs and aspirations of the collective above personal interests. Every victory was a testament to the dedication of teams working tirelessly to satisfy the ultimate 'customer' – JurisTech's success. This emphasis on teamwork mirrored the company's commitment to putting the customer at the center of everything. It demonstrated that, just as we strive to exceed customer expectations in our external interactions, we also prioritise collaboration and mutual support within our internal teams. 
Opening Up
The diversity of games and participants in Juris Olympics encouraged employees to open up to new experiences and embrace a broader perspective. It was a reflection of the company's commitment to embracing change and innovation. Through these diverse challenges, participants were exposed to a variety of skills, strategies, and ways of thinking. This value was not confined to the games alone; it extended to the workplace. It encouraged employees to be open to new ideas, diverse viewpoints, and innovative approaches in their daily tasks.

The participation of iMoney in Juris Olympics 2023 added an extra layer of vibrancy to this extraordinary event. It symbolised the collaborative strength and unity within the JurisTech family.  The presence of iMoney demonstrated how different facets of the business could seamlessly come together to embody JurisTech's core values.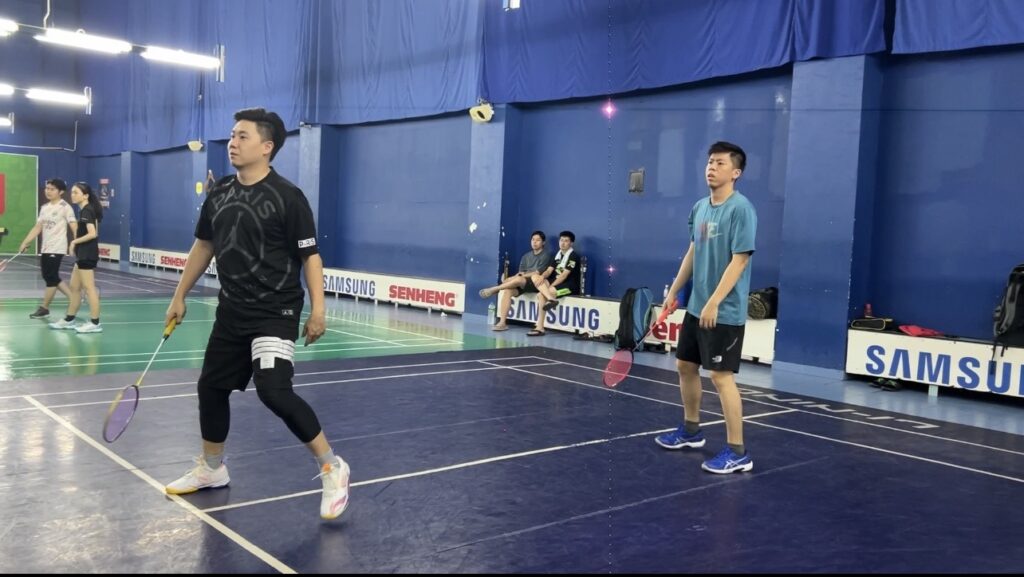 Ken Yap (left), General Manager of iMoney Group partnered with JurisTech's employee during badminton tournament 
Strengthening Internal Communication
Throughout Juris Olympics, employees from different units and levels of the business came together to form teams, fostering connections that went beyond the confines of their daily roles. Whether strategising in chess or coordinating in an Amazing Race challenge, participants had to communicate effectively to succeed. This event served as an exceptional platform for breaking down communication barriers and building trust among colleagues.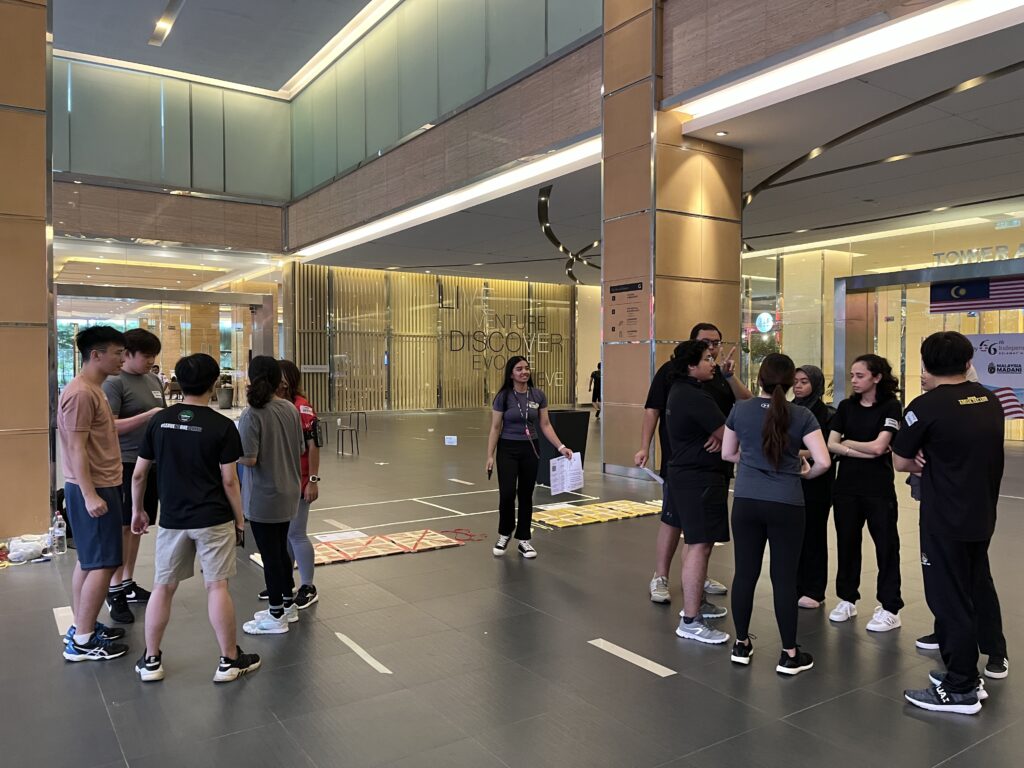 Team discussion before the start of the game
Breaking Down Hierarchies
One of Juris Olympic's attributes was its ability to break down workplace hierarchies. During these five weeks, job titles and positions took a backseat as employees from all levels collaborated, strategised, and cheered each other on. In this unique environment, all participants were on equal footing, bound by their shared passion for the competition and their mutual support for one another. It demonstrated that at JurisTech, unity knows no hierarchy, and every employee, regardless of their role, is a valued member of our extended family.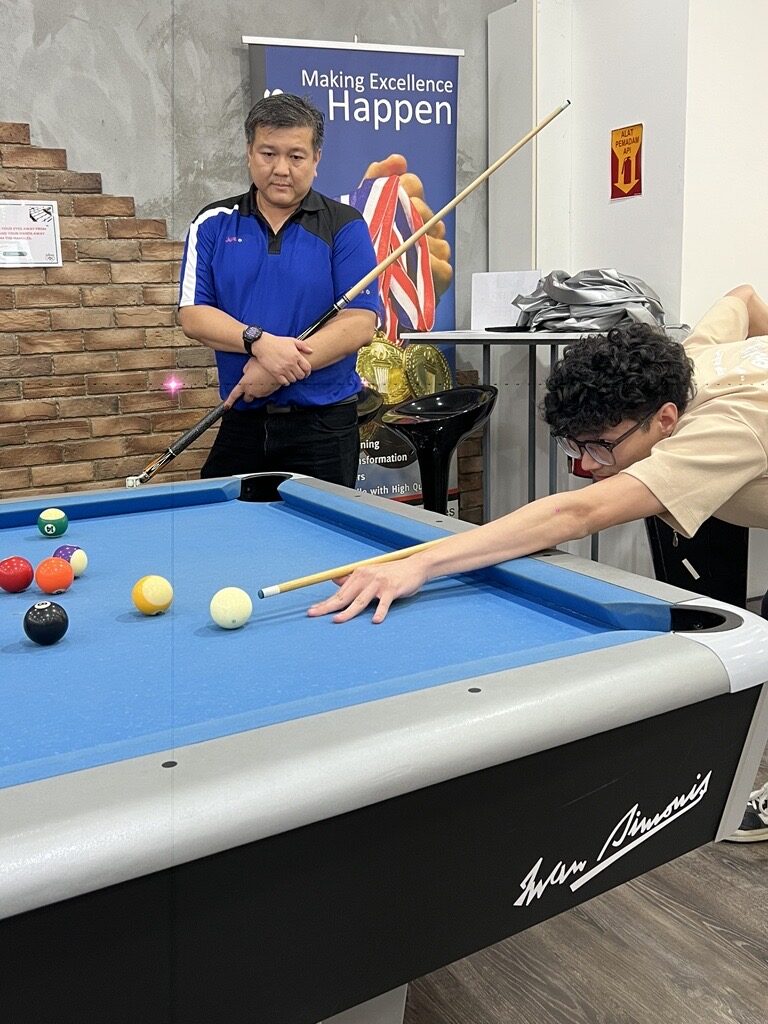 Naaman Lee, JurisTech's COO playing pool with an intern during Juris Olympics 
The Competitive Spirit
Competition was fierce, but it was always infused with a spirit of sportsmanship. Participants displayed remarkable dedication and sportsmanship in their quest for victory. From heart-stopping Foosball matches to thrilling table tennis tournaments, every game was a testament to the competitive spirit that drives JurisTech's success.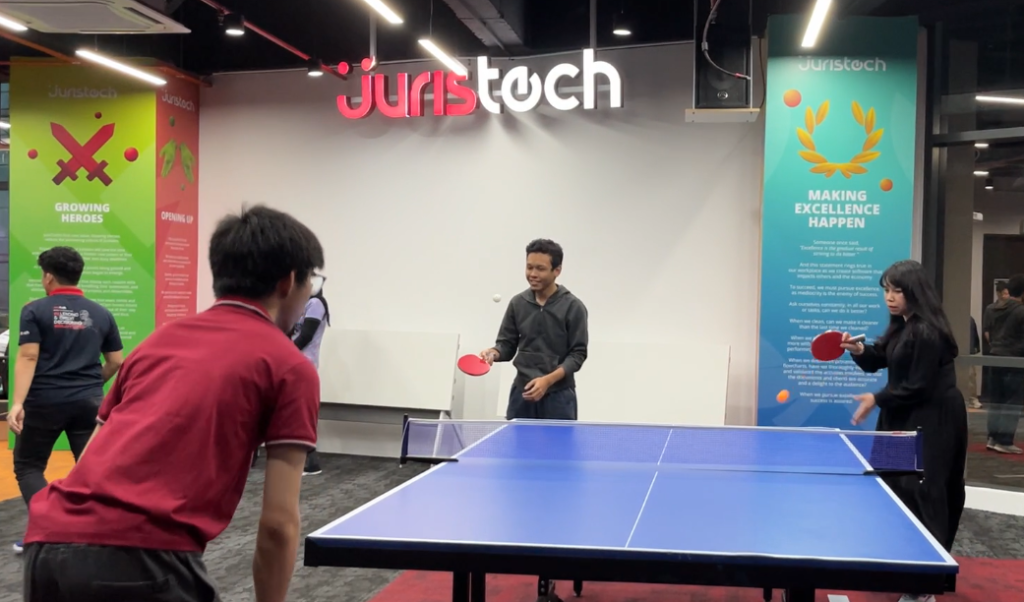 See Wai Hun (right), JurisTech's CEO raising her competitive spirit during the table tennis tournament
The success of Juris Olympics 2023 has set a remarkable precedent for future events within JurisTech. On top of that, it has shown that when we align our actions with our core values, we can achieve exceptional results and build lasting bonds. As we move forward, we continue to carry the spirit of Juris Olympics with us, knowing that we are not just colleagues but members of a close-knit family, united by our shared values.
About JurisTech

JurisTech (Juris Technologies) is a leading Malaysian-based fintech company, specialising in enterprise-class software solutions for banks, financial institutions, and telecommunications companies in Malaysia, Southeast Asia, and beyond.