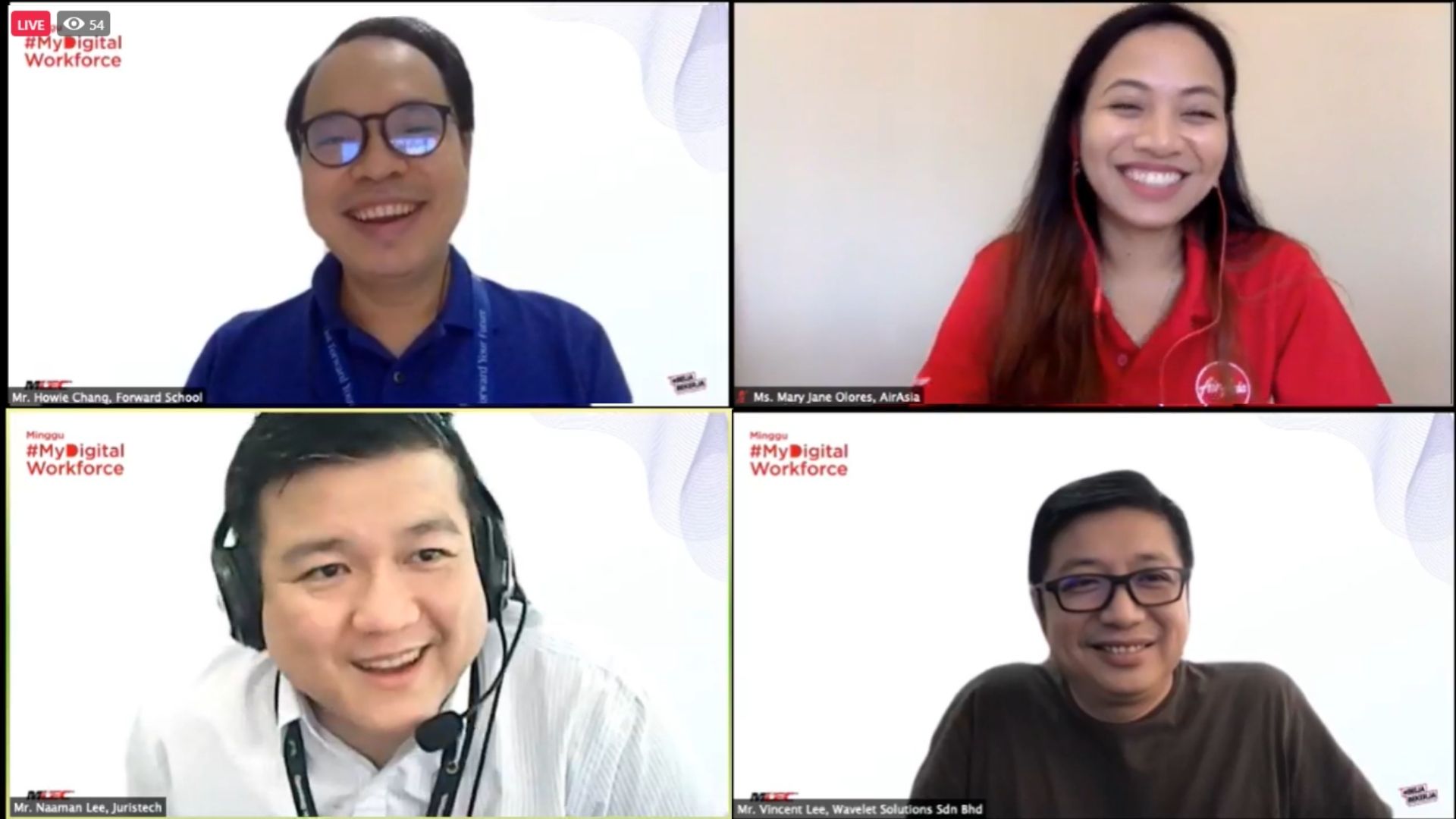 "Computer software, or simply software, is a collection of data or computer instructions that tell the computer how to work." – Wikipedia
This is the opening remark of Howie Chang, Founder of Forward School as he moderates the webinar with a panel of very well-versed speakers in the software development industry on 25th August 2020. The panel of speakers consists Mary Jane aka "MJ", the Lead Technical Recruiter of AirAsia; Vincent Lee, Founder and CEO of Wavelet Solutions; and last but not least, Naaman Lee, COO of JurisTech.
This webinar is an initiative by Malaysia Digital Economy Corporation (MDEC), in line with their #MyDigitalWorkforce week to re-skill the Malaysian workforce for digital economy jobs and facilitate job matching.
Having such high-profile people speaking at the webinar, the audience brought up plenty of interesting questions. One of the many would be – why is software development so important and what brought these speakers specifically into this industry?
Vincent excitedly told his story about his immense passion for programming and how he started coding when he was just 10 years old. However, he intentionally pursued a degree in engineering simply because he wanted coding to remain as a hobby. Later on, he founded Wavelet Solutions in 2003 and created his own software solutions, hence, the start of his entrepreneurial journey.
According to Vincent, software is a means to improve people's quality of life, and a tool to reduce human labour and increase efficiency. He finds purpose and meaning in solving problems. He described the feeling as equivalent to playing computer games – intense and fun!
Naaman was also in the mechanical engineering field for 8 years before giving it a go in the software development industry. He explained how there were so many limitations in the mechanical engineering field, but in the software development industry, the only limitation is his imagination. With sparkles in his eyes, Naaman spoke about how he was attracted to the unlimited potential in the software industry.
"The world is our playground; we create the future," said Naaman.
There are so many aspects of the unknown in the software engineering world. It makes it interesting and the learning curve is steep. According to Naaman, being a software engineer is not all about learning new languages or new platforms, but learning how the software behaves, regardless of the language. How can the software perform better? What can I do to improve the unit testing process? How can I contribute to building better software solutions?
MJ brought up the importance of having the trait of curiosity in this field. As a lead technical recruiter hiring data scientists and software engineers in AirAsia, she is on a constant lookout for people who are curious and love problem-solving. She explains how a curious person is always open to experience, has a natural desire to build knowledge, and also proactively seeks to understand consumers' pain points to solve them. With that being said, it is an opportunity to journey towards an answer, to engage in a new experience, or to learn a new fact. This journey is in fact, purposeful and fulfilling.
Howie pointed out that the gratification and satisfaction of being a software developer comes from having the opportunity to solve problems and build solutions that can enrich the lives of those around us.
The panellist also spoke about the different types of roles and functions in the tech or software industry. There are the frontend developers like the User Interface (UI) and User eXperience (UX) developers, stretching to the backend engineers such as the software developers or software engineers. Hence, to venture into this industry, you need to identify what you want to do or what you are passionate about. What are the core skills you want to learn and focus on? For example, would you want to pursue and learn about web development, mobile development, or software development?
If you are already in the industry, that is amazing! Focus on building your core foundations. With a solid foundation, build on your expertise.
So, what about people who are from a non-technical background, you may ask? How challenging would it be to onboard non-tech people into the tech industry? Fret not! There are no boundaries or barriers to enter this industry. As long as you have a real passion for it, the career opportunities are vast and wide. For most tech companies including JurisTech, they would usually provide an IQ test or logic test as part of their hiring process. For those coming from a non-tech background, the experience and business domain knowledge you have previously acquired would definitely give you an edge entering the tech world. Furthermore, to dream to become a software engineer is not impossible. There are no real limitations, just that some people do it better than others. For example, those with an engineering background are considered more advantageous because of the academic knowledge and structure they acquired in their studies such as having a more analytical mind to troubleshoot and rationalise processes.
The webinar ended on a high note. MJ mentioned that if you are interested to join this industry, you should sign up and be part of a tech community because that is where you can learn all the tricks of the trade. For Naaman and Vincent, their advice to future software engineers and software developers is to adopt a "do more with less" mindset with their code and to excel in reading and understanding code written by others perfectly – practise makes the perfect code.
To watch the full webinar, click here.
About JurisTech

JurisTech (Juris Technologies) is a leading Malaysian-based fintech company, specialising in enterprise-class software solutions for banks, financial institutions, and telecommunications companies in Malaysia, Southeast Asia, and beyond.

At JurisTech, we have the Heroes Training Academy (HTA) where new hires will all go through a rigorous two-week orientation and training where they will be shown the ropes and be equipped with the tools of the trade. Join us and be part of the unlimited potential in the software industry, and click here to learn more about what a software engineer does at JurisTech.