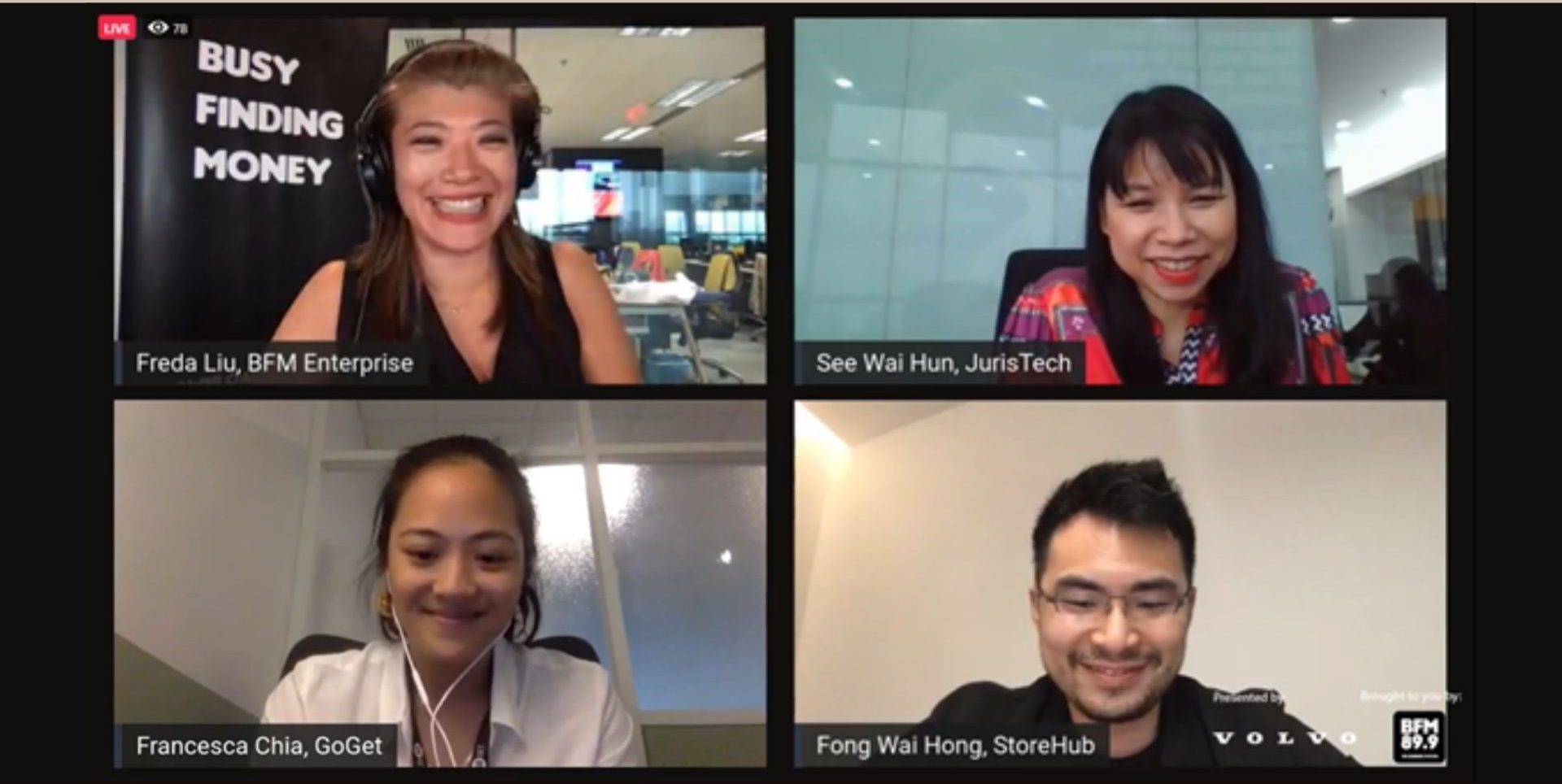 It was a fantastic and insightful webinar hosted by BFM Enterprise Back to Business Series on 10th September 2020. The webinar was moderated by Freda Liu, Presenter/Producer, BFM Enterprise; and seated at the panel table were esteemed individuals, See Wai Hun, co-founder and CEO of JurisTech; Fong Wai Hong, Chieftain and co-founder of StoreHub; and Francesca Chia, co-founder and CEO of GoGet.
Let's jump right in and learn how these thriving technology companies breeze through the storm of COVID-19. How they not only digitally transformed their own businesses, but also enabled other businesses to digitally transform and contributed to the increased rate of digital adoption among businesses.
See Wai Hun spoke about how businesses need to be flexible and in order to do that, you need to ask yourself some important questions. How can I scale my business at times like this with minimum cost and through bootstrapping? What more can I do to elevate my customers' businesses and monetise from these activities?
Wai Hun also emphasised the importance of looking at business metrics to help facilitate cost savings and increase operational efficiencies. Once you are able to monitor and track key metrics, nothing will be a surprise to you. Everything has a pattern and a trend. Having the ability to monitor your metrics will enable you to know what type of losses you will potentially face, how long this will last, and what you can do to prepare for it. On the flip side of the coin, if you fail to look at the metrics and the trends, then, everything will definitely be a surprise and it will cost you immensely.
Wai Hun also spoke how JurisTech was well-prepared for the MCO as they had expected it. She mentioned how the company had a Business Continuity Plan (BCP) and how it was successfully implemented. Switching from a daily standup to twice-daily standups, meetings were conducted using Zoom/Skype with screen sharing. Lastly, teams collaborate using WhatsApp, ClickUp (virtual Kanban boards), and Discord (chat/conferencing).
For StoreHub, Fong Wai Hong spoke about how they had to innovate and do project planning not daily but hourly. They had to rethink the way they operate. He also expressed his thoughts on the importance and the impact of having a change in mindset especially in times of crisis. He challenged business owners to have a shift of mindset by asking themselves – What is the cost of doing business today? How do we communicate it to our employees? How do we ensure increased efficiency and what are the right tools to use? What else can we do to be more innovative in order to act faster?
"If you want to operate a fast-paced company, you need to have a change in mindset." – Wai Hong
Francesca Chia seconded Wai Hong's statement of having a change in mindset. She further elaborated that if you are open to a mindset of being agile, the actions you take for your business will head in that direction. She also spoke about the challenges she faced in transforming a network of workers that are not salaried staff, and how she and her team have to innovate effective ways to issue their SOPs and engage these workers.
Freda then pops another intriguing question. Does the word "transformation" scare most businesses? Does digital adoption make for better acceptance?
"The word is not a 'scare' anymore, but a 'necessity'. People are more scared that they haven't transformed instead of transforming." – Francesca
Francesca also mentioned how when people use the word "digital transformation", it is most commonly referred to as the transformation of large companies or "Giants" of the industry. However, it is a well-known fact that small- and medium-sized enterprises (SMEs) are the backbone of the Malaysian economy. Hence, she brought up an interesting analogy of the state of our SMEs. Usually we describe large corporations that have dominant positions in protected markets as "Giants", but she described SMEs as "Ants" because they are lean and fast. As the fast movers of their industry, they have the ability to move between cracks or even run away from the water. They are lean and they are adopting digital practices instantly and moving everything online. Some good examples that can be seen are the appearance of cloud kitchens and innovative cloud portals. "This can also be one of the greatest periods where more power is given to the SMEs than before," said Francesca.
For Wai Hong's business, he mentioned that there was a big difference in operating his business before the COVID-19 pandemic and now. He spoke about his challenges in transforming. Transformation is not a scary word even though it has big connotations. It simply means the need for it is humongous and people are wrestling, literally, with the life and death of their business. It is no doubt a real confronting issue.
"Adopting technology in itself is not going to save your business but transformation does, and adopting technology is a means to that end," said Wai Hong.
He prompted the audience to think about the "whys" behind the importance of the impact technology has on businesses to help survive and thrive especially in our current global situation. There is a struggle to adapt, but now, you can change your processes and increase their efficiency five times more. What's stopping you?
The whole session was deeply thought-provoking and it does not just end at that. Wai Hun touched on the digital visions of banks and financial institutions in wanting to transform. A digital adoption is like stapling wings to a caterpillar while a digital transformation is like a caterpillar metamorphosing into a butterfly. Wai Hun firmly believes that banks and financial institutions do need big changes and the word "transformation" sounds just about right!
Moreover, she backed the whole session up with a solid real-life situation. Using the financial industry as an example, Wai Hun mentioned that everyone is going into the financing market. With this disruption, banks and financial institutions need to change the way they work and engage with their consumers. The young people are no longer stepping into bank branches, consumers are digitally aware, and COVID-19 has indeed accelerated that.
"If we do not transform, it will make us irrelevant in the future." – Wai Hun
To sum it all up, it was a fruitful and enlightening webinar. If you are reading this and a business owner, Wai Hun's advice to you would be – You shouldn't be too hard on yourself. As long as you work on the fundamentals, you can go slow and easy. Don't compare, do the right thing, walk your own path, and be happy in the process.
Watch the full webinar here: https://www.facebook.com/watch/?v=377255137051981.
---
About JurisTech

JurisTech (Juris Technologies) is a leading Malaysian-based fintech company, specialising in enterprise-class software solutions for banks, financial institutions, and telecommunications companies in Malaysia, Southeast Asia, and beyond.