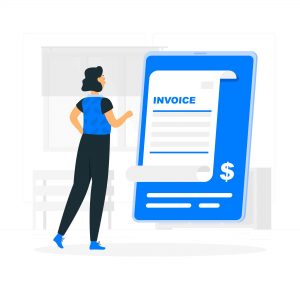 Source: Freepik
Technology has improved since the start of the decade, starting with the digitisation of the banking industry and the advancement of technology in the last decade. Combining both, there has been a major shift in how debt collection software is being developed to cater to the latest trend, especially after 2020 when COVID-19 affects the global economy disastrously.
Here are 3 of the predicted trends for debt collection software in 2021:
The shift from generic to specific
Historically, the infrastructure of digital payment is complex and costly, resulting in generic solutions with minimal options to customise (one-for-all workflow process). The customisation is only available once the volume of generated accounts or invoices reaches a certain number; else it becomes costly for both software providers or the customer to afford the personalisation cost. 
Due to this, businesses often resorted to manually monitoring their account flow to avoid their operation cost from becoming too high. However, this led to an almost industry standardised struggle in consolidating and tracking account movements which can cause multiple hiccups in cash flow due to payment's delinquency. However, the past few years brought advancement in infrastructure support and open APIs integration. The demand to address these specific pain points is rising—especially during the COVID-19 outbreak where the working environment shifted overnight to be remote working.
This is not only looked upon as a new opportunity to optimise but also a victorious win for many businesses often relying on invoice payment collection—after years of being at a disadvantage due to the digital payment landscape favouring large invoice issuance volume before personalisation can be implemented. 
 

Modernisation for debt collection software
During the global COVID-19 outbreak, 1 in 5 collectors (20%) reached out via immediate channels according to a new report by TransUnion and AITE Group who explore the effects of the pandemic to get a glimpse of the future in payment collection. Examples of communication are listed as text messages, WhatsApp business, chatbots and emails as the demand for direct communications continues to rise.
Modernisation is expected from new debt collection software to accommodate the new working climate for many businesses now forced to operate from home. Software that allows SMEs to customise communication channels with clients not only enhance their customer service but also fight payment delinquencies simultaneously. This is because SMEs no longer rely on an extensive hardware frame to manage their invoices and can do it from any remote corner of the world.
 

Adoption of the cloud-based invoice-to-payment platform
In 2020, there has been a joint effort by multiple industries to adopt a cloud-based debt collection platform—a promising move from the old paper-intensive process. Accuracy is crucial in this process, hence the manual labour required to ensure the alignment of all parties involved.
SMEs know remote working is not going anywhere soon, as according to World Economic Forum, 85% of employers are poised to shift their operations remotely in 2021. For most businesses, digitisation brings convenience. According to Accenture, 50% of banking tasks are still performed manually, including client-to-vendor payments. By digitising the process, SMEs cut back on a lot of their operation cost, not to mention enabling immediate payment receiving and expediting the closing of an invoice.
The pandemic taught businesses of labour optimisation to salvage their existing operation. Many SMEs acknowledge automating the processes in digitisation is imperative for them to survive. This created a demand in the market for automated tracking software for debt collections. It also brought forward a new trend of invoice payment collection—where businesses get to facilitate immediate payments by consolidating all invoices into a total that can be viewed immediately, increasing the ease for the client to settle the accrued debt in a single payment. 
Shaping financial recovery for the upcoming future in 2021
The recent technological advancement has not only spearheaded innovation but allows businesses to survive during the 2020 economic struggle from COVID-19. More priorities are being given to focus on recouping financial losses, and software providers are now more aware of the need to automate collection. This not only boosts business security but ensures their operation remains robust in the long run.
This trend will not only continue as we welcome the shift in new working norms, but also further expand the digitisation waves that incorporate inclusivity for all industries.
About JurisTech

JurisTech (Juris Technologies) is a leading Malaysian-based Fintech company, specialising in enterprise-class software solutions for banks, financial institutions, and telecommunications companies in Malaysia, Southeast Asia, and beyond.

CollectXpress is a cloud-based collection software that manages and keeps track of all your invoices without ever missing a customer's payment. Click here to learn more about CollectXpress.