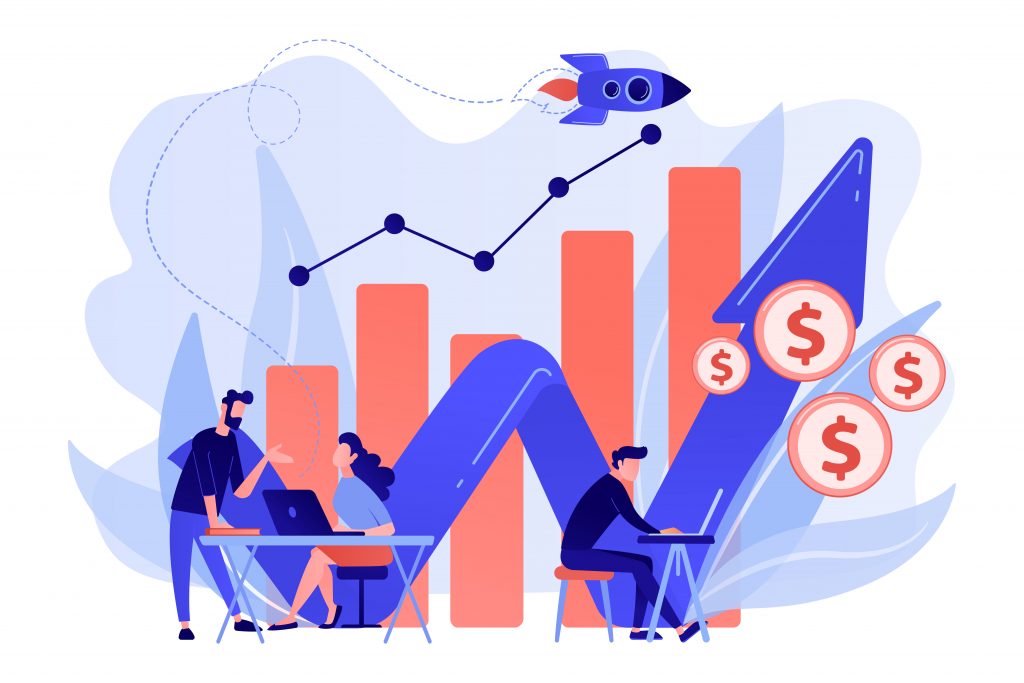 The financial industry has seen major changes in its nature, structure and operations down the years, creating a shift in the ways businesses interact and serve customers. This presented a series of new and unique challenges the industry had to face. That being said, marketing in this time and era, has been perceived to be of great importance, particularly for the financial industry to help overcome these unique challenges. The need to execute marketing strategies tailored to satisfy a focused customer base for the financial industry, let alone, other likely industries such as telecommunication service providers, healthcare, governments and GLCs, insurance, property developers, and fintech, has never been more in demand. A McKinsey & Company's survey showed that 83% of global CEOs saw marketing to be a clear driver of a company's growth agenda. Creating a loyal customer base is just as important for these industries as any other, however, presented both challenges and opportunities. As the digital landscape continues to evolve, the need to create new marketing practices becomes imperative to be one step ahead of the competition.
The need for marketing in the financial industry
The financial industry comprises several service sectors ranging from money lending, investing, insurance, credit leasing, hire purchase, home mortgages, and more, of which all greatly contribute to the global financial economy. Generally, in the past, businesses in the financial industry were offering the same services to the same customers. However, digital disruption has shifted the ways customers interact with new incumbents in general and has turned to pose new challenges for existing businesses to maintain and grow their relationships with customers, in the face of turning over to new threats.
When it comes to anything related to finance or money, trust is one of the most important aspects. Building trusted relationships with customers isn't only about reassuring them about a brand but engaging them with the brand as well. It is key to emphasise more on customer retention and satisfaction rather than focusing on sales transactions. Whilst adopting a mindset to build trusted relationships with customers, other marketing goals such as reducing consumer perceived risk, building customer confidence, emphasising competence, signalling commitments to the consumer, developing shared communication, and resolving conflicts can be achieved. 
Generally, services offered in banking, investing, insurance and other financial services can be difficult to comprehend, hence this creates a reliance on marketing professionals within the industry to relay such information in a way consumers can understand. By partnering with marketing professionals, financial services providers build a driving force that helps increase the level of trust that exists between financial products and offerings and the consumers. This, in turn, spirals up consumers' involvement in using these services and become more inclined to recommend them to others.
New marketing practices have redefined ways to market products and services to customers whose needs are constantly changing. Customers are gradually being influenced and growing an appetite for a more seamless journey in financial services, one that directly speaks to their needs. Despite many financial service providers holding a strong position in the market with large customer bases, the pressure is slowly building with new incumbents rising with new innovative approaches that are changing the shape of markets. To that extent, a marketing strategy is crucial to be resilient and remain relevant with new and trending changes in the financial market through partnerships with marketing experts. The current pandemic affecting the operations of several businesses today has pushed marketing to the forefront and is driving its strategic value in every organisation. Hence, it's highly important for one to incorporate a strong marketing strategy as part of their acquisition and customer loyalty plans.
Financial services m
arketing with iMoney
iMoney has been in the financial arena for several years as Malaysia's leading financial aggregator, connecting major financial institutions, telcos, insurance providers, and healthcare providers to the right target customers. Among many consumer services they provide, they've also supported a number of businesses through financial services marketing, helping them drive customers through customised marketing solutions. We'll be looking at some of the marketing activities iMoney uses to drive their partners' businesses.
Content Marketing
Content is king. Among many marketing services out there, content marketing, if not, is the most important element businesses should use to capture and nurture leads. Leveraging highly personalised information is key to delivering valuable and contextual insights across multiple channels. Content marketing helps businesses be found by consumers who are searching for them. Moreover, content is a critical component on a business website, influencing consumer purchase decisions. With an abundance of best-in-class financial content produced on their learning centre, iMoney understands the importance of including a content marketing strategy as part of a business's marketing mix.
Digital Marketing
Digital marketing plays a vital role for businesses as the driver that links them with consumers. Digital marketing strategies open up new doors of exposure, increased visibility, customer acquisitions, quality leads, and more. Additionally, digital marketing also promotes tools to boost traffic, increase brand awareness and engage in customer interactions. With iMoney's vast experience dealing directly with customers, iMoney's team can leverage data analytics and their expertise to help businesses drive successful digital campaigns.
Social Media Marketing
Social media platforms have moved up from being a platform for personal relationship-building to becoming a platform essential for businesses to build customer relationships and provide personalised customer experiences. Therefore, social media marketing has become one of the most important aspects of marketing to help businesses digitally advertise their brand and products. The many benefits of executing social media marketing strategies extend to creating an elaborate brand profile, one that underpins a long-lasting brand identity across social users. Financial activities such as long-term or short-term investing, stock trading, home purchasing, and even car purchasing can be considered as a high-risk activity, therefore require a great deal of trust to be established between a business and target consumers. This trust is taken into high regard as a component iMoney embeds in their social media campaigns to ensure that engagements will always be created to lead towards developing a positive brand image.
Public Relations Management
Financial service providers play a vital role in the lives of people and as such, it is crucial for them to craft strategic communications to deliver accurate information to their target consumers. One way for financial services providers to achieve this is to adopt a healthy public relations strategy. The role of public relations should uphold activities in initiating dialogue, explaining new changes to stakeholders, and keeping an open mind to certain limitations and solutions suggested within the context of any dialogue. These are all elements iMoney administers when managing public relation campaigns, particularly to help financial key players pivot in time of new technological changes.
In a nutshell, marketing is a quintessential component that should be embedded with every business to safeguard the trust built with consumers and potential customers. Unlike other marketing agencies that serve a range of broad industries, iMoney specialises in its marketing efforts in helping grow financial industry players. Their expertise is evident with their track record of helping more than 75 banks and partner brands over the years. This makes iMoney the perfect marketing partner to keep up with the ever-evolving changes and constantly help businesses maintain a competitive edge.
Interested to learn more about iMoney's marketing solutions? Get in touch with iMoney's marketing team at advertising@imoney.my to get a free consultation session!
About JurisTech

JurisTech (Juris Technologies) is a leading Malaysian-based fintech company, specialising in enterprise-class software solutions for banks, financial institutions, and telecommunications companies in Malaysia, Southeast Asia, and beyond. In 2020, JurisTech acquired iMoney to expand their innovation by offering beyond just enterprise solutions to elevate and shape the future of the financial services industry.

About iMoney

Founded in 2012, iMoney is the leading financial aggregator for consumers to learn about personal finance matters as well as compare and apply for financial and utility products. iMoney has offered financial marketing services to over 75+ partners to make a bigger impact in educating Malaysians on banking and financial products.