Wild Digital Southeast Asia 2021 Conference

On the 12th of November 2021, our CEO See Wai Hun, who is also a High Impact Endeavor Entrepreneur was invited as one of the panellists during the Endeavor panel session at the Wild Digital Southeast Asia 2021 conference. Moderated by Adlin Yusman, Managing Director of Endeavor Malaysia, the esteemed panellist comprises speakers and Endeavor Entrepreneurs from Malaysia, Indonesia and the Philippines. We have, of course, our very own visionary CEO See Wai Hun, from Endeavor Malaysia; Riky Tenggara, Co-Founder of Ula from Endeavor Indonesia; and Mikko Perez, Founder, Chairman, and CEO of Ayannah from Endeavor Philippines.
Jumping right into this apparent phenomenon that is sweeping the globe – The Great Resignation, Harvard Business Review wrote that according to the U.S. Bureau of Labor Statistics, 4 million Americans quit their jobs in July 2021. 
According to Wai Hun, it's not just the U.S. but other entrepreneurs in the Southeast Asia region are also being hit by this global phenomenon. 
"The Great Resignation is not just a push factor, but also a pull factor," said Wai Hun.
Especially in the tech industry where tech skills are high in demand during the pandemic. Furthermore, if they are young, they are always on the hunt to try something new. Wai Hun mentioned that it won't be easy to stop employees from leaving. Employees need to believe in the vision of the organisation, what the organisation is doing, and if they are making an impact. So instead of always asking employees – How long do you want to stay in the company?, the mantra should be how can we attract, retain, and upskill them?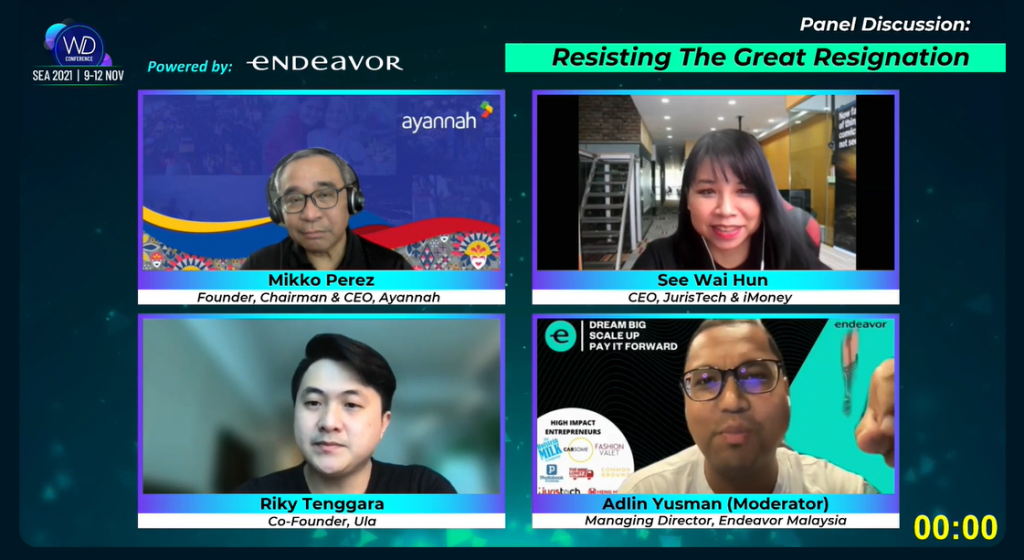 During the panel discussion, Wai Hun shed some light on the effort JurisTech is making to retain talent. First of all, JurisTech implemented the hybrid work model, shifting from location-centricity to human-centricity by emphasising radical flexibility in the workplace. This was done after an internal survey showing employees prefer working from home. Hence, she emphasised that organisations should hear what the employees want. Then, provide the facilities for them, instead of making a hard return-to-office rule.
One important factor to consider in the hybrid work model, according to Ricky, is the building of a fair KPI measurement and process. This is so that all employees are equally evaluated and appreciated, eliminating "added advantages" for those with more facetime over those who work remotely.
Supporting Ricky's points, Mikko added that organisations should also think about translating their organisational culture into the hybrid work model – balancing a performance-based work  culture with a supportive culture. With the pandemic, people are not only concerned for themselves but also for their loved ones. Organisations will need to cultivate a support system and embed their organisational culture into the new way of working to help employees understand the desired culture of the organisation, believe in it, and live it, in the new hybrid or remote environment.
This brilliant conversation ended with Adlin, the moderator, reminding everyone about mental health awareness in the workplace as the lockdowns and long periods of isolation throughout the pandemic has affected many people in many ways. Even as organisations manoeuvre through "The Great Resignation" phenomenon, it is crucial to invest in the well-being of the employees and shift towards human-centricity. 
"It's not going to be easy to stop talents from resigning but what's important to focus on is the organisational development of your company: attracting, retaining, and upskilling talent." – See Wai Hun, CEO of JurisTech & iMoney.
About JurisTech

JurisTech (Juris Technologies) is a leading Malaysian-based fintech company, specialising in enterprise-class software solutions for banks, financial institutions, and telecommunications companies in Malaysia, Southeast Asia, and beyond.

We nurture our culture by practising our GECO core values: Growing Heroes, Making Excellence Happen, Customer First, and Opening Up. We believe in investing in employees' personal growth and career development. We also want to expose graduates to the tech scene and upskill talents from various industries. (So, if you are interested in tech, we want you!)

Check out our job opening here and send in your résumé to hr@juristech.net.