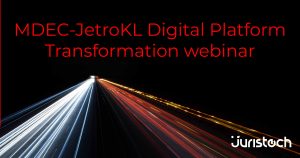 JurisTech took part in the MDEC-JetroKL Digital Platform Transformation webinar last Tuesday on 16th November 2021. The objective of the webinar was for selected Malaysian Fintech companies to present and pitch the Malaysian Fintech landscape to the Japanese audience looking to break into the scene. JurisTech was invited to pitch about our company's capabilities; other participating companies were CapBay (a P2P financing Fintech company), MDEC (Malaysia Digital Economy Corporation), and also Fintech Association of Malaysia (FAOM). 
The webinar kicked off with a simple introduction of the Malaysian Fintech landscape by FAOM and MDEC before it led onto CapBay and JurisTech pitching about their capabilities and expertise in supporting the Japanese audience to establish a base in Malaysia, intermittently translated by the assigned Japanese translator from JetroKL, Naoto Nomura. 
JurisTech spoke about the company's capabilities, the services and products offered, as well as the company's expertise in the Malaysian Fintech landscape. Wai Hun emphasises on JurisTech's capabilities as one of the pioneers with in-house Fintech experts, besides having some of JurisTech's products recognised by Visa.
She continued by delving into the challenges companies might face during the initial business set-up and product developments; as the multicultural demographic structure that includes multiple languages and religious practices can influence the purchasing decision made by the Malaysian market. Wai Hun then explained the social channel preferences of the Malaysian audience, with Facebook being the primary advertising method and WhatsApp as the preferred communication channel. 
JetroKL also coordinated a Q&A session; asking on behalf of the Japanese audience. Some of the questions directed to JurisTech revolved around what Wai Hun thinks of how banks and Fintech players in Malaysia can help to assist the underserved group.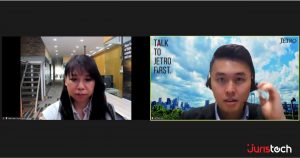 Wai Hun explains how the Fintech players in Malaysia assist the underserved market
Wai Hun elaborates on the advanced technologies implemented in JurisTech's solutions that would help the financial and banking industry to identify the underserved audience and how the current Fintech landscape has diversified their products in order to offer more adaptive offerings. CapBay also opined on the new innovations the Fintech players came up with in order to bridge the gap between the financial institutions and the Malaysian audience.
The session closed with a summary of the topics and contents discussed in the webinar by JetroKL's Japanese translator. JurisTech would like to thank MDEC and JetroKL for inviting us to take part in the webinar and we look forward to more in the future.

About JurisTech

JurisTech (Juris Technologies) is a leading Malaysian-based fintech company, specialising in enterprise-class software solutions for banks, financial institutions, and telecommunications companies in Malaysia, Southeast Asia, and beyond.