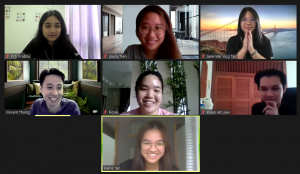 You must be wondering who JurisTech Campus Ambassadors are, or how they came to be? Well, as of last year in October 2020, JurisTech launched its very first Campus Ambassador Programme with Taylor's University introducing five exceptional talents to be part of a one year programme sharing new perspectives into the world of business and technology while equipping them to kickstart their professional careers. Among other things, the programme also aimed to introduce several perks to the ambassadors such as exclusive JurisTech events, training programmes, a fast-track application for full-time positions and internship placements, and gain real-life working experience through job shadowing. 
Recently, on 18th May 2021, the campus ambassadors had the privilege of joining a mentorship session with JurisTech's finest leaders to learn and gain insight into the project life cycle in JurisTech. The two-hour session included several activities where the ambassadors dived deep into the project life of JurisTech, joined a live daily stand-up with one of JurisTech's project teams, and had a 1-on-1 mentoring session with some extraordinary leaders. Some of the leaders included Farhad Shababi, Product Manager of the Digital Onboarding Team (DOT); Hosein Abedinpourshotorban, Head of Centre of Excellence (COE); Joe Chen, Senior Manager of Tactical Operations Services (TOPS); and Lucas Looi, Head of Origination for Robust Credit Applications (ORCA).
The ambassadors started off the day by meeting with Vincent Thong, the head of the Advocates of Client Experience and Success (ACES) department, where he walked them through the project life cycle. Graduating from University Sains Malaysia (Penang) with a computer science degree, Vincent became a business analyst at JurisTech when he first joined as he was recognised by JurisTech's CEO, See Wai Hun, during an interview to have the qualities and characteristics of a business analyst. Over the years, Vincent wore many hats leading several departments and project implementations and now currently leads a dedicated team that focuses on client success.
Vincent first begins to share the definition of a project in simple terms as "any goal or objective needed to be achieved within a specific timeframe". However, he iterates how a project is much different in an enterprise or organisation serving multiple clients where the complexity of the project is determined by several components as well as the stakeholders involved. Vincent further elaborates on five important components namely:
Time Management

–

The timeframe of a given project as well as the execution time process in fulfilling the project. 

Cost Management

–

Cost here includes all the expenses that go into executing a project e.g. labour cost, time cost, etc.

Scope Management

–

Scope here refers to the goals that are to be met and delivered for a given project.

Documentation

–

This is the process where key project details are recorded to successfully execute the project through the project period.

Payment Milestone

–

This is the percentage that a client pays over the course of the project and can be paid periodically throughout each phase.
Above all these important components that go into executing a project, Vincent emphasises the most important part of a project, people management. In a project, teams and individuals will tend to revolve around lots of different stakeholders when given a new project. Therefore, people management becomes very important whereby expectations for all stakeholders need to be communicated and managed coherently. Vincent then moved on to share how JurisTech follows a project structure to simplify the means of managing teams for a given project (Figure 1). This is a very general structure for projects however it also varies according to the dynamics of each given project.
Vincent also briefly shares with the ambassadors the sales cycle in our industry. As we serve clients of various sizes ranging from banks, large enterprises, fintechs to SMEs, the sales process varies as well. It ranges from Request for Proposal (RFP) process to a simple pitching/demo session. 
Finally, Vincent closes off his session with the ambassadors by showing them the processes within a typical project life cycle (figure 2). During the project initiation stage, a project team would be formed who would also work with the pre-sales and sales team to discuss the client's project. After discussion, the team would go through the requirement gathering session to map out the requirements that the client wants. The development stage would begin followed by the testing phase.  The participation of both the internal team and client in the testing phase is crucial to ensure that development requirements are aligned and result in no errors. Prior to the deployment stage, if necessary, the system users would also go through a series of training.
Coming to the second round of the mentorship session, the campus ambassadors were given the opportunity to attend a real-life standup with one of the project teams. They were introduced to Meliza Caroline, the Head of Tactical Operations Services department (TOPS). In this session, Meliza walked them through their daily stand-ups which is essentially a huddle among the team members during the morning to discuss three items: what did you do yesterday, what did you do today, and what roadblocks are you facing. The idea behind a stand-up is so the team can come together and track their status towards completing a sprint while also helping each other remove any roadblocks or impediments.
As the final and most exciting event for the day, the campus ambassadors had a 1-on-1 session with key leaders in JurisTech. The 1-on-1 session was an opportunity for the ambassadors to gain first hand career insights and advice in excelling their professional careers, and drive them forward toward building their passion in the tech industry. It's not everyday a student is given such profound opportunities, however JurisTech always strives to build leaders early on as part of our 'Growing Heroes' culture. We'd like to thank our leaders, Vincent, Meliza, Farhad, Hosein, Joe, and Lucas, for donating their time to grow our campus ambassadors and raising them up towards excellence.
Interested to join us? We have many exciting career opportunities waiting for you. Head to our 'Join Us' page to kickstart your application today!
About JurisTech

JurisTech (Juris Technologies) is a leading Malaysian-based fintech company, specialising in enterprise-class software solutions for banks, financial institutions, and telecommunications companies in Malaysia, Southeast Asia, and beyond.