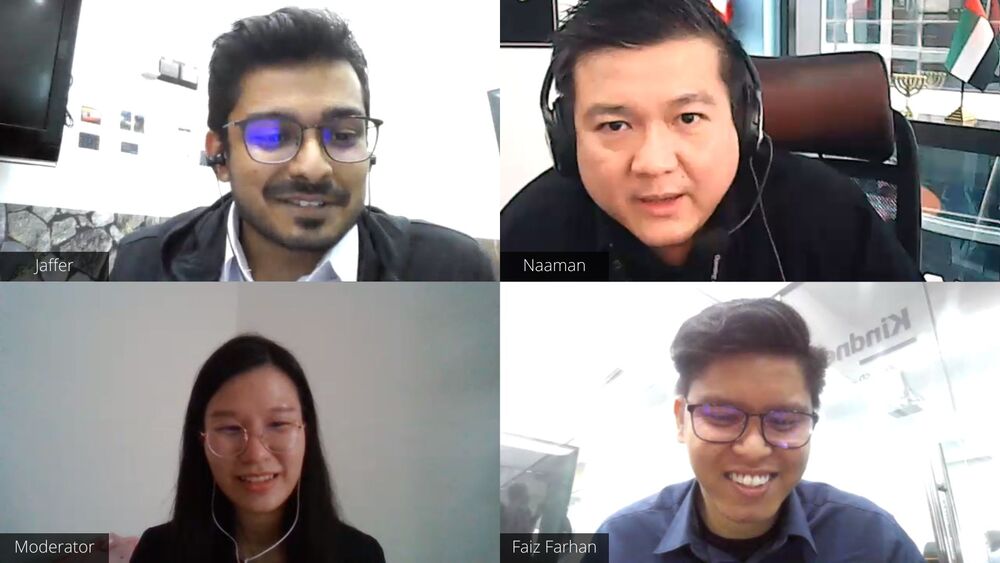 On 5th August 2020, over a hundred Universiti Teknologi PETRONAS (UTP) students from all over Malaysia gathered on an online platform to hear from our very own COO, Naaman Lee speak about how one should navigate their career in times of crisis.
He started off by teasing the students, questioning them on what they think about the current situation. Is it a real crisis or is it just a normal bump we faced every one or two years? The students were quick in responding that whatever that is happening around them IS A CRISIS. The COVID-19 pandemic affecting global economies at an alarming rate has caused distress to fresh graduates as they worry about their career and their future.
Laying out the current job outlook and industries affected by COVID-19, it is indeed a crisis, not only in Malaysia but a concerning global phenomenon too. It is not something we should take lightly as industries such as aviation, tourism, oil and gas, automotive, and even manufacturing are greatly affected by it. Naaman gave an example with Grab. During the Movement Control Order (MCO) in Malaysia, most people were ordering food via GrabFood and yet the CEO of Grab, Anthony Tan still mentioned that the COVID-19 pandemic is creating significant challenges for them forcing them to make tough calls regarding cutting costs and managing capital.
"COVID-19 is the single biggest crisis to affect Grab in the eight years of our existence, it has had an unprecedented impact on our operations, our business and the livelihoods of our partners," said Anthony Tan, CEO of Grab Holdings Inc. (The Star, Apr 2020)
Based on the Department of Statistics of Malaysia, the current unemployment rate in May 2020 is 5.3% which was a further 0.3% escalation from the previous month and the total number of unemployed people in May is 826.1 thousand persons compared to 778.8 thousand persons in April.
But fret not! It is not all gloom and doom. As UTP is a university offering a majority of engineering, science, and technology degree programmes, Naaman then delivers the good news that engineering ranks first place in Malaysia's top in-demand jobs for 2020 according to EduAdvisor. People pursuing engineering are in good stead as the nation gears towards Industrial Revolution 4.0 (IR4.0). With advancements in artificial intelligence (AI), robotics and automation, students can very well be at the forefront as new engineering jobs emerge, such as automation engineer, robotics engineer, and AI engineer. In second place, computer science. As companies are being digitally disrupted, the demand for IT specialists to boost their digital capabilities will spike. Lastly, in third place, business-related courses such as finance, accounting, human resource, and marketing. There is a demand for experienced hires with keen product knowledge of the industry.
On top of all the good news, JurisTech is still hiring! With the COVID-19 pandemic, there has been a surge of demand for AI and good software. We are on a growth spurt and we always hire the best during seasons of crisis. Hence, we have doubled our hiring efforts, especially in this season. Naaman expressed how we also employ people from various fields and backgrounds, including those without a technical background because we want to expose graduates to the tech scene and upskill talent from various industries. (So, if you are interested, we want you!)
Naaman then goes on about the skills and personality traits we look for. At JurisTech, we want T.E.C.H. people. T – tech-savvy, E – emotional intelligence, C – communication, H – honesty and integrity. He spoke about how we want people who love technology and are intrigued by innovation. He also mentioned how gaining emotional intelligence is a lifelong learning journey. He gave the students an example of them working with a subpar team member for an assignment. How can you cooperate or manage that person despite the anger you have against him/her to still be able to deliver an excellent assignment? The capacity to understand and manage your emotions is critical when it comes to dealing with clients or customers. Naaman also explained how crucial it is for leaders to have the ability to communicate effectively. He said that at times, the success of a team is defined by the communication skills possessed by the team leader. Last but not least, he spoke about the importance of demonstrating sound moral and ethical principles at work.
We believe in investing in our employees' personal growth and career development. Most importantly, we believe that people are an integral part of JurisTech in our pursuit of excellence!
"To give up and become average is the norm, but to remain resilient and pursue excellence in spite of physical fatigue and mental tightness – that is something not everyone can do." – Naaman Lee, COO of JurisTech.
The session ended with a sharing from Muhammad Jaffer Hashmani and Muhammad Faiz Farhan bin Hashim, alumni of UTP.  Jaffer spoke about how JurisTech has trained him and equipped him with the necessary skills despite coming from a petroleum engineering background. He brought up how fast-paced the IT industry is, hence, there is never a boring day at work. Faiz, on the other hand, shared about his experience in getting the job at JurisTech. He also emphasised that while he has grown so much as a person working here, JurisTech still has plenty of opportunities and room for him to grow his career..
Interested to create the future with us? Click here to learn more.