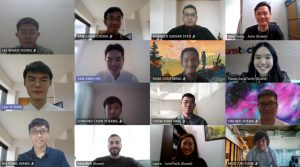 On 8th January 2020, Asia Pacific University (APU) invited JurisTech to an online interview session organised by students from the Faculty of Information Technology. The interview was conducted on Microsoft Teams to talk to upcoming graduates on JurisTech's recruitment processes, company culture, and employment trends. 
Fiona Mah, the Team Lead in recruitment and Alex Tong, the manager of Presales department, represented JurisTech to speak at the interview session. Fiona kicked off the interview with a brief explanation on JurisTech's background as a Malaysian-based Fintech company and its recent acquisition of iMoney. Alex also shared his input on JurisTech's employees' demographic and existing roles in the company.
The interview continued with Fiona describing JurisTech's working culture, explaining business operation hours, company values, interactions between departments, perks, and incentives, ending it with their personal experiences working at JurisTech.
Alex further emphasised on how JurisTech hires candidates of various educational backgrounds, and not limited to just people with tech-related backgrounds. He elaborated on the skills he looks for in a candidate during an interview and explained the role of the 'Heroes Training Academy', a department focusing on onboarding, training, and equipping Jurisians and new hires with necessary skills.
Fiona also spoke on JurisTech's hiring practice; expectations from a candidate during the application, the tests involved during an active recruitment session, and the differences between tech and non-tech hiring. 
The interview concluded with both Fiona and Alex giving tips on what fresh graduates can do to prepare themselves for any upcoming interviews, employment, and entering the workforce.
Stay tuned for the upcoming interview video and stay on top of employment trends.
About JurisTech

JurisTech (Juris Technologies) is a leading Malaysian-based fintech company, specialising in enterprise-class software solutions for banks, financial institutions, and telecommunications companies in Malaysia, Southeast Asia, and beyond.

We nurture our culture by practising our GECO core values: Growing Heroes, Making Excellence Happen, Customer First, and Opening Up. We believe in investing in employees' personal growth and career development. We also want to expose graduates to the tech scene and upskill talents from various industries. (So, if you are interested in tech, we want you!)

Check out our job opening here and send in your résumé to hr@juristech.net.