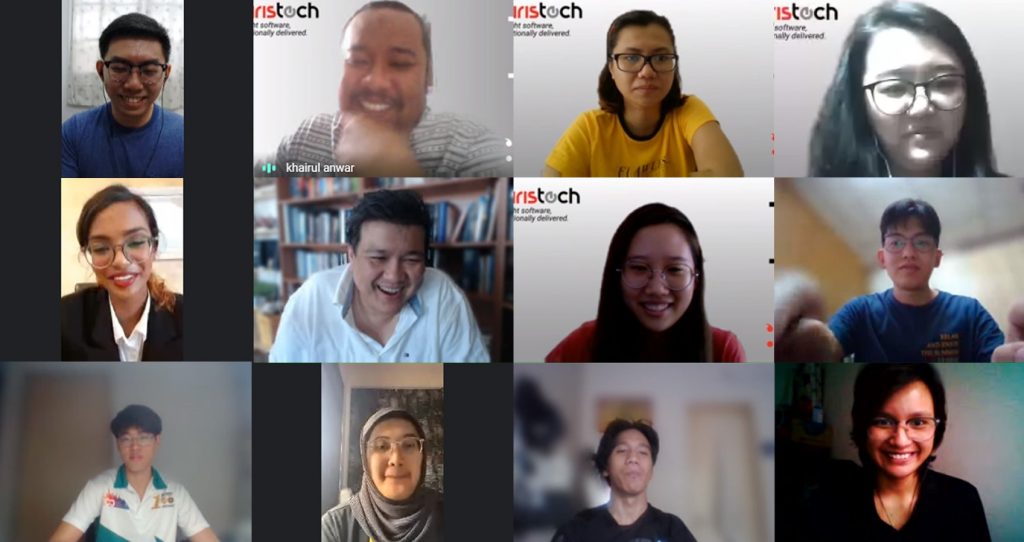 The transition into 2021 has certainly packed many graduates with the uncertainty in kick-starting their professional career. Rates of unemployment are still at an all-time high. Companies are becoming more diligent in their recruitment processes towards hiring more skilled talents as they tighten their selection criteria. With everything seeming to have been left in ambiguity, the underlying thought of landing a job becomes more clouded. What does 2021 hold for graduates of today? And what would it take graduates to successfully secure a job? 
On the 18th of January 2021, our Chief Operating Officer, Naaman Lee, was cordially invited to a sharing session at a virtual career fair organised by Multimedia University (MMU). The event boasted a whopping 1,500 participants all gathered in pursuit of employment opportunities. With many other companies invited to share a number of different topics to students, Naaman came forth to share how graduates can 'manage their careers in the time of COVID-19'. 
The rise of COVID-19 has indefinitely caused many catastrophic events going about across the world, and with that, pinning down several business sectors. Industries such as airlines, tourism, retail (excluding FMCG), automotive manufacturers, apparels, and F&B have taken hard hits across the year of 2020 leading to many businesses becoming frugal or closing down, and jobs being stripped away. Penalising as it may be, lockdowns in many economies have caused great disruptions for these sectors and stirred up grave concerns over what the future of many economies would look like, particularly the future of the younger generation. 
Naaman mentions how the current unemployment rates in the Malaysian economy, as of November 2020, have been stagnant at a 4.8% rate with a staggering record of 764.4 thousand people unemployed (shown in figure 1). Studies from The Edge have also shown that young people in Malaysia are growing concerned and pessimistic on their employment prospects for at least another year. 
Despite the current economic outlook taking a toll, many sectors have also persevered through the pandemic, and have taken very little effect in sectors such as healthcare, insurance, construction, and particularly technology. More and more, technological transformation is gradually transpiring across brick-and-mortar businesses, displaying business continuity even during the current crisis. Many businesses today have moved forward to transform themselves digitally and expose their services in the digital space, as more consumers become more prone to shopping online. 
Naaman shares how players in the tech space are dominating the market, in artificial intelligence, cybersecurity, telehealth, biotechnology, and more. He also throws light on the rise of digital banks and how they could potentially disrupt traditional banks in the long run. The rise of digital banks could open up doors to new customer journeys in conducting day-to-day transactions and banking activities more remotely, ultimately creating a more seamless customer experience. Among many things we are at JurisTech, we are also digital enablers, acting as the backbone to digitally transform players in the financial industry to be ahead in the game. 
That being said, Naaman stresses the importance for many of today's young workers adopting and acquiring digital skills to hold on a competitive edge in the employment market. Businesses today seek to invest more in graduates who carry digital skills and talents to help drive their businesses into success.  A 2020 Emerging Jobs report by LinkedIn shows that the top emerging jobs in today's digital age include data scientists, customer success specialists, data engineers, cybersecurity specialists, and digital marketing specialists. These emerging jobs have since been created to address business needs to adapt in an ever-evolving world. Hence, it's important for graduates to be wary of these trending roles and acquire the necessary skills to keep up with the current job market. 
For graduates who come from a less technical and administrative background, it can be challenging for them to compete. However, Naaman reassures students by informing them about JurisTech's 'Heroes Training Academy', a training programme dedicated to upskilling any non-tech individual in a two-week intensive course to equip them into becoming a fully-fledged business analyst. 
To end the sharing session, Naaman gives some tips to graduates who are only beginning their professional career and in pursuit of landing an interview. As Malaysia is currently being held under a series of lockdowns (MCO, CMCO, RMCO), many businesses have shifted their operations to 'working from home' as the new normal. For graduates, this means presenting themselves to employers in their best form within a digital space. Naaman advises on building strong resumes that carry only the most significant qualities the applicant holds such as skills acquired, projects worked on, achievements made, curricular activities taken part in, and of course a professional summary on how graduates seek to grow in their career.
Naaman also asks students to keep note that with so much competition in the job market today, relational networking, if anything, is key to a step closer in landing their first job. Networking will help in developing and improving skill sets, stay on top of the latest trends in the industry, keep a pulse on the job market, meet prospective mentors, partners, and clients, and gain access to the necessary resources that will foster their career development.
Once graduates have successfully landed an interview, it doesn't end there. Naaman also gave some advice on ways to present oneself during an interview, one that would leave a lasting impression on the employer. Firstly,  in the process of a virtual interview, interviewees should ensure that they have accommodated a setting that sets them as the centre of the employer's attention, with minimum interference. They should communicate ideas and extend interests in ways that can contribute to the business's growth. Lastly, he stresses the importance of driving a character that displays mastery in everything that one's picked up along the course of their studies or even in their previous employment. 
At the end of the talk, MMU alumni Khairul Anwar and Seng Kong, business analyst and software engineer, respectively, shared their insights and experience of what working in JurisTech is really like. Seng Kong shared how JurisTech is a place where one can hone their skills in, a place where mistakes are tolerated, a place where you will be nurtured to grow as a leader. 
Khairul also shared an important lesson for graduates to be mindful of at the beginning of their career path to always be committed and passionate about their work, despite the size of the company they enter, as the result of their growth is solely determined by the effort they put into it.
"While working, things will get tough. You will be faced with many challenges along the way. When your back is pushed against the wall, that is when you'll know your worth. Will you quit and give up or will you persevere and triumph?" – Khairul Anwar
Are you seeking an opportunity to grow in the world of technology? Are you looking to foster your skills in an environment that helps you develop your career, professionally? Then Join Us! Be part of a company that extends its warmest hands only to bring out the best version of yourself! 
About JurisTech

JurisTech (Juris Technologies) is a leading Malaysian-based fintech company, specialising in enterprise-class software solutions for banks, financial institutions, and telecommunications companies in Malaysia, Southeast Asia, and beyond.