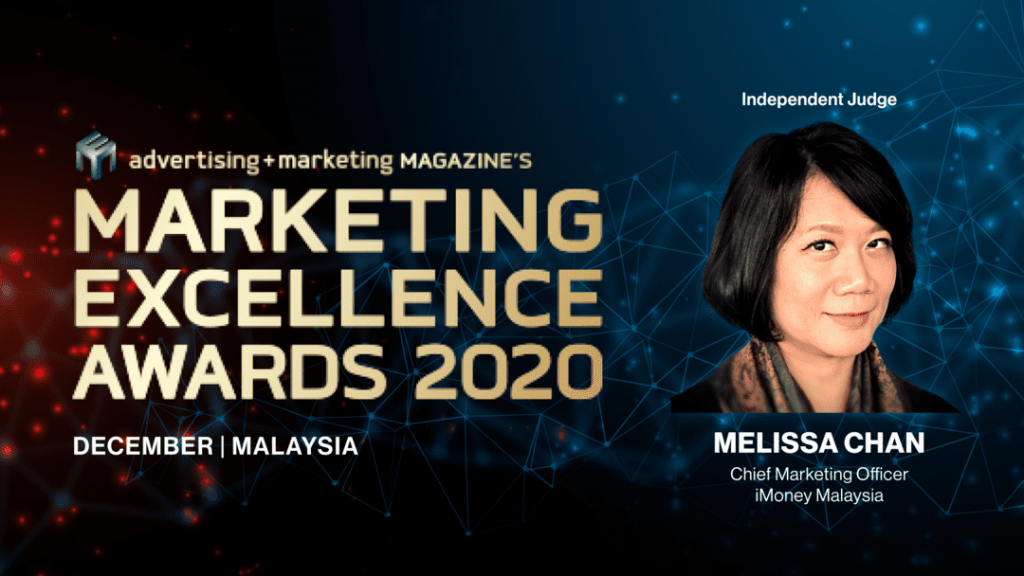 We are thrilled to announce that iMoney's Chief Marketing Officer (CMO) Melissa Chan was invited as one of the expert judging panels of the Marketing Excellence Awards 2020!
The Marketing Excellence Awards 2020 is organised by the Advertising + Marketing magazine.
Recognised as one of the top sites and publications for the marketing community across Asia, it aims to acknowledge the outstanding work in the marketing industry of Malaysia, and is a premier platform for marketers to showcase their creative excellence, successful strategies, and effective delivery. The entries for the award will be judged by an independent panel of industry leaders and senior marketers.
We are proud to have one of our leaders, Melissa, at the seat of the panel of independent judges. Melissa has an exceptional reputation in the marketing industry in Malaysia. She directs the overall marketing and communication strategy to position iMoney as the leading personal finance company in Malaysia and the Philippines, as well as a platform for financial services providers to engage and educate consumers on money management and financial products. With over 20 years of experience in key marketing roles with various banks and financial services companies, Melissa brings a wealth of financial services marketing expertise to the job. Coupled with the proficiency in making financial services engaging, she also had various stints in the e-wallet and e-commerce space.
We are proud that not only did we welcome new members into our family we also gained tremendous capabilities that enabled JurisTech to provide a holistic end-to-end solution to our clients. iMoney, as subject-matter experts in the area of personal finance, is in the prime position to provide financial services marketing to our partners. Their capabilities coupled with brand power allow them to offer marketing services such as brand and marketing campaigns, creative services, content marketing, digital marketing, as well as social media campaigns and content. With iMoney onboard, JurisTech is now able to extend this offering to our clients.
You see, explaining finance-related information to your customers can be quite a challenge. Educating consumers on financial matters can be quite daunting, especially when you have to toe the line of compliance. This is why many financial services providers rely on agencies and marketing firms to help them solve this.
However, what better marketing partner to have than one who understands the financial world and your business, is data-driven, and has proven marketing expertise!
Remember, behind every memorable brand is a strong marketing team.
Nobody is more passionate about educating consumers on money matters than iMoney. Want to up your marketing game?