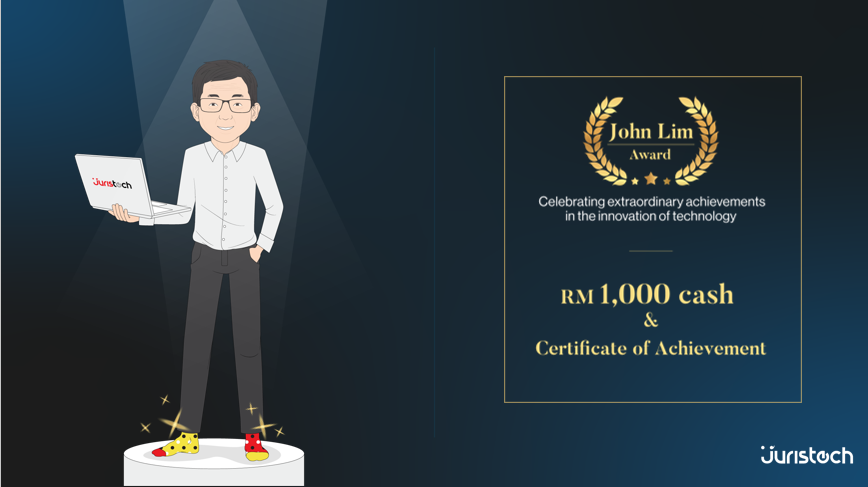 On 6th November 2020, Sam (Foo Chee Sum) and Andy (Hong Hwee Tat) had been recently announced as the winners of the prestigious award, the 'John Lim Award', with a winning prize of RM 1,000.
The year 2020 is when JurisTech organised its first-ever internal award programme, the 'John Lim Award', a reputable and esteemed award that honours software engineers in the company who've made significant contributions and outstanding achievements in the innovation of technology.
The judges of this year's award were all well-respected leaders at JurisTech, namely, Vincent Thong – Head of the Advocates for Client Experience & Success (ACES) unit; Kiarash Razaghi Aval – Chief Innovation Officer; and our very own Chief Technology Officer, the man, the myth, the legend himself, John Lim.
The award had seen many remarkable nominations who have showcased impressive projects. The winning project would be the one that satisfies the following criteria:
Project Impact – Technical work or innovation with significant impact on the betterment of customers or fellow colleagues.
Technical Excellence – A technical innovation by individuals or a team, or a clever two-line hack that nobody could have imagined.
This year's award recognised Sam and Andy for their excellence in significantly increasing software performance by introducing PDFtk and Ghostscript tools. The project was deserving of the John Lim Award as it was able to not only increase software performance but also create a better user experience.
Sam Foo is a technical architect in the Digital Onboarding Team (DOT) who's been with JurisTech for seven years. He is responsible for leading the team to deliver projects, enhancements, and production support effectively, as well as standardising the implementation for all clients and the continuous improvement on one of JurisTech's core products, Juris Access.
Andy Hong is the technical captain of the ACES unit and has been with JurisTech for over a decade. He is responsible for ensuring the technical and programming side of JurisTech's support structure is fully covered. He also provides technical advice to the ACES teams when needed.
The submitted project was an innovation to solve one of our clients' pain points, which was to reduce the processing time when converting documents of up to 200 pages. Through the introduction of PDFtk and Ghostscript tools, it helped decrease the conversion time to 3 minutes for documents ranging between 70–200 pages. Additionally, it sped up the entire process by 500%, mitigating a significant number of rising errors. The replacement of the existing engine exceeded the client's expectations on the software's document processing capabilities.
"The fix was magnificent as it only took them one day to come up with the concept and for it to be implemented." – John Lim, Chief Technology Officer
In addition, Cheah Seng Kong, an exceptional software engineer in the Tactical Operations Services unit at JurisTech was also given an honourable mention as he came in really close with the winners with his project, the Parameter Import Engine, for a bank client.
The engine aimed to reduce the hurdles of software engineers at JurisTech in writing scripts of 100+ data sets that would generally take hours to complete and be prone to errors. With the parameter engine, software engineers no longer had to write scripts manually as the engine is capable of importing new parameter files within a matter of minutes by dynamically adapting to changes made to new and existing files.
The opportunity that the John Lim Award offers software engineers at JurisTech, aims to uphold their accomplishments and grant them a sense of fulfilment. As part of JurisTech's core values (GECO values), the award will continue to seek and encourage talented engineers in the company to showcase their innovative breakthroughs in technology, and award them for their stellar achievements. Bravo to our winners!
About JurisTech

JurisTech (Juris Technologies) is a leading Malaysian-based fintech company, specialising in enterprise-class software solutions for banks, financial institutions, and telecommunications companies in Malaysia, Southeast Asia, and beyond.