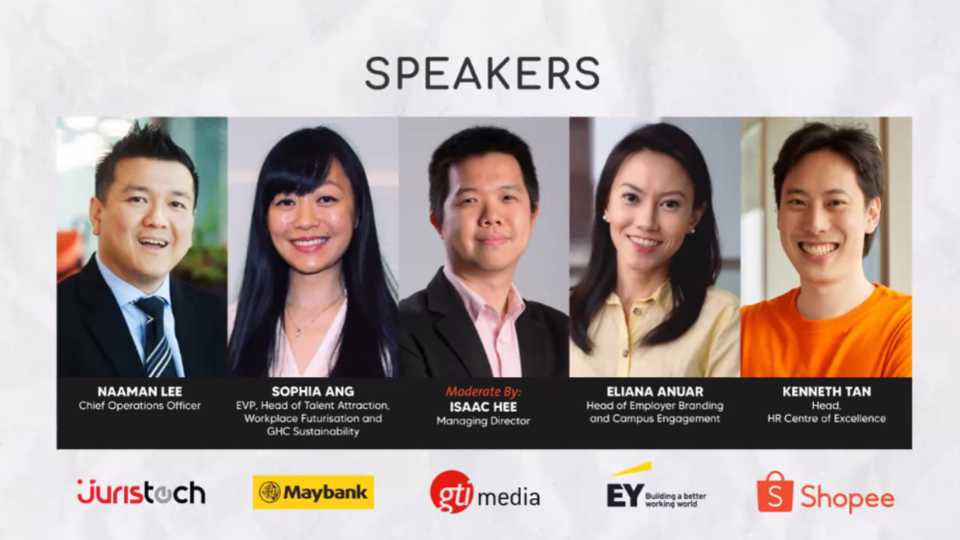 In the ever-changing economy where the COVID-19 pandemic had taken huge tolls on businesses and industries in the past two years, it had resulted in an economical shift in adopting new digital technologies to sustain itself and fall from going into a recession. Much the same can be said of how students and graduates alike have been impacted by the pandemic. In a recent career forum organised by GTI Media on 14th June, talent acquisition experts along with JurisTech's Chief Operations Officer, Naaman Lee, were invited to a panel discussion on how students and graduates can upskill themselves to be career-ready in a digital growing economy in Malaysia.
Amongst the panel were Sophia Ang, Head of Talent Attraction (Maybank), Eliana Anuar, Head of Employer Branding (EY), and Kenneth Tan, Head of HR (Shopee) with Isaac Hee, Managing Director (GTI Media) moderating the discussion. After a brief round of introductions, the panellists jumped into the topic of discussion being 'Upskill for better career readiness' where an abundance of knowledge was imparted to over 100 participants. Isaac began by sharing the first question with the panel.
What does it mean to be career-ready?
Eliana moved first by sharing how being career-ready means knowing that you're able to demonstrate your accountability and your effective work habits to have the highest increase of productivity in the workplace. Kenneth further draws a comparison between candidates who are career-ready as opposed to those who are not. He shared key differences in how both carry themselves differently in terms of bringing over a sense of professionalism, eagerness, and enthusiasm that makes them stand out from one another.  
Naaman adds in by sharing two different perspectives coming from both employers and students. From an employer's perspective, there are expectations of what values candidates can bring over from the course of their academic years into the workforce. While from a student's perspective delves more into what kind of fundamental knowledge they have gained that would set them to be ready in an interview while meeting employers' expectations. Naaman also accentuated Kenneth's point on the importance of showing characteristics of enthusiasm, curiosity, and willingness to learn to divide yourself from other candidates by sharing unique attributes and strong ambitions. 
Sophia ends the discussion by adding how the essence of employers is to look into establishing various types of platforms and enabling talent to showcase what they have to offer. She further mentions how important it is for candidates to display the application of their knowledge and skills during practical interviews to support all the credentials and qualifications they've achieved during their academic years.
After sharing a quick summary and highlighting some key points from the panellists, Isaac moves to the next question.
What are some of the ways you have been upskilling yourself to stay relevant in your career journey?
Sophia began by sharing how she pivoted in her career journeying through several career paths in biotech, banking, and now venturing into human resources, further explaining how a degree doesn't necessarily define your career path. She mentions how we are all part of an ecosystem where everyone needs to find out what role fits them best and the value they can bring to the table. Kenneth adds how he came from an unconventional background in archaeology and through learning and experimenting with job scopes out of his major did he find passion in working as a talent recruiter. 
Naaman shared how he started out his career coming from a mechanical engineering major and now moved to oversee over 100+ software engineers and business analysts at JurisTech. He mentions 3 important quality attributes that he practices in any work stance namely observation, application, and rationality. He shares how all 3 attributes have come into play together all while accelerating his lifelong journey of building a prosperous career. He closes off by sharing how cultivating the mindset of intentionality is a key part of the upskilling process. 
Eliana also shared her array of work experiences majoring in mass communication and working with creative and FMCG media outlets to now working in the professional services industry. She advises on the importance of building a plan ahead to lead and direct your career path and creating a roadmap on what you foresee becoming down the years.
Isaac also reciprocates his share of experiences being part of the unconventional career trajectory club majoring in classical-era history and human renaissance before moving to the final question.
What are the current changes happening in your respective industry?
Naaman started off by sharing how so much is happening in the IT world now at a pace that is mind-blowing and nearly impossible to keep up with. Technology today is the driving force for every industry, drastically shifting physical businesses to adopt a digital presence. However, he mentions how great ideas and innovations in AI, blockchain, and digital banking have their dark counterparts such as crypto hacking and personal data theft. He also adds how disinformation is becoming prevalent due to technological advancements while also sharing a report by Gartner on false information spreading 6 times as fast as factual information. Naaman concludes by sharing how JurisTech's work aims to bring good to the economy with the end goal to achieve financial inclusion, where JurisTech's solutions look to enable banks and financial institutions to give out loans faster and more accurately.
Eliana shared how working in the professional services industry today has seen new changes in digital transformation and how many clients are adopting new technology to build resilience in supply chains, mitigate risks, optimise business performance, and create new lines of services and products. This has resulted in a spike in talent demand for tech and these trends are seen to continue over the next few years.  
Sophia adds the topic of the recent announcement of the issuance of digital banking licences and how banks today are gradually providing unconventional services to new and growing consumer demands. From an industry standpoint, she explains how there are no longer company-exclusive services but more business partnerships to navigate around the growing needs of today's consumer market. 
Kenneth shares his perception of how things are starting to converge for traditional industries that are going into less conventional activities and growing more digitally to sustain themselves and stay relevant. He mentions how the world now is gradually moving towards the endemic phase where there's become a pivot in consumer behaviour and a catalyst in technology adoption rates, compared to times when people were less prone to using tech such as e-commerce due to fear of identity theft, fraud, and several other risks.
After a fruitful discussion amongst all panel members, they move to the Q&A session where the audience shared a number of underlying questions pertaining to career advice and best practices to successfully land a job in now a more tech demanding job market. Isaac finally wraps the session by sharing his warm gratitude to the panellists for instilling knowledge that would otherwise be vital for students and graduates today.
Interested in kick-starting your career at JurisTech? Check out and apply to some of the amazing positions we have for you on our Career page!
About JurisTech
JurisTech is a leading Malaysian-based Fintech company, specialising in enterprise-class software solutions for banks, financial institutions, and telecommunications companies in Malaysia, Southeast Asia, and beyond.