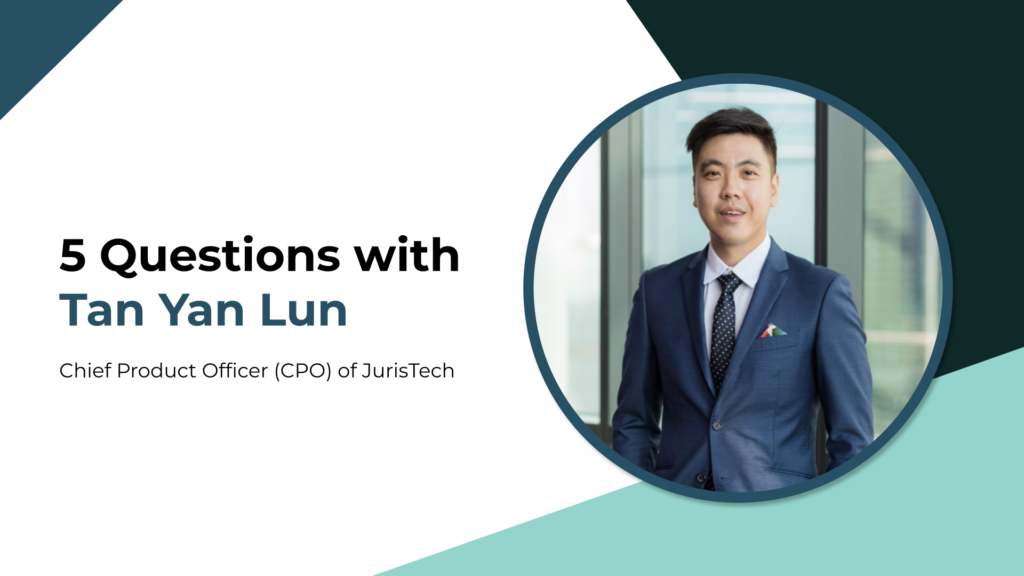 Meet Tan Yan Lun, our Chief Product Officer (CPO) at JurisTech! Yan Lun started his journey with us as a fresh graduate back in 2009, and has been with us ever since! Prior to his appointment as the CPO in 2022, he was heading the Presales business unit in JurisTech for several years. He was tasked with leading the team to successfully assist clients by identifying their needs, providing recommendations and advice that will enable clients to achieve their business goals, and to also coordinating with other various stakeholders!
Now as the CPO of JurisTech, Yan Lun has been constantly challenging the status quo of what excellence is in building and delivering best-in-class products. He leads and provides the company with a clear vision for our overall product suites, and establishes best practices for product roadmaps so that as a company, we are able to exceptionally deliver the right solutions to meet our clients' business needs and goals.
Here, we have invited Yan Lun to share his journey in becoming a CPO and some of the lessons learned along the way.
1. What are some of your personal values you can share with us?
There are a few values that I hold on a personal level. Firstly, I believe in continuous learning, because you never know when you'll learn something new that is applicable to your work and personal life. 
Secondly, is to always be open to ideas. Innovation and creativity are the driving forces behind the success of our products. Being open to ideas has helped me and my team to discover untapped opportunities, identify potential areas for growth, and stay ahead of the competition.
Thirdly, never say "it's impossible"! Everything is possible with a little negotiation and managing expectations. All you have to do is to reframe your thoughts and the discussion from "impossible" to "challenging". You will find that you are able to shift your focus to finding ways to overcome the obstacles rather than being defeated by them. 
Lastly, it is to always understand the "why", and the reason behind every little thing that happens. This value has truly helped me communicate more effectively with my team members, and it has also enabled me to understand our customers better – their motivations, pain points, and preferences. Knowing the "why" behind the "what" has allowed me and my team to develop products and features that not only meet our customer's current needs but also their future needs, exceeding our customers' expectations.
2. What is your leadership style like?
Personally, I like to help my team reach their own decisions. I do not believe in giving direct instructions (depending on the situation, of course) because I recognise that my way might not always be the best way. I'd like everyone to share their own ideas and we can discuss what is the best way to achieve the desired outcome.  
3. How do you get the most out of your team? What role do you play in that?
As a CPO, I hold various responsibilities and lead a few teams. However, as of today, I believe in giving my team, the Collection Advisory Team (CAT) Team in JurisTech, the freedom to make their own decision as they see fit, while also being available and accessible to the team. This is so that whenever they hit any roadblocks, they would know that they have a place to seek advice or to discuss their roadblocks. This allows the team to learn and develop faster, on top of having higher engagement and better performance.
4. What are the changes you foresee in the near future since you joined the industry, and how do you plan to strategise and execute product-related activities within JurisTech?
When I first joined the company, the tech world was still in its infancy (iPhone 3GS and WhatsApp did not even exist yet!). The world we live in today has changed so much since then. People nowadays are interacting with apps and browsers on their phones more than before. Hence, I believe that the newer generation of products should be more customer-centric, attractive, and interactive. Technology shouldn't be a barrier to getting work done, it should complement it. 
To strategise and execute product-related activities within our company, we plan to focus on the following areas:
Innovation: Continue investing in product research and development to ensure that our products remain competitive in this rapidly evolving fintech landscape. Additionally, to ensure our products are powered by advanced technology to drive improvements in efficiency, accessibility, and user experience.
Customer-centricity: Prioritise understanding the needs of our customers and ensuring our products are solutions to their pain points. On top of that, establishing feedback loops with customers to help identify issues, concerns, and opportunities for improvement, enabling JurisTech to iterate and enhance our product offerings. We aim to provide the right technology and consistently deliver our software with excellence, ensuring the highest levels of customer satisfaction.
Collaboration: To work closely with our customers and fintech ecosystem partners to foster an environment where we can come together to exchange ideas and knowledge. This helps to identify areas for improvement and to co-create solutions that address customer's pain points. We believe having a collaborative atmosphere fuels innovation by combining different areas of expertise and perspectives. Thus, creating a more holistic customer experience and personalised financial services.
Agility: Continue being an agile company by adopting agile methodologies in our product development. This enables us to respond quickly to changing market conditions and customer needs. On top of prioritising continuous improvement and learning to ensure our products remain relevant and effective.

Overall, we believe that these strategies will enable us to continuously deliver high-quality software solutions that meet the evolving needs of our customers and the market. We are committed to remaining at the forefront of the fintech industry and to leveraging our expertise and experience to drive innovation and growth within the company.
5. Share with us your personal victories in your career in JurisTech and what were the obstacles you managed to overcome.
I started off my career as a technical guy. In my mind, doing sales was not something I would want to do because it involved presentation, talking, and selling to people. However, I was entrusted with starting the Presales unit within JurisTech. It wasn't an easy transition as I was expected to adopt a more "sales-y" mindset, learning the art of selling, instead of just looking at codes which I was more comfortable with. However, at the end of it, this experience opened my mind to learning that sales is applicable in every aspect of our lives, regardless of our roles. In fact, I would dare say, that even technical guys need to know how to sell the value of their products — or else no one would be using them!
Yan Lun is always keen on bringing fresh ideas and viewpoints to ensure we create innovative solutions and product experiences that are invaluable to the user, the company, and the financial industry.
"As a CPO in JurisTech, I'm thrilled to be at the forefront of digital transformation, helping our clients navigate the rapidly evolving landscape and achieve their goals. Our innovative technology solutions empower our clients to stay ahead of the curve and drive business growth, and I'm excited to be a part of this journey!" — Chief Product Officer of JurisTech, Tan Yan Lun
About JurisTech

JurisTech is a leading Malaysian-based Fintech company, specialising in enterprise-class software solutions for banks, financial institutions, and telecommunications companies in Malaysia, Southeast Asia, and beyond. 

We have a team of technical experts and business consultants that are passionate about helping our clients in achieving their digital transformation goals. We believe in working closely with our clients, taking their unique project requirements and organisational needs into account to navigate their systems with ease. To ensure a smooth transition to our clients' newly enhanced systems, we provide top-quality support that extends beyond project completion, offering comprehensive post-implementation support and training to meet our clients' ongoing needs.

If you're interested in learning more about how JurisTech can help you achieve your digital transformation goals, don't hesitate to contact us today. Our team is always here to support you on your journey towards a more efficient and effective digital future.