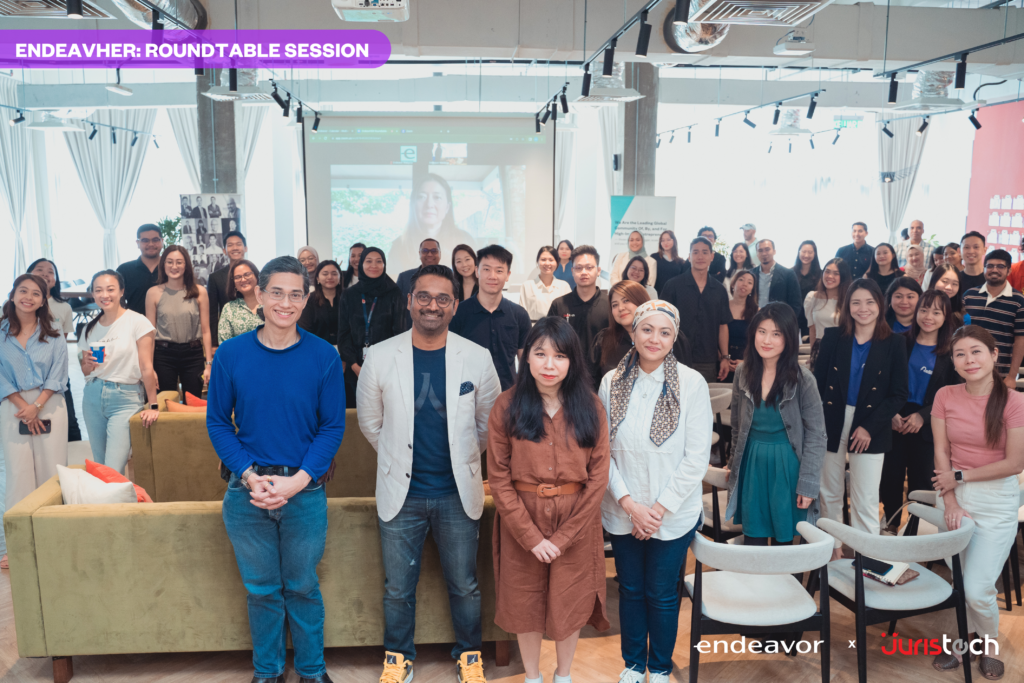 Group Photo of the Panel, Moderator, and the audience taken at the EndeavHER Roundtable 2023
On the 18th of October, Endeavor Malaysia organised the EndeavHER Roundtable 2023, themed "Empowering Founders: Charting the Talent Territory".
JurisTech had the honour of giving back to the community by sponsoring this event and building up the next generation of entrepreneurs with Endeavor. This was also in conjunction with echoing Endeavor's mission to unlock the transformational power of entrepreneurship by selecting, supporting, and investing in the world's top founders and providing them a platform to pay it forward.
The entrepreneurial spirit was in full swing at the EndeavHER Roundtable 2023, a dynamic gathering of industry leaders, held at the Common Ground, JayaOne. An influential panel discussion with notable figures from the business world was featured at the event, which was designed to fan and maintain the flames of entrepreneurship. Around 50 individuals attended the event, representing a wide range of industries and backgrounds, all of whom were excited to hear the panellists' priceless insights. 
There were four panellists and one moderator in the 45-minute roundtable discussion.
The panellists were See Wai Hun (CEO & Co-founder of JurisTech), Dr Ram Gopal Raj (Director of AirAsia Academy), Mac Chung Lynn (Director & Group CEO of Nando's Malaysia & Singapore), and Nurul Syaheedah Jes Izman (COO & Co-founder of PANTAS). The session was moderated by Sharma Lachu (CEO & Founder of Accendo Technologies).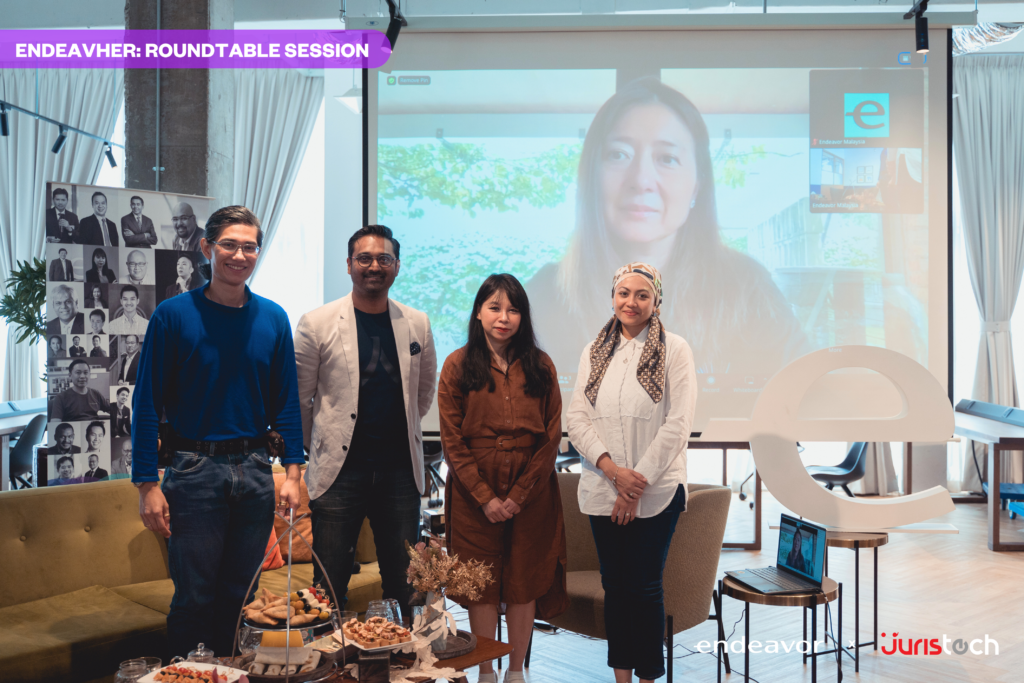 From Left: Dr Ram Gopal Raj, Sharma Lachu, See Wai Hun, Nurul Syaheedah Jes Izman, Mac Chung Lynn (on-screen). 
An Overview
This year's Roundtable covered an abundance of compelling topics, reeling in the crowd's attention with the awe-inspiring stories shared across each panel. From their starting journeys as entrepreneurs, the strategies for nurturing talent, and raising the next generation in the workplace were all brought forth into the spotlight. 
The Journey into Entrepreneurship
The discussion was kicked off by Accendo Technologies CEO and Founder Sharma Lachu, who asked the panel to share their entrepreneurial experiences. See Wai Hun, Endeavour Entrepreneur and founder of JurisTech, shared a moving account of her journey to entrepreneurship, including the role her father played in her life, which was pivotal to her success today.
"A purpose-driven life is what keeps me going on this path of entrepreneurship. By having a purpose that is bigger than myself, I find the energy to keep going to the office every day with enthusiasm and joy." — See Wai Hun 
Nurul Syaheedah, COO & Co-founder of PANTAS, took the opportunity to tell Wai Hun that she was her role model, and was honoured to be on the panel with her. Following this, Nurul Syaheedah shared that her journey into entrepreneurship was motivated by the desire to address climate change and to leave a positive impact on the world, underscoring the need for bravery and persistence in her path to success.
The director of strategy and innovation at AirAsia Academy, Dr. Ram Gopal Raj, shared an insightful dialogue about his vast background in both academia and business. He emphasised how important innovation and artificial intelligence are in the current, fast-paced business environment.
With a wealth of experience, Mac Chung Lynn, Director and Group CEO of Nando's Malaysia & Singapore, illuminated the strategies that have propelled Nando's success in the area and shared insights from her own entrepreneurial experience.
Talent Development
Sharma highlighted the critical topic of talent cultivation and specifically delved into the perspectives of Dr. Ram Gopal Raj and Nurul Syaheedah on this matter.
Dr. Ram Gopal Raj provided a glimpse into the innovative online learning portal at AirAsia Academy, showcasing its commitment to employee development. Moreover, he shared that businesses have to find the balance between hiring people for specific skill sets, and developing fresh graduates from the ground up in order to meet the targeted skill sets. 
The COO and co-founder of PANTAS, Nurul Syaheedah Jes Izman, provided insightful advice on how to develop a smaller team in a startup environment, and illustrated how strategic planning can result in long-term, profitable business growth.
The Next Generation
The panel then delved into generational differences in the workplace, emphasising that age is not the determining factor for success. Wai Hun highlighted JurisTech's reputation as a launchpad for careers, highlighting the importance of training and development for young talent.
For example, Wai Hun discussed the concept of 'Rockstars VS Superstars' with an enthusiastic audience member who was an F&B industry entrepreneur. 'Rockstars' are people who excel at their jobs but are hesitant to go outside of their comfort zones, whereas 'Superstars' go above and beyond in their own personal growth and development to elevate the companies they work for. Businesses must learn to recognise these two talents and create career paths that fit in order to benefit the company as well as its Rockstars and Superstars.  
The discussions revealed that, regardless of age, a culture of innovation, mentorship, and empowerment is pivotal to nurturing the next generation of leaders. Leaders stressed the significance of aligning organisational goals with individual ambitions, fostering an environment where everyone can thrive.
Wrapping Things Up
As the end of the event came around, the audience was split into smaller groups, each group being paired with one of the panellists, providing an opportunity to get up close and personal and to pick the brains of the industry leaders.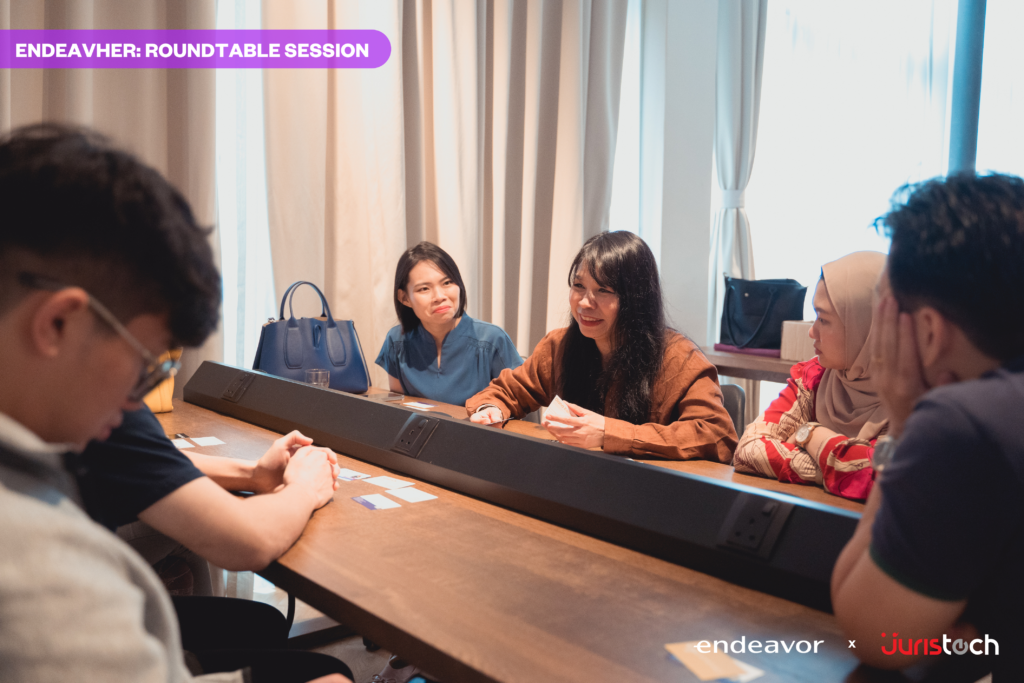 Wai Hun enthusiastically shares her insights with young entrepreneurs. 
The EndeavHER Roundtable 2023 gave leaders a forum to discuss their successes, setbacks, and methods for overcoming obstacles. The occasion emphasised the value of supporting diversity and inclusion in the workplace, encouraging entrepreneurship, and investing in talent.
The perspectives shared by these visionary leaders provided motivation for both seasoned professionals and aspiring business owners in a constantly changing business environment. They reassured the audience members that success is attainable through hard work, creativity, and a strong support network.
As the session concluded, representatives from Endeavor Malaysia expressed their gratitude to the panel and the moderator, and extended an invitation to all for a delectable Mediterranean-inspired lunch together with a fruitful networking session.
About Endeavor

Endeavor is a mission-driven, global organisation leading the high-impact entrepreneurship movement. Endeavor was founded on the belief that job creation, innovation, and overall prosperity flourish where there is robust support for high-impact entrepreneurs.

About JurisTech

JurisTech (Juris Technologies) is a leading Malaysian-based fintech company, specialising in enterprise-class software solutions for banks, financial institutions, and telecommunications companies in Malaysia, Southeast Asia, and beyond.